Terry Wogan: The art of innuendo in Janet and John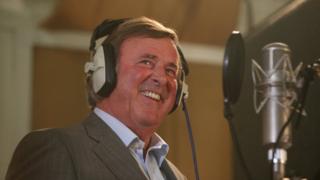 Terry Wogan had millions of listeners in hysterics with his innuendo-filled version of the Janet and John children's stories. How did he get away with it?
The original Janet and John books, written by Rona Munro, helped parents of the 1950s and 1960s to teach their children to read. The innocent stories, about the adventures of a brother and sister, were bestsellers, but they eventually fell out of fashion.
In the 1990s they became the basis for a series of parodies on Terry Wogan's radio show that seemed to test the limits of taste and decency. In them, the subjects were an adult Janet and John. Written by a listener using the pseudonym Mick Sturbs, they purported to be about newsreader John Marsh - who sat in on the readings - and his wife Janet.
The structure was simple. Wogan would narrate in the style of the original children's stories but also "do" John's voice in a squeaky lisp. A string of innuendo and a fit of giggles usually followed.
To take one example, Wogan told his morning audience how John had gone to the park, fallen off his scooter and scuffed his shiny new shoes, only to be helped by a kindly woman who repaired the damage.
Recapping events to Janet, using John's voice, Wogan read: "On the way I fell off my scooter and Mrs Parks saw me and took me into her shop to sort me out. She got the wood out and saw that I had a nasty scuff. So she got on her knees, rubbed some cream in it and worked her fists up and down until I could see my face in it. She said it was a pleasure to find a man who wasn't afraid to splash out on a decent pair. And she was surprised that my old cobblers didn't get more work, and they'd done very well."
For years, Radio 2's morning audience listened to this and other saucy pastiches.
"People felt they were in on the joke," says comedian and writer Barry Cryer, a long-time friend of Wogan. "He wasn't trying to say outrageous stuff; it was just Terry talking to people at home like they were friends, having a laugh together. It was all done with such warmth."
Reading out the double entendres in a cosy atmosphere, like having a one-to-one in the snug of a country pub, was part of this, says Cryer. "He was obsessed with involving his audience and he never got a derogatory response."
Context was everything. With the Wogan treatment they seemed fundamentally innocuous. Written down in black and white they seem much ruder.
In another of the parodies, John was supposed to be polishing the cockleshell paving around the pond and hanging out the washing. He strained his neck and was comforted by a neighbour.
"Mrs Edwards saw me in the garden hanging out my pyjamas," Wogan-as-John told his listeners. "She could see I was a bit stiff and wanting to shake it off. So she gave me a hand and I told her I'd be needing a couple of pills before the cockle work. With her help I managed to have a quick swing."
In yet another, John returned from a beauty parlour, where he had lunch with an Italian family, one of whom invited him to come and watch her in a boxing match the next weekend.
"After I had my treatments, Donatella said, if I fancied a bit of linguine, I could wait for a few minutes, she'd shave her pecorino in the kitchen - and then said I could see her box."
Wogan released CD recordings and books containing transcripts of his Janet and John monologues, the proceeds going to the charity Children in Need. But how did he get away with airing the content in the mornings?
---
Listen to the Janet & John stories
---
Wogan's readings, which often convulsed both host and studio team in laughter, would have been heard by children on their way to school, many of them not understanding the hidden meanings.
"Kids love parody," says comedian and writer James Campbell. "Younger kids will enjoy the parody without getting the jokes. You can parody a style, as much as a specific work."
The Janet and John readings, which started after Wogan returned to hosting the breakfast show on Radio 2 in 1993, come from a long tradition of British innuendo.
Among the best-known predecessor was the 1960s series Round the Horne. It featured the characters Julian and Sandy, played by Kenneth Williams and Hugh Paddick, speaking in the Polari slang favoured in the gay community at a time when male homosexuality was still illegal. Williams and Paddick reprised their roles in a 1987 special of Wogan's TV chat show dedicated to radio comedy.
Another acknowledged master of on-air innuendo was the jazz trumpeter Humphrey Lyttleton, who hosted the Radio 4 comedy panel show I'm Sorry I Haven't a Clue from 1972 until his death in 2008. Near the start of each programme Lyttleton would introduce his "scorer" Samantha, only to find she was in fact absent.
"There appears to be a problem," he said on one occasion. "I've just received this note from Samantha to say she's been delayed meeting a gentleman beekeeper friend near Warrington. Samantha's just started keeping bees herself and has three dozen or so. And she says her friend's an expert handler. Apparently he carefully takes out her 38 bees and soon has them flying around his head."
The running Samantha gag had its critics, as even Lyttleton admitted. And under the later host Jack Dee's tenure, the BBC Trust had to rule on a complaint about sexism.
Barry Cryer, who has appeared on I'm Sorry I Haven't a Clue since it started, says Wogan and Lyttleton used contrasting styles to deliver their innuendo. "Humph used to appear detached from the jokes, as if he didn't know what was going on," he says. "Terry was obviously having fun."
Subscribe to the BBC News Magazine's email newsletter to get articles sent to your inbox.