Boxed in as first lady, Mrs Obama prepares for freedom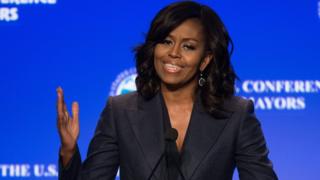 Michelle Obama says she's not running for president, but that hasn't stopped people from hoping. She's become a megastar in the White House, and she's now poised for a new career - and a chance to speak her mind freely.
Over the past several years she's transformed the image of the first lady and has also become a role model - a woman who is smart, accomplished, comfortable in her own skin and an advocate for girls around the world.
When she leaves the White House, she'll continue work on her favourite project, "Let Girls Learn", a global initiative that promotes education for girls.
Prime Minister David Cameron has joined her effort at the global initiative, creating a US-UK partnership that devotes $200m to girls' leadership camps and other programmes.
This week, wearing sparkly hoop earrings, patent-leather shoes and a short-sleeved dress, Obama talked about her future - and her plans to promote girls' education - while sitting on stage with Lena Dunham, the creator of a popular television series, Girls, and Academy-Award-winning actress Julianne Moore.
"Girls who are educated - they earn more money, they raise healthier families," said Obama, explaining that 62 million girls around the world are not in school and are falling behind because of their lack of education.
Her devotion to education is rooted in her own family history and the role that school played in her life.
"There were some teachers who doubted that a girl like me, a black girl from the South side of Chicago, should apply to Princeton," she said, telling the audience about her childhood.
Her father, Fraser Robinson III, was a city pump operator who made $858 (£593) a month, according to her biographer Peter Slevin.
She later earned degrees from Princeton University and Harvard Law School, two of the nation's top universities, and has worked as a university administrator.
In recent years she's managed to navigate a tricky terrain - being uber-accomplished and devoted to social issues while living in a box known as Flotus - First Lady of the United States. The role makes her an unofficial envoy to the world as well as wife of the US president.
Even in a room filled with magazine editors and marketing executives she looked "stunningly fashionable", said Robin Means Coleman a communication studies professor at the University of Michigan.
People at the conference were impressed. "I love her," said Shawn DeWeese, a vice president at a consulting firm. "I'd ask her out if she wasn't married."
On stage she nodded enthusiastically as Dunham talked. She never looked bored (even when Dunham talked at length about her Twitter followers).
In her early days as first lady, she trod lightly, said Andra Gillespie, author of The New Black Politician: Cory Booker, Newark and Post-Racial America.
She didn't want to be cast as the "angry black woman", Gillespie said, recalling how a previous first lady, Hillary Clinton, was portrayed as the "angry feminist".
Unlike Clinton, who started working on a healthcare initiative early in her husband's tenure as president, Obama has tried a different approach.
The issues she's chosen - education, health, veterans' affairs - reflect her husband's policy goals.
She approaches them in a non-threatening way.
"Instead of advocating for the military, she'll advocate for military families," said Robert Watson, who has written about first ladies. "Who can get mad at her?"
She likes to garden and shops at Target, a place known for cheap and cheerful frocks.
And she's careful about what she says. "I don't just pop off on social media," she tells the audience.
Still she's kept a sense of humour. "She's in on the joke," said Coleman. "She gets it."
Obama describes humour as "an equaliser" that "eases the message".
"So if it means that I've got to rap on the South Lawn, okay, I can do that," she said, referencing a recent video in support of a campaign to get more students to apply to college.
She looked at the audience and lifted her hand in the air and then twirled her fingers, as if she were listening to the music of a secret soundtrack.
She's "constantly trending," Coleman said. "She drops a rap and it's like Beyonce releases an album."
She has not been without controversy - some tenets of her Let's Move initiative to fight obesity, like restrictions on what can be in school-provided lunches, have been criticised for being too restrictive. During her husband's first campaign for president, her patriotism was questioned.
But Obama has become one of the most popular first ladies in the nation's history, and people have clamoured for her to run for president.
"We want four more years," said Michael Henry, the head of sales at a software company, as he stood outside the conference room. "Please stay."
Her husband has made it clear she's not interested.
"There are three things that are certain in life," he said at a Louisiana town hall earlier this year. "Death, taxes, and Michelle is not running for president."
These days she's been musing about life after the White House. "I don't know what it's going to feel like to be the former first lady," she said.
But as she told people in the audience, she's committed to helping girls get an education.
"This is something I'm going to be working on for the rest of my life."
She may not be campaigning, but it's clear she'll be speaking out more in the future.