What makes estates 'brutal'?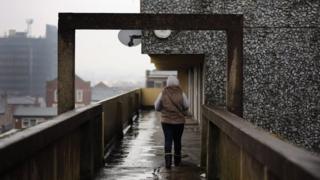 David Cameron has announced plans to tackle social problems through bulldozing a number of Britain's housing estates, saying they are "entrenching poverty", and that the "brutal high-rise towers and dark alleyways" are a "gift to criminals and drug dealers". So does the design of estates cause crime?
Cameron is not the first person to link social problems with housing estates. In his inaugural 1997 speech, then Prime Minister Tony Blair addressed the 7,500 "forgotten" residents of London's Aylesbury estate, and vowed to redevelop it in order to "help the poorest people in our country".
The prime minister wrote that people in "sink estates" were confronted by "concrete slabs dropped from on high". A £140m fund will be made available to community groups, councils and housing associations to tackle the worst estates.
But what is it about these estates that supposedly make them "brutal"? And can they be fixed?
Silla Carron lived on the Clarence Way estate in north London for 20 years and helped raise money to regenerate it.
But Carron remembers a time when you could regularly see drug users injecting in the estate, and at one point in 2006 says she was picking up 60 needles a day. "It would make you a prisoner in your own home. You didn't want to go out."
According to Chris Walker, head of housing and planning at the centre-right Policy Exchange think tank, post-war estates were built to be quick and cheap. This led to the concrete high-rise designs that are so familiar now.
Many now associate large tower blocks with social problems, although they were intended by architects and planners to improve the way people lived. But it wasn't long before many blocks were blighted by poor construction techniques, broken lifts, vandalism and gang crime.
"It can be argued that the way these buildings were designed led to problems of crime," says Walker. "Many of them had enclosed stairwells which made it very easy to commit crime in concealed spaces and the walkways were often not visible."
"I also think that the fact there's a lack of street layout means that the estates themselves often feel very enclosed. It doesn't have the high accessibility a more traditional street pattern would enable and this adds to the feeling of a ghetto."
Park Hill in Sheffield, which was built between 1958 and 1961, and comprised 985 flats, was one of the largest attempts at a "streets in the sky" plan - elevated walkways that accessed the flats.
By the 1990s, the estate had earned a reputation for crime and many disliked its appearance, yet in 2013 it was nominated for the Riba Stirling Prize after being redeveloped.
Andrew Barkley, an architect who worked on the refurbishment of Park Hill, says that during the renovation of the estate, much time was spent reinvigorating the streets in the sky. New windows were built into walls in order to let people see more of their surroundings.
"We pushed and pulled the entrances and made the street thinner and introduced windows for those apartments on to this deck, so it's a small corner window where you can see out and along the street."
While he doesn't think there are specific features in buildings that encourage crime, Barkley says that design is still important.
"Designing out crime" is now a common tactic, says Rachel Fisher, head of policy at the National Housing Federation. "It's about making sure you have good vantage points, and you can see what's coming at you, other basic stuff like better lighting."
But rather than focusing on individual features, there's a more fundamental approach that makes for a happy estate.
"A lot of these post-war estates were built without community engagement in the development of the plans, and what's important in terms of getting it right next time is that we actually work with the people who live there to design estates to be places where people want to live," says Fisher.
Carron agrees that giving residents a say is absolutely fundamental.
"Consultation needs to happen with the people who live on these estates. You need to ask them what's wrong with where they're living. Don't go in and think you can just bulldoze it down."
---
The tower block in popular culture
Alex DeLarge's flat in the dystopian film A Clockwork Orange is in the Thamesmead housing estate
JG Ballard's dystopian novel High Rise, about a community living in a tower block, was inspired by Trellick Tower in London
A tower block features as the home of Keith Talent in Martin Amis's novel London Fields
The Heygate estate - now demolished - served as the backdrop for the film Harry Brown and numerous TV shows including the The Bill and Spooks.
---
Poor lighting is a problem on some estates, Carron says, but she argues that "sink estates" don't entirely deserve the reputation they have.
"Estates have all sorts of people on them - soldiers, problem families, OAPs. The community aspect is so important, and we should keep the communities together. There are people that have lived on my estate for over 50 years and they don't want to move.
"I've never used the term sink estate. It's horrible, and makes you feel like a second-class citizen."
Ben Campkin, author of Remaking London: Decline and Regeneration in Urban Culture, says words such as "brutal", "ghetto" and the "dark alleyways" mentioned by Cameron often come up when referring to tower block estates.
Campkin criticised the "reductive and demonising" rhetoric used about "sink estates".
"Like all effective metaphors it brings to mind these associations of degradation and disappointment.
"You can find estates that have been run down physically, but that doesn't mean there's truth in the way they're being talked about. Architecturally it perhaps means there have been maintenance problems or a lack of investment in maintaining those buildings.
"Estates of course reflect the quality of original design, as well as levels of maintenance since. But to point to specific architectural designs as being intrinsically 'bad' without understanding the context and history of the specific estates is just a distraction."
More from the Magazine
Could people learn to love tower blocks?
'I loved/loathed my 1960s high-rise block'
---
Subscribe to the BBC News Magazine's email newsletter to get articles sent to your inbox.