The little bit of Iran on a street in Greater Manchester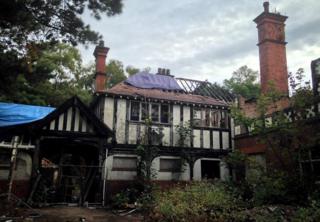 A crumbling mansion owned by the government of Iran sits abandoned in one of Greater Manchester's most exclusive areas. No-one seems able to get rid of it. Why?
The derelict building seems out of place on a road lined with million-pound properties. This leafy spot should be prime real estate, but one house has been left to fall apart.
Brackendene was once a grand site with greenhouses, outbuildings and a swimming pool. Now, the red-brick mansion has a hole for a roof and lies forgotten behind overgrown woodland and security fences.
Thieves have long since stripped it of anything of value. It's been vandalised, used as an illegal dumping site and set on fire at least three times. The last big arson attack in 2011 was so bad that it caused the top floors to collapse into the basement.
This isn't a run-of-the-mill story of a property left to decay, however. The house might be in Bowdon, a village in a rural area of Greater Manchester, but it actually belongs to Iran.
It was bought by the Iranians in the 1970s. The consul-general lived there at one stage and it was beautifully maintained, says Amir Barik, a senior lecturer at Manchester Metropolitan University who used to work for the consulate: "The biggest parties in Manchester used to take place in that house."
Barik says that the building began to be left empty in the years after Iran's Islamic revolution.
Since then, the state of the house has reflected the troubled diplomatic relationship between Iran and the UK. The mock-Tudor building was finally abandoned in the 2000s.
"For the last eight years, ever since I've been a member of council, it's not been occupied," says Sean Anstee, leader of Trafford Council.
The council considers it to be in a dangerous state but demolishing the building has proved impossible.
"In terms of accessing it or being able to get a compulsory purchase order on the site like you would do ordinarily, they're just not options that are available to us," says Anstee.
The problem lies with getting hold of the building's owners. "It's diplomatic land," explains Anstee, "there's very little we can do."
"We used to look after the grounds for them," says Paul Lord from Dunham Massey Parish Council, which covers Brackendene. "I used to help one of the farmers - cutting the grass, keeping the trees in order."
But that was years ago. "Probably the only thing that can be done now is flatten it," he says. Ideally, the site should be levelled to make it safe and then the house rebuilt, he adds.
The house might need an intervention, but exactly how it can be rescued is still unclear. "We don't want to annoy anyone," says Anstee. "Our stance has been to try and just keep it safe and keep people out of it and then try and pursue a diplomatic resolution."
Pursuing a diplomatic resolution with Iran has not been easy. The negotiations have been at the mercy of global events.
"A building in Altrincham was not a priority for the Iranians over the last 10 years," says Barik. "They've been thinking about how to deal with the world and how to feed their country."
The legal team for the council has been trying to negotiate through the Foreign Office. But communication between Trafford and Tehran has been slow.
It was not until 2011 that it looked like there might be a breakthrough. Reports said that Iranian embassy representatives from London had travelled to Trafford to discuss the site's future.
But then disaster struck. Tensions over Iran's nuclear programme erupted into violence. Hundreds of protesters attacked the British embassy in Tehran because of the UK's support of further sanctions. In response, the UK gave Iranian diplomats 48 hours to leave the country.
Since then, Trafford Council has been doing its best to secure the building and keep it out of sight of vandals and the odd urban explorer.
"It seems to get more and more damaged every year but it's not something that you really know about," says John Costello, head brewer at the nearby Dunham Massey Brewery.
"We pass it whenever we go delivering and I look at it and think it's a shame such a nice house is going into a state of disrepair."
But there might finally be a glimmer of hope on the horizon for Brackendene.
A number of world powers had been wrangling with Iran over its nuclear programme and in July, a deal was finally struck. The Iranian President Hassan Rouhani said it would open a "new chapter" in Iran's relations with the world.
"You wouldn't think that the politics of Iran were interesting to a local council in Greater Manchester, but they are - because if we have better relations then I think that we view that as an opportunity to try and get a solution," says Anstee.
Iran's London embassy reopened in August and rumours have started that the empty house will soon be sold.
"It's in a very desirable location," says estate agent Anthony Jevons from Jackson-Stops & Staff in Hale. "There are other properties on that road that have been sold for a couple of million pounds."
Rumours might be circling but Trafford council says that restarting negotiations are still a hope rather than a firm commitment.
But Barik is sure that the Iranians will want to deal with the house on Charcoal Road soon. "They are going through a chaotic period," he says, adding that people need to remember the bigger picture. "Everybody is thinking about their own backyard."
Additional photographs by Ian Shoesmith
Subscribe to the BBC News Magazine's email newsletter to get articles sent to your inbox.