Boxing Day Family Puzzler 2015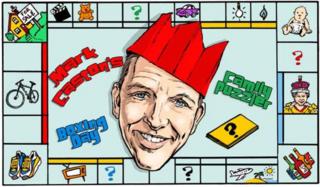 I am delighted to present my eighth annual Boxing Day Family Puzzler - a festive quiz that rewards intuition and inspired guesswork as much as knowledge and memory.
No-one should be expected to rack their brains on Boxing Day, so in this game no-one is expected to know any of the answers.
The questions relate to events in the past 12 months and all the solutions are numbers. Contestants must use wisdom and judgment to get as close to the right figure as they can.
There are 20 questions and, to make it fair, each player/team should write their guesses down before revealing them. One mark for the closest answer and three if, by some fluke or genius, you get it spot on.
Good luck.
Answers at the bottom
1) The Queen became Britain's longest-reigning British head of state this year. During the course of her 63 years on the throne, how many Christmas puddings has she given to her staff?
2) In June, the northern England railway company First TransPennine Express published an audit of lost property found on its trains in a year. Among the odder items were a 6ft inflatable dinosaur, a bag of haggis and a framed picture of Mary Berry. Of the 28.6m passengers that year, how many left behind their false teeth?
3) As a nation we are increasingly shopping online - but someone still has to deliver the goods. According to the Department of Transport, the number of miles driven by vans in the UK has risen 70% in the last 20 years. How many miles is it expected to be in 2015?
4) A teenage boy band member was hospitalised in July after wearing a case-load of clothes on to an Easyjet flight rather than pay £45 for the excess baggage. James McElvar, from the group Rewind, became violently sick and required oxygen on the journey from Stansted to Glasgow. How many layers did he have on?
5) In May this year, Steve Easton (no relation) from Camberley in Surrey had a sneezing fit and, much to his amazement, the sucker from the end of a child's dart shot out. He'd been suffering from a blocked nose and head-aches, unaware of the item stuck in his nasal cavity. How many years had it been up there?
6) Jeremy Clarkson left the BBC's Top Gear programme in controversial circumstances this year, only to announce he is to present a motoring programme on Amazon Prime. What is Clarkson reportedly getting paid (in pounds) for each episode of the new show?
7) Liverpudlian showbiz legend Cilla Black died at the age of 72 this year. A chart-topping singer, she went on to become the face of Saturday night TV. How many couples did our Cilla send on blind dates?
8) The Office for National Statistics announced this year that the UK population had exceeded 64.5m. How many of those did they calculate were aged 100 or more?
9) On an average day, 205 billion emails are sent and received around the world. According to a Direct Marketing Association tracking study, what percentage of British emails are deleted before they are even opened?
10) Australian David Richards - known locally as Christmas Lights Man - broke his own record this year for the number of individual lights on an artificial tree. How many?
11) At the UK General Election this year, 34,244 Conservative votes were cast on average for each Conservative MP elected. What was the equivalent figure for UKIP?
12) The average day in Britain sees 2-3mm of rain. According to the Met Office, how many millimetres fell in Honister Pass in Cumbria on 5 December this year?
13) The most viewed YouTube clip of 2015 was Wiz Khalifa and Charlie Puth performing See You Again. How many views has the official video had since being posted in April?
14) In 1964, 93% of UK births occurred within marriage. Including civil partnerships, what is the percentage now?
15) The amount spent globally on eradicating poverty is estimated to be $66bn. According to the UK Ministry of Defence, what is the amount spent globally on the military (in dollars)?
16) On Anglesey, what percentage of the population has not been online for at least three months, according to official statistics this year?
17) The most-watched TV show of 2015 was the final of the Great British Bake Off in October, won by Nadiya Jamir Hussain. According to market research, by what percentage did baking product sales increase during the series?
18) In his autumn statement George Osborne announced an extra 3% on stamp duty for new buy-to-let landlords. What percentage of MPs are already landlords?
19) In the Rugby World Cup this year, the teams racked up 2,439 points. How many came from drop goals?
20) The new Bond film, Spectre, broke box-office records around the world when it was launched in October. In it, 007 is seen drinking his favourite vodka martini as well as champagne, fine wine and single malt whisky. On average, across all the Bond films, how long elapses between each of 007's alcoholic drinks (in minutes and seconds)?
Answers: 1. Queen's Christmas puddings: 95,800 2. False teeth: 8 3. Delivery miles: 46.9 billion 4. Layers of clothing: 12 5. Years item stuck up nose: 44 6. Clarkson cash: £833,333 7. Cilla's blind-date couples: 746 8. 14,450 9. Emails deleted: 21% 10. Christmas Lights Man's Christmas lights: 518,838 11. UKIP votes: 3,881,099 12. Honister Pass rain (mm): 341 13. See You Again views: 1.25bn 14. Percentage of births: 53% 15. Global military spend: $1776bn 16. Anglesey offline: 41% 17. Bake Off baking increases: 214% 18. MP landlords: 21% 19. Drop goals: 24 20. Bond's drinks interval: 10m53s
Subscribe to the BBC News Magazine's email newsletter to get articles sent to your inbox.