Waiting 56 years for my sister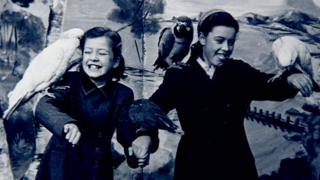 Christmas is a difficult time for those who have a loved one who has gone missing. One woman has been waiting for decades to find out what happened to her sister.
There are 137,146 people now recorded as missing on the police national computer in England and Wales, according to new figures published by the National Crime Agency. The oldest open case on the books of the Metropolitan Police dates from 1959 and a strange disappearance at the dawn of the 1960s.
London teenager Mary Flanagan was meant to see in the new year in style. The 16-year-old was a part-time "sugar girl" working on the production line at the giant Tate and Lyle refinery on the banks of the Thames.
"She had a very bubbly personality. She was full of life and loved going out," says her younger sister Brenda Harris, who was eight years old at the time Mary vanished.
"She didn't like restrictions so when dad said we had to be in at a certain time it meant nothing to Mary. She came in when she wanted to come in."
On the morning of New Year's Eve 1959, Mary kissed her family goodbye, telling them she would go straight from work to the staff party that night. They never saw her again.
"Next morning mum woke up and realised Mary didn't come home so my parents went down to the firm to check she was alright," explains Brenda. "When they got there they got the shock of their lives. She hadn't been to work for two weeks. Here we are 56 years later and we still have no idea what happened to her."
In Mary's case the police were called and searches made near the family home, just a stone's throw from West Ham station in east London.
Her mother went to the local papers to drum up publicity but there was little interest in what many suspected was a typical teenage runaway.
---
Find out more
Watch Jim Reed's full film on missing people on the Victoria Derbyshire programme website.
---
"I remember my parents going through hell at that time," says Brenda. "In the end dad just wouldn't talk about it. He didn't want his mother to know Mary was missing because it would have broken her heart.
"So we always had to pretend she was out with friends. But every time the family got together - Christenings, weddings, even funerals - we knew there was someone missing."
Police investigations have changed drastically since 1959.
Colin Sutton, a former senior investigating officer with the Metropolitan Police, explains that now the vast majority of teenagers have a digital presence "the place to start is their social media accounts".
"Everything posted on social media is also recorded and recoverable, so can be shared with police. It also gives you immediate access to the person's close friendship groups, as opposed to having to go around the community knocking on doors as officers would have had to in the 1950s."
---
Missing people statistics
137,146 people were recorded missing in England and Wales in 2014-15. This was 4% higher than the previous year
Police received 864 calls a day regarding a missing or absent person in 2014-15, according to Police Scotland and 41 police forces in England and Wales
Of those reported missing, 74% are found or return within 24 hours
15-17 year olds are most likely to go missing, accounting for more than 35% of cases
An estimated 1%, or 2,500 people a year, are classed as long-term missing and haven't made contact within 12 months
Source: National Crime Agency
---
Police processes have also become more robust, with officers examining the severity of each case using a set of criteria.
Regarding a 16-year-old, Sutton explains: "The officer would have to look at the person's mental health, if they had problems in school or had reported bullying, if they had been involved in crime, or had a partner or were sexually active. Were they unhappy with their parents, had they been selling items for money, and so on?
This is then passed to a senior officer to make a judgement on how serious the police response should be.
"Obviously with tens of 1000s of people going missing each year, it is not possible to give each one equal time, so this information is key in helping to determine where resources are placed," Sutton says. "In the past, this was based more on gut instinct."
Mary's family, however, are still left with questions about what happened. In 1983, and again more recently, police checked the National Insurance database. Mary's number has never been used to get a job.
She did have a boyfriend - a man called Tom who may have been an Irish labourer - but even his real surname is not known.
"The thing that comes to our mind now is 'was she pregnant?' Dad would have hit the roof but in the end he would have calmed down and supported her," says Brenda.
"But why else would she just take off like that? There must be more to it than meets the eye."
In 2013, when Mary would have celebrated her 70th birthday, police in London reopened the investigation.
Posters were placed in Tube stations, newspapers picked up the story and specialist software was used to create a new, digital image of Mary as she might have looked at the time.
But despite much hope from the family there was nothing. Not a single new lead.
"My heart tells me that one day we are going to find out what happened but my head tells me it's now too late," says Brenda.
"We need to keep telling her we want her back in our lives. But time is moving on and we are all getting older. Something has got to happen soon before it's too late for any of us."
The Victoria Derbyshire programme is broadcast on weekdays between 09:15 and 11:00 on BBC Two and the BBC News channel. Follow the programme on Facebook and Twitter, and find all our content online.
The charity Missing People has a free, 24/7 confidential helpline on 116 000 for missing people and their families. You can call or text the helpline for support advice and options or email 116000@missingpeople.org.uk.
Subscribe to the BBC News Magazine's email newsletter to get articles sent to your inbox.