Should you rent your Christmas tree?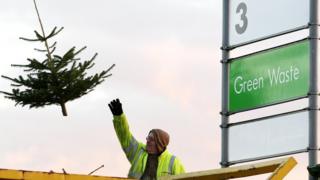 Most of the estimated six million Christmas trees bought in the UK this year will be thrown out as waste just weeks later. Hiring one instead is growing in popularity - but does it really make environmental sense, asks Jasmine Coleman.
For millions of homes around the country, finding one that is the perfect height and shape and then taking it home for decorating is a time-honoured tradition.
But there is also that nagging sense of guilt. Is it really OK to buy what was once a living, breathing tree and then just chuck it away?
Craig Tennock of Cotswold Fir, which has been offering tree rental as well as selling cut trees for six years, says he has seen the market for rented trees grow about 30% year on year. The trees are grown in special pots that can be dug up and replanted year after year.
Renters pay a deposit and have to follow instructions to keep their tree in good condition. They must be kept away from heat sources, watered daily, and kept indoors for a limited amount of time.
About 30% of Tennock's customers currently choose to rent as an alternative to the annual Christmas carnage, he says. "There's the environmental ethos - but it's also a way of giving people what they want."
So is this really the most environmentally friendly way of sourcing a Christmas tree?
It's not that cut trees can't be produced sustainably, experts say. Growing trees is almost always a good thing for the environment. They absorb carbon dioxide and provide habitats for wildlife.
"It important to remember that the trees are a crop," says horticultural journalist Naomi Slade. "Harvesting them is not the same as cutting down established native woodland."
But the trees tend to be grown as a monoculture and sprayed with pesticides, limiting biodiversity.
Transporting and disposing of the cut trees is what has the greatest impact on the environment. The Carbon Trust says a 2m-tall cut Christmas tree that ends up in landfill has a carbon footprint of 16kg CO2e (carbon dioxide equivalent). One that is recycled produces about 3.5kg CO2e.
Meanwhile, a 2m-tall artificial tree has a carbon footprint of about 40kg CO2e. Artificial trees are mostly imported from China and cannot be recycled. You would need to reuse it for 10 Christmases to keep its environmental impact on a par with that of having a normal tree that is recycled.
Many councils will pick up real trees as green waste and send them for incineration or for shredding to make compost. Despite this, the government estimates that the nation's dumped Christmas trees still generate 160,000 tonnes of waste every year.
"The waste element becomes very significant - avoiding landfill is very important," says Paul Swift of the Carbon Trust.
Renting a tree allows consumers to virtually cancel out this problem, he says.
It's not just the reduced environmental impact that appeals to customers, Tennock says. Renting a living tree allows them to choose the traditional Norway spruce, which has otherwise developed a bad reputation for dropping needles.
Some customers even choose to have the same tree every year, says Tennock.
"They need to be treated like a house plant," says garden expert Naomi Slade. Digging up and replanting can damage the tree, she adds, so producers have an incentive to treat them carefully.
Growing a tree in the garden would be the greenest option of all, as it would cut all transport emissions. But not everyone has the time, skills or space to do so.
Even Tennock admits that rental trees are unlikely to replace the cut trees in the future. "There is some drudgery with a rental tree in terms of looking after it," he says. "People often just want a cut Christmas tree, and away they go."
The price of renting a tree varies, with a 4ft (1.2m) tree starting at about £25 plus deposit.
And access to ecologically friendly options can also pose problems - especially in cities where transporting the tree can be a problem.
"My problem this year, is that I had quite a few requests from people wanting to rent a tree, and was unable to match them up to services, unless they lived in particular areas of the country," says ethical living writer Lucy Siegle.
But in principle it's a good idea, she believes. "Nobody needs to own a tree. Nobody really wants to own a tree."
Subscribe to the BBC News Magazine's email newsletter to get articles sent to your inbox.