Are the great pavement parking rows finally coming to an end?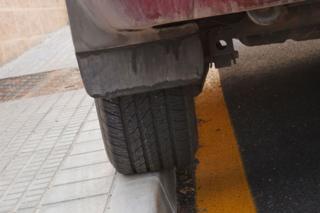 Arguments over whether to ban parking on pavements nationwide have raged for more than 40 years. Could new proposals finally end them?
Theresa Osborne-Bell's guide dog was trained to deal with obstacles. But the car parked on the pavement just outside the school gate was especially tricky to navigate.
Her two children were able to squeeze through the gap between the vehicle and the school, but the space was too small for Theresa and the dog. So they had to go around the other side, into the road.
Then another car - electric and almost silent - nearly hit her. "I only heard them put the brakes on because it screeched a little bit. They weren't far away from me when they stopped."
Campaigners say that experiences like this are common and that they show that more controls are needed over pavement parking.
But others are worried that changing the system will make finding a parking space even harder than it already is. The Alliance of British Drivers (ABD) has already warned that a "proliferation of yellow lines" could result, making life more difficult for car owners.
Although local restrictions exist, there is currently no national ban on pavement parking across England and Wales. One was included in the Road Traffic Act 1974, but it was never enacted and was eventually repealed in 1991.
"There are a number of ridiculous things about pavement parking," says Rachel Lee, policy and research coordinator from the charity Living Streets. "We've been talking about it for more than 40 years."
The argument could come to an end with the Pavement Parking (Protection of Vulnerable Pedestrians) Bill, which is on its second reading in Parliament.
If passed, the bill will allow councils to ban pavement parking over wide areas and make it a civil offence to park a car on the pavement of an urban road. It will, however, allow exemptions to be set by the transport secretary and local authorities.
"It will mean that parking on the pavement is not allowed unless the local authority has said otherwise," explains Lee.
At the moment, the reverse is true. Parking on the pavement is generally allowed except where there are restrictions or an offence has been committed. This might seem odd considering that driving on the pavement is illegal and so is causing an obstruction.
Obviously, unless someone has a flying car, they will have to drive onto the pavement in order to park there. But the law about driving on pavements has been around since 1835. A ban was introduced against riding on "any horse, ass, sheep, mule, swine, or cattle or carriage of any description, or any truck or sledge" along paths meant for foot passengers.
Fast forward nearly 200 years and The Highway Code summarises the rules on pavement parking like this: "You MUST NOT park partially or wholly on the pavement in London, and should not do so elsewhere unless signs permit it."
London has had a ban on pavement parking for more than 40 years. Exceptions to the rule are marked with special blue parking signs and sometimes white bay lines to show how far onto the pavement a car can park.
Elsewhere, the situation can be more complicated. There is a wider ban on heavy commercial vehicles parking on pavements, although there are exceptions. Local authorities can also use Traffic Regulation Orders to ban pavement parking on certain roads and create special parking areas. They need to be signposted so that people know they could be fined if they ignore the restrictions.
"It's a very cumbersome approach to managing the problem," says Lee, adding that the ad hoc restrictions can also be difficult to enforce. Proving that someone has caused an obstruction for example, is not always easy and a lot depends on individual circumstances.
But there are worries about the effect that the new bill could have on drivers. "It doesn't allow for any form of common sense," says Hugh Bladon, a founding member of ABD.
The ABD argues that pavement parking can be useful. Bladon says that there is often a good reason behind people's parking decisions. "You can't have people blocking the pavement but there are lots of places where the roads are just not wide enough for traffic to flow backwards and forwards if they park on the road.
"The end result can be that you get emergency vehicles that can't get through and that then becomes a real problem."
But Simon Hoare, the MP for North Dorset who has proposed the bill, says that this will be taken into account. "This is not a blanket ban," he says. The bill will simply enable local authorities to deal with problem areas in an efficient way. "It just provides another tool in the armoury for local government."
Others argue that local authorities already have the ability to deal with the issue. "They've got the powers to stop people parking on pavements as it is," says motoring journalist Quentin Willson.
He adds that drivers already have to contend with sometimes "unfair" parking fines and that the process of appealing against then can be difficult. "I would be very wary about having even more legislation."
---
More from the Magazine
A Smart car owner has won a year-long battle over a £50 parking ticket given because she parked at a right angle to the kerb. But what is the law, asks Chris Stokel-Walker.
The legal confusion over perpendicular parking
---
Supporters of the bill say that it will just mimic what has already happened in London. "Parking enforcement is a good thing here as it keeps road moving," says Steve McNamara of the London Taxi Drivers Association.
But he says that care needs to be taken when enforcing the rules. "Parking wardens tend to pick on easy targets," he adds. "They pick on sensible shoppers who have parked their car on a minor side street or something like that."
The people causing major obstructions are often those who stay in their cars to avoid being fined. "They pull up on the pavements while someone runs into a shop and when the traffic warden appears they drive away," explains McNamara.
Despite the concerns, campaigners say that drivers outside London would get used to the change. "It's not the easiest of things to put in place," says Lee. But the tough part is deciding where and when pavement parking should be allowed. After that, she says "it will become normal".
It will also change the "normal" situation for most pedestrians. A survey conducted for the charity Guide Dogs suggests that 61% of people in Manchester regularly come across parked cars on the street where they live. And 39% encounter similar problems in the city centre.
"It's not just about me with a visual impairment and a guide dog," says Theresa. "It's about anyone who is a bit wider on the path. There have been times when it's been so bad that I've just turned round and gone home."
Graphic images outlining parking spaces are copyrighted to the Crown and modified by the BBC.
Subscribe to the BBC News Magazine's email newsletter to get articles sent to your inbox.