The return of the live-in lodger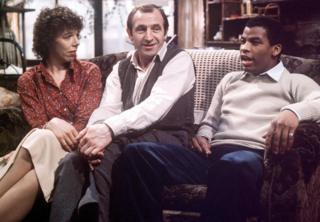 The number of Britons renting from a live-in landlord is on the increase. How does this change the dynamics of sharing a home?
Who decides when the heating goes off at night or what to watch on television? Who gets first dibs using the kitchen? And how often should anyone be allowed to take baths or use the washing machine?
In a flat-share or house-share, everyone is nominally equal - a tenant - and the landlord is not usually much of a presence. But if your housemate also owns the house, there's an immediate power imbalance.
It's an issue for a rising number of lodgers and live-in landlords. Research for the insurance firm LV suggests the proportion of people in Great Britain letting a room had almost doubled from 1.4% to 2.7% between 2009 and 2014, charging £3,003 a year on average.
Tax incentives could accelerate the trend even further. From April 2016, homeowners renting out a room will be able to make as much as £7,500 a year without paying income tax on it - up from the £4,250 limit in place for the last 10 years. This comes as buy-to-let landlords face the prospect of increased stamp duty and cuts in tax relief.
So, financially, lodging may make sense for both parties. But what will it mean for domestic harmony?
The arrangement isn't for everyone. When Emma lived as a weekday lodger with a mother and daughter in Eastbourne while studying, "it was made clear that I was not allowed in the kitchen to cook at certain times". It was also made obvious she wasn't welcome in the lounge at any time.
"Although my daily routine was regular, in that I left the house at the same time each day, they would often occupy the bathroom at the exact time I would need to shower before leaving." The power dynamic meant that she felt unable to complain.
Landlords can find the adjustment hard, too. Katy, a married mother of two from London who has let a bedroom in her house for eight years, warns it's not easy getting the right person. "We're not a particularly tidy family and some people just can't handle that," she says.
"We once had a lodger who was very meticulous and used to use the washing machine every single day. Whenever we left anything out, she would wash it up and clean up. It was overwhelming. Then we had another lodger who spent quite a lot of time on his bed smoking dope, as far as I could see."
The relationship between lodgers and landlords is an established source of humour. In the 1970s comedy Rising Damp, Rupert Rigsby (played by Leonard Rossiter) rented rooms in a seedy Victorian terraced house. The arrival of Philip Smith, a black man, brought out Rigsby's prejudices, while he yearned for spinster Ruth Jones.
But for all the protagonist's flaws, the show is remembered fondly because it "encapsulates a certain kind of shabby, deluded, but doggedly cheerful Englishness, with characters trapped in a purgatory of their own making", according to the British Film Institute.
Less warm was the 1950s Roald Dahl short story The Landlady, which saw a young man turn up at a boarding house only to be poisoned and stuffed, becoming part of a menagerie of other humans, a dog and a parrot. The 1955 Ealing comedy The Ladykillers, in which an elderly woman let rooms in her house near the entrance to London's Kings Cross Station to a criminal gang, with deadly consequences.
It was once seen as normal for young, single people to rent a room in a boarding house run by a landlady, perhaps while studying or beginning a career away from home.
A more modern model for lodging is when one person, buying or renting a flat, lets or sub-lets a room. This helps with large mortgages and high rental costs.
Currently, Katy and her husband let a room to a Polish couple in their 40s, who, if anything, are overly polite, clearing out of the kitchen whenever the family wants to use it. "They keep themselves very much to themselves," says Katy. "Sometimes you feel awful when they just make way for you, so you wait for them to finish before using the kitchen."
One of Katy's previous lodgers was a Nigerian man, who "used to talk so loudly to his friends and family back home like he was trying do so without needing the phone". But his larger-than-life personality endeared him to the family and he still pops round to visit.
Not all lodgers are so well liked. LV's survey, carried out by PCP Research, found one in five live-in landlords had come home to find appliances, such as ovens, left on unattended and that one in six had found windows left open.
Renting a room
£3000
per year generated by average spare room
£345 average monthly cost of a room in London

31 average age of a lodger

8 average number of days it takes to let a spare room
Thinkstock
Another possible source of tension is that lodgers have fewer legal rights than other tenants. It is easier for landlords to evict them, needing only "reasonable notice" rather than a court order. Live-in landlords can enter their rooms without permission and don't need possession orders from courts to bring about evictions. The chance of resolving matters - or arguing - face-to-face is greater, as they will see more of lodgers.
In extreme cases disputes can lead to violence. In October, 22-year-old Jesse Harper was convicted of the manslaughter of landlady Joanna Doman. He threw her down the stairs of her home near Bath after she confronted him over an "expensive habit" of taking two baths a day.
In 2008, Kenneth Sibbald stabbed to death mother-of-two Ulrike Ireland with a kitchen knife at her house in South Tyneside and last year, Neil Lewis, a landlord from Colchester, Essex, was fined for drowning his lodger's cat after it knocked over his model aeroplane.
However, there are happier examples of live-in landlords and lodgers getting on famously. In 2006, lorry driver David Soane offered to donate a kidney to David Clark of Swadlincote, Derbyshire, with whom he'd lodged several years before. And bank manager Niamh Carroll became involved in a romance with Samuel Cooper, to whom she rented a room of her flat in Sutton, Surrey.
Indeed, the incentive isn't always financial. Some homeowners open up spare rooms to avoid loneliness.
In the US it's increasingly common for pensioners to take in other elderly lodgers for this reason and because retirement home places are scarce and expensive, says Dak Kopec, director of design for human health at Boston Architectural College.
Rental website SpareRoom.co.uk found 45,000 people over the age of 50 in the UK had taken a lodger in in 2013, up from 32,000 two years earlier.
Kopec warns that the search for company isn't the most reliable way of finding a good lodger, as the relationship is, at heart, financial. But key to getting on is a degree of "shared world view", including their political, social and ethical views, he says.
This doesn't seem to have worried Jeremy Corbyn, who let a room in his north London house to a journalist who works for Mail Online, but it must be assumed that, as Labour leader, Corbyn is not at home as much as others might be.
However, Kopec warns that having something in common is particularly important when two people are in cramped conditions, such as sharing a one-bedroom apartment, the owner sleeping on a sofa in the living room while the lodger has the bedroom.
"The owner will want to exercise a degree of territorial control. If both they and the lodger like cooking, but in different styles or at the same time, the one who thinks they have the power might tell them it's 'their' kitchen. The person renting might feel obliged to stay in their room."
Or there might just be a personality clash. "It could end in disaster," says Kopec.
Equally, it clearly works very well for many. The key to avoiding arguments is to be upfront with each other before the lodger moves in, says Matt Hutchinson, director of SpareRoom.co.uk.
"Lodger-landlord relationships aren't like tenant-landlord relationships, but they're not quite like flatmates either," he says.
"It's easy for both people to think they understand the dynamic without having really discussed anything. When anything contentious crops up it can then be a problem - simple things like whether it's OK for the lodger to have their partner over to stay and, if so, how often, can cause resentment."
This was a lesson Emma learned to her cost. "I'm allergic to cats, which results in a nasty reaction around my eyes, but when I was away, the cat had come into my room and sat on my pillow. When I confronted the landlady, I was told 'It's the cat's room'."
She moved out soon after that.
---
More from the Magazine
The flatmate comedy Peep Show is ending as its lead actors approach middle age. Why are fortysomethings in shared accommodation still seen as unusual when their numbers are rising so dramatically?
Peep Show and the stigma of flat-sharing in your 40s
---
A selection of your comments
I rent out several rooms in my house and have for the last ten years. It certainly is eventful. I had a lodger barricade himself in his room and I didn't evict him for that - it was 6 months later when he urinated out the second floor window at 10am on a Saturday. The window was at the front of the house. Alcoholic postmen, divorcees and lots of really nice people. Keeps life interesting.
Conor, Belfast, Northern Ireland
I rented a room out in my house to a woman, 10 years ago as I was struggling financially. We got on well and got married a year later and had three kids. Now, we're getting divorced.
Phil, Warwick, UK
We rented a room out when we bought our first house. Our tenant, Ruth, hit it off with us from day one and was just superb. She's now our daughter's Godmother and we're lucky to have met her in the way we did.
John, Manchester, UK
I experienced a lovely lady who used to restrict my use of the cooking until after 9pm whilst she ate at the breakfast bar with her boyfriend (choosing neither the dining room & lounge) and she bizarrely used to take the Sky card out with her when she went out, despite me paying half of it. As such I was a bit too trusting with tenants when I let my house out years later. I came home early several times and caught one woman "entertaining" different men. One one occasion she opened the door in only thigh high leather boots. Another tenant turned out to have served 24 years for murder.
Hugh, Kent, UK
Subscribe to the BBC News Magazine's email newsletter to get articles sent to your inbox.