Who, What, Why: What is the Brimstone missile?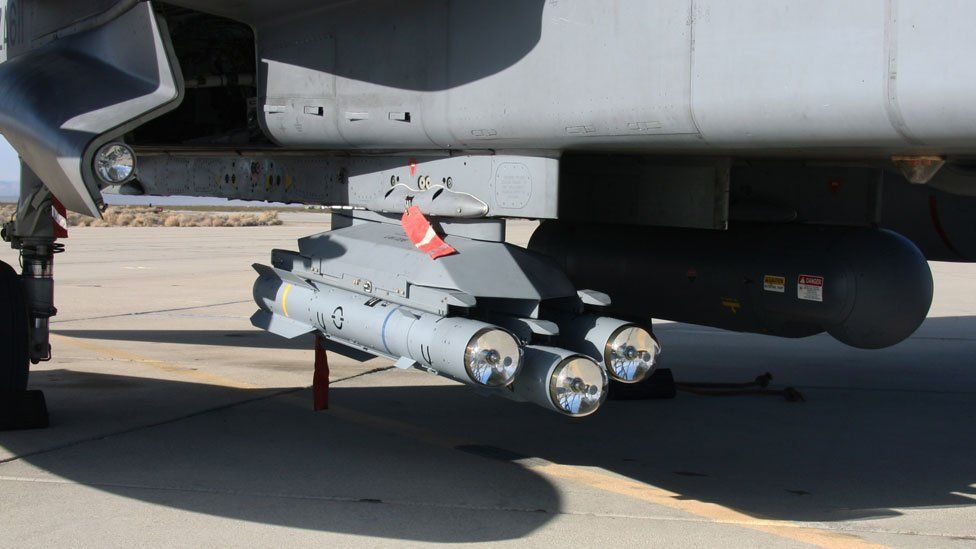 The UK has launched air strikes on Syria, amid much talk about the accuracy and precision of the Royal Air Force's Brimstone missile. What exactly is this weapon and why is it considered so important by many, asks Justin Parkinson.
It's sold as the "most accurate precision strike product on the market" and has seen service with the RAF in Libya and Afghanistan. After MPs backed strikes against IS - also known as Daesh - in Syria, it's likely to be used there, as it already is against the jihadist organisation's members and facilities in Iraq.
Weighing 49kg, 1.8m long and thought to cost more than £100,000 apiece, each Brimstone is fired from Tornado GR4 jets up to seven miles from the target, at altitudes of up to 20,000ft. Currently, the countries carrying out strikes on Syria don't have the capability of launching missiles of this size from fast jets, but have to do so from unmanned aerial vehicles or helicopters, says Nick de Larrinaga, Europe editor of IHS Jane's Defence Weekly. "Using jets allows more missiles to be used on a single mission," he adds. The Tornado is capable of carrying up to 12 Brimstones.
The UK and Saudi Arabia are the only countries to have purchased Brimstone. What sets it apart from other missiles is its guidance system, allowing a greater degree of accuracy, especially when aimed at moving targets such as tanks. The most up-to-date "dual-mode" version can direct itself using radar or be guided by a weapons operator in the air or on the ground, using lasers. The RAF is planning to convert Typhoon F2 jets to be able to carry Brimstones, with the Tornado fleet due to be retired in 2019.
Manufacturer MBDA promises a "low risk of collateral damage", important when attacking individual IS leaders, who may be living among civilians used as human shields. This is because explosions can be limited to smaller areas than with other missiles and bombs, and with less debris. It's been reported that, in Afghanistan, people standing in doorways have been hit, while others a few feet away were left unharmed.
"It could kill someone sitting in a car outside a house with the only damage to the house being perhaps a couple of broken windows," says independent defence analyst Paul Beaver. This, allied to the long operational service of the RAF crews involved in firing Brimstone, makes the UK's involvement in air strikes on Syria "incredibly useful" to its allies, he adds.
The missile is able to attack vehicles moving at up to 70mph. If infrastructure is targeted, there will be less widespread damage, meaning that facilities like oil fields can be repaired more easily when they are recaptured from IS, says Beaver.
The weapon's capabilities were used by supporters of British intervention to make their case. Brimstone helped Prime Minister David Cameron in his air strikes, Beaver argues, as it means the mission in Syria is likely to involve fewer civilian deaths.
Supporters and opponents of British intervention in Syria disagreed about the significance of Brimstone. Its accuracy made the government's case for RAF involvement in air strikes easier to argue, says Beaver. Prime Minister David Cameron said it allowed opponents of IS to "strike accurately with minimal collateral damage".
But Paul Rogers, professor of peace studies at Bradford University, says that however precise the weapon, ruling out civilian deaths in air strikes can never be a "certainty".
Rogers acknowledges the technical virtuosity of Brimstone but argues its role is "far more important symbolically" than in the overall military campaign against IS, as it will account for a "tiny proportion" of the total air strikes carried out by all countries.
Similarly, Labour leader Jeremy Corbyn told the House of Commons that claims about British missiles were "hard to credit" because the US and its allies were already "struggling to find suitable targets". He added: "In other words, extending British bombing is unlikely to make a huge difference."