'If I became an informer the chemotherapy could continue'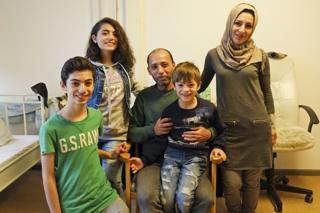 The Souda family is one of many that have made the long and dangerous journey across the Mediterranean to northern Europe. They are anxious about their new life in Germany, but they felt they had no choice when they decided to leave their home in Syria.
Winter suits Berlin. The low light softens the scars and early nightfall hides the trauma. The tourists don't notice - for them, the German capital is a neon cocktail of nightclubs and hipster bars, but in the bleak eastern borough of Kopernick it's as though the wall never came down.
I've come here to visit the Salvador-Allende-Haus, a former retirement home turned refugee reception centre in a run-down estate of 70s apartment blocks. The city tried to soften the monotone by painting the balconies in pastel colours, but the washed-out pinks and blues only enhance the greyness.
Inside, past the security guards - there have been more than 500 attacks on Berlin's refugee homes this year - the corridors are bright and clean. From behind doors labelled not by name but by floor area - 13.3 sq m for a single man, 15.3 for a couple and 17.1 for a family - comes the smell of cooking, garlic and cumin, and the muted sound of Arabic music.
Three-hundred-and-twenty-eight of Berlin's 51,000 refugees live here. Others are accommodated in billets in old schools, the hangers at Tempelhof airfield and even in the former Stasi headquarters on the Ruschestrasse. The total number of migrants is increasing by around 750 per day, with each migrant paid 359 euros ($395; £260) a month by the state.
The people I pass in the corridor flash nervous smiles, drop their heads and hurry on. Open doors are quickly shut, and mothers clip gaping toddlers around the ear. This is not a place in which to be noticed.
---
Find out more
From Our Own Correspondent has insight and analysis from BBC journalists, correspondents and writers from around the world
Listen on iPlayer, get the podcast or listen on Radio 4 on Saturdays at 11:30 or on the BBC World Service
---
In a sixth-floor flat, 42-year-old Malek Souda greets me anxiously, like I'm the police. Behind him, his wife Shubami, 13-year-old daughter Sima, and sons Anas, 15, and Omar, seven, stand nervously to attention. At home in Syria, they would have dragged me in, sat me down, brewed coffee and proffered baklava. But here, they're not sure how to behave.
Malek is a shadow of a man, with a sunken chest and patchy, slicked-back hair. Back home in the Syrian city of Latakia, he was a taxi driver. In 2012 he was diagnosed with cancer. Chemotherapy, paid for by the state health service, followed, but in 2013, the deal changed.
"The police made me an offer," he says. "If I became an informer the chemotherapy could continue. If I didn't…" He shrugs. "I was dead either way, so I ran."
That was in early 2014. Shubami and the children arrived just three weeks ago. The dehumanising bureaucracy of asylum prevents them living with Malek, so they're being held in Spandau, an hour-and-a-half west of here. Malek is not allowed to visit them so they come to his flat every Sunday.
Shubami, a former schoolteacher, took 18 months to raise the cash to follow Malek, and, like a good hausfrau, she kept detailed accounts of her expenditure.
It cost 1,500 euros ($1,650; £1,085) per person for passage in a rubber dinghy to the Greek island of Samos. "The boat ran out of fuel, and it was terrifying," says Shubami, hugging herself. "The waves were huge, the children were crying and we were all being sick."
Rescued by the Greek coastguard, she paid 50 euros per person for the ferry to Athens, 45 euros per person for the bus to Macedonia, 25 euros per person for the train to Serbia and 30 euros per person for the bus to Croatia. Then they walked across Hungary, guided by the Red Cross and sleeping in tents. The total cost of the journey was 7,600 euros ($8,360; £5,500).
After 40 days in the European wilderness, they arrived in Berlin, another frightened, anonymous, desperate family who risked their lives on a one-way journey into the unknown. Look at your own family and ask yourself if you'd make it.
That journey isn't over. The Soudas look like people who struggled up a steep hill only to find a mountain range beyond. Any relief and optimism is overcast with despair.
"Syria is finished," says Malek. "Everyone who was skilled has left. Everything that was good is broken." He gazes out of the window at Berlin, a city that knows what broken feels like.
"This will be our home now."
"All our hopes are for the children," says Shubami. "We want them learn German, go to university and get good jobs."
In the short term though, these kids need school and warm clothing. There aren't enough teachers in Berlin to educate all the refugee children, and while the German people have been generous, they've donated mainly summer clothes. "We'll manage," smiles Shubami. "Anas can wear his dad's coat and Sima..."
She looks at her daughter, who is staring sadly across the rain-washed rooftops in the vague direction of Syria - and suddenly her everything-will-be-OK spiel dries up.
Subscribe to the BBC News Magazine's email newsletter to get articles sent to your inbox.