The stories behind three different murders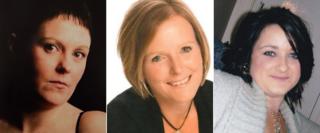 A new film looks at the cases of all of the 86 women killed in Britain in a single year - 2013 - by their partner or ex-partner. Here are three of the stories.
"She was my aunty."
"She was one of my best friends from school."
"Chantelle was my daughter."
"She was my next-door neighbour."
These are the poignant opening words to a new film, Love You To Death - spoken not by actors, but by family members and friends of women who have been killed by a husband, boyfriend or ex-partner.
In 2013, 164 women were murdered in Britain - 86 of whom (52%) were killed by their male partner or ex-partner. In that same year, 381 men were murdered in Britain, 12 of whom (3%) were killed by a female partner or ex-partner.
Vanessa Engle's film names all 86 women and tells the stories of a number of them in detail through the personal testimony of those dealing with the aftershocks of the sudden and violent deaths - mothers, sisters, daughters and friends.
Here are a few of them.
---
Kirsty Humphrey, 23, a mother of one, was found dead at her home in Essex early in the morning of 4 September 2013. She had been stabbed in the neck and chest. Her partner Mark Czapla was sentenced to life, to serve a minimum term of 23 years.
Stacey: Kirsty was one of my best friends from school. It always really annoys me when something happens to somebody and suddenly they become the most genuine, wonderful person in the world - when not everybody can be. But this girl was so real. So clumsy and so dopey.
Amy: I knew her from working with her in the care home. I remember she spent about £100 on fake tan and eyelashes. When we went out, I would have to put fake tan on her and then she would get drunk and spill her drink and have white lines all down her legs. She made me laugh.
When she was 19, Kirsty had a baby, Brooke, who she began raising on her own. She met Czapla about a year before he killed her.
Kirsty's mother Nicky: Mark just literally knocked on her door. He had just got out of prison the day before. I have no idea what she saw in him. He was so different from any other boyfriend she'd had. He looked a mess - scruffy, tracksuit bottoms all the time and T-shirts. Not her usual type at all.
Amy: Kirsty told me that he had [gone to prison because he had] beaten someone up. I thought that's not the sort of person I want my best friend to be with. Kirsty was besotted with him, even though it was only two weeks after [they met]. She was fascinated by him.
Nicky: Kirsty started to drink quite heavily with Mark. She had always just drank socially before.
Stacey: He stole her bank card and bought drugs with it. He spent all of her money on drugs - she couldn't do the food shopping. But she was also very worried that when he went out he was going to leave her forever. She really panicked about that. She would ring him a hundred times just to make sure he was coming back. He had a massive hold over her.
There was never any suggestion from Kirsty that Czapla was being violent towards her.
Nicky: I was seeing marks on Kirsty. But she told me she had been play fighting.
Amy: She came to work once with marks on her arm. But she said she had just burnt it on the oven.
Nicky: I did confront Kirsty - she went mental at me, absolutely mental. She didn't talk to me for three weeks. I told her several times that if these problems were happening so early in the relationship that she should end it. She always agreed with me but each time took him back. In the summer that year, she became tearful, down, she lost a lot of weight quickly. She looked worn down by it.
By September 2013 Mark Czapla had been living with Kirsty and her young daughter Brooke for nine months. Kirsty was becoming isolated from her friends. On 4 September she was found dead at her home.
Nicky: Brooke told me he was bashing mummy with a knife and kicking her while she was on the floor. She told me he was telling her to 'get up you whore'. She then told me he changed his trousers and put the washing on. He then left the house and locked the front door. Brooke was seen at seven in the morning at the window beckoning to a neighbour. The neighbour thought Brooke was just waving. She managed to open the back door at half seven, climb over a fence that was very high for her and was seen by a neighbour standing in an alleyway. Brooke told the neighbour that mummy was dead. What she saw that night no child should ever have to see.
Czapla chose not to give evidence at his trial. Four-year-old Brooke gave evidence in court. The judge said Czapla had shown his victim no mercy.
---
Find out more
Love You To Death: A Year Of Domestic Violence by Vanessa Engle is broadcast on BBC Two on 16 December at 21:00 GMT. You can watch the film via the BBC iPlayer.
If you have been affected by any of the issues raised in this article or the film, there are organisations that can help. Visit the information and support page.
---
Anne-Marie Birch, 47, was found dead in a field in Broadstairs, Kent, in November 2013. Her estranged husband Lee pleaded guilty to manslaughter but denied murder.
They had been married for 17 years before their marriage broke down. They had a daughter Molly.
Molly: If mum went out, even to take Nan shopping, she'd get a phone call every two minutes [from Lee] saying: 'Where are you, where are you, when are you going to be home?' I don't think her phone was ever not going off. Just seeing where she was the whole time. Not trusting at all. Controlling over everything, not letting us do anything he didn't want us to do.
She wouldn't tell anyone, the only person she really told was me - and that's because I was there. I don't think the family knew anything. I think she just thought he was a bit weird and she might as well just carry on. I always told her to leave him, and she always said: 'I don't know what he would do if I did.'
In August 2013, Anne-Marie decided she could no longer tolerate her husband's behaviour. She told him she wanted to end the relationship.
Molly: He said he wasn't going to let her leave and that he'd rather die - or her die - than him being alone. He was just stalking mum constantly, he wouldn't leave her alone. If she was walking the dogs, he would be just behind her or overlooking from the cliffs if she was on the beach.
When we drove to school once he was in a Scream mask and a costume holding up a sign saying 'I love you', waiting for us to drive past. We called the police on the first night that he went crazy and we kicked him out - that was when he was threatening to kill her. We were always calling the police.
Anne-Marie managed to get a non-molestation order from a court.
Molly: After that was in place, the police said call every time he was near, and we did.
Molly last saw her mother on the morning of 7 November 2013.
It was just a normal morning. I got up for school and when I went into the front room to put my shoes on, dad jumped out of the poolhouse and ran up the end of the garden and jumped over the fence. Mum called the police straight away. She was on the phone to the police as she was driving me to school. The last time I saw her really was when she was on the phone to the police.
DI Richard Vickery: An appointment had been set up for that day at six o'clock. And that was how the call was left, that she would attend that evening. Obviously nobody could have foreseen what was going to happen during the course of that day.
Birch walked along the coast to where he knew Anne-Marie, a dog walker, would be and waited for her.
Molly: I think he said he put a rope around her head and then hit her over the head with a big branch. He then tied it up more, kissed her and told her he loved her, and then drove away. He just couldn't imagine being without her. He was obsessed.
Birch took the dogs back to their owners, then stopped at a local Asda store to wash the blood and mud off himself in the bathroom.
He then went to a nearby pub and drank two-and-a-half pints of beer. At 3.09 he phoned Kent police.
This is the conversation:
Lee Birch: Okay, there has been a murder in Convent Road in a field, please go and get her.
Operator: Can you tell me your name?
Lee Birch. Her name is Anne-Marie Birch
How do you know this has happened?
Because I killed her. It's my wife.
DI Richard Vickery: Hindsight is always a fantastic thing isn't it? It's a massive leap from harassing someone - even persistent harassment - to the ultimate violence that you could mete out to anybody. Nothing would have stopped him. He actually said that in an interview. He said: 'It wouldn't have mattered what orders I'd been given by the court or conditions I had been given by the police, nothing would have stopped me.'
Anne-Marie had been strangled and suffered multiple fractures to her face. Having pleaded not guilty to murder Birch was convicted and sentenced to life with a minimum of 25 years.
---
Joanna Hall, 35, was stabbed by her 31-year-old boyfriend Steven Williams, 40 times in her flat in Tenby, Pembrokeshire. He sat smoking and watching her bleed for hours before calling the emergency service. She died three weeks later.
Joanna's sister Georgina: Joanna was always very cheeky. We were always very close - she was the joker of the family. When she hit her teenage years, she became a depressive.
When she was about 16 she fell in with the wrong people and didn't do very well in her exams. From there her behaviour just got worse.
As the years went on she was diagnosed as a depressive. It was only very recently, about a year before she died, that she was diagnosed with borderline personality disorder.
She used to do bar work and I think she and Steven Williams met in a bar at some point but they hadn't got together at that time. She was only seeing him for three weeks before he stabbed her. We didn't even know she was seeing him.
All she wanted was to find someone and be in a relationship and be loved. So that's why she was always headfirst into everything. She had already said to a friend that he was really lovely and that she was really happy, and that he might be the one - because, unfortunately, that's what she did. I think he saw that and took advantage of it.
The first time I knew anything had happened was when I got a message on Facebook from one of her friends saying to me: 'Oh my God what's happened, I've heard Jo's been airlifted to hospital.' I said: 'What the hell, I don't know. What are you talking about?'
I rang mum and dad and they said that the police had rung them but they didn't tell them what had happened. We all thought Jo being Jo, she had got drunk and got into a fight, or that she had been self-harming. I didn't want to start panicking until we knew what had happened.
I think the police got to mum's in the afternoon and mum rang me and said the policewoman wanted to have a word with me. That's when she said my sister had been stabbed a number of times. She told me I might want to come and see her.
They were basically were saying: 'We don't know if she's going to make it. They thought they were going to have to amputate her arms because the wounds were so bad.'
[At the hospital] we all thought she was going to be okay because she was awake and lucid. I said: 'Who did this to you?' She said: 'It was somebody I know. He's called Steven Williams. She said they had had a row in the evening and he had tried to rip a radiator off the wall. She told him to leave. She said he just flipped, got a knife from the kitchen and started stabbing her.'
Williams sat with Joanna for five or six hours smoking cigarettes. At one point he said: 'Will you just die.' She begged him to call an ambulance. When he eventually did, he laughed down the phone to the operator.
Georgina: The next day was Sunday, we went back in to see Joanna. She was on a lot of morphine, but Jo being Jo, she was joking with the police officers. We finally spoke to someone who told us how serious it was but we all thought she was out of the woods. The next morning we rang the hospital and they said she had had problems breathing and was getting distressed, so they had to sedate her and put her on a ventilator.
She never came out of it.
Williams, an alcoholic, claimed throughout his trial that an unknown knifeman had broken into the property in the morning while he briefly went to the shops to buy alcohol. He was found guilty of murder and jailed for life. He must serve at least 22 years.
---
Janelle Duncan-Bailey, 25
Akua Agyeman, 32
Anastasia Voykina, 23
Myrna Kirby, 57
Suzanne Newton, 45
Virginija Jurkiene, 49
Chloe Siokos, 80
Debbie Levey, 44
Ganimete Hoti, 42
Samantha Medland, 24
Alexis Durant, 42
Dimitrina Borisova, 46
Victoria Rose, 58
Pamela Jackson, 55
Chantelle Barnsdale-Quean, 35
Susan Cole, 54
Jennifer Rennie, 26
Daneshia Arthur, 30
Deborah Simister, 45
Lisa Clay, 40
Naika Inayat, 50
Farkhanda Younis, 30
Heather Arthur, 50
Salma Parveen, 22
Christine Baker, 52
Margaret Knight, 77
Margaret Mercati, 63
Yvonne Walsh, 25
Fatemeh Bostani, 43
Reema Ramzan, 18
Rania Alayed, 25
Lilima Akter, 27
Zaneta Kindzierska, 32
Asma Begum, 21
Linzi Ashton, 25
Kate Dixon, 40
Denise Williamson, 44
Sabeen Thandi, 37
Shivani Kapoor, 35
Assia Newton, 44
Jane McRae, 55
Julie Beattie, 24
Rosemary Gill, 48
Alexandra Kovacs, 25
Jean Redfern, 67
Keisha McKenzie, 28
Linah Keza 29
Anu Kapoor, 27
Mayurathy Perinpamoorihy, 32
Caroline Parry, 49
Michelle Giles, 43
Judith Maude, 57
Gail Lucas, 51
Orina Morawiec, 21
Julie Connaughton, 57
Jane Wiggett, 57
Betty Gallagher, 87
Lisa Banks, 46
Varkha Rani, 24
Gemma Finnigan, 24
Amina Bibi, 43
Marion Vita, 48
Derisa Trenchard 48
Junella Valentine, 34
Ahdieh Khayatzadeh, 46
Gabrielle Stanley, 28
Josephine Steele, 45
Catherine Sandeman, 40
Ridda Zanab, 21
Jade Watson, 22
Paula Newman, 20
Tracey Topliss, 47
Carol French, 73
Aisha Alam, 49
Annie Beaver, 81
Sharon Hayter, 54
Poonam Kumar, 35
Jayden Parkinson, 17
Victoria Adams, 22
Mahnaz Rafie, 48
Kerry Power, 36
Janet Lockhart, 29
Shamim Gabriel, 33
Love You To Death: A Year Of Domestic Violence by Vanessa Engle will be broadcast on BBC Two on 16 December at 21:00 GMT. You can watch the film via the BBC iPlayer.
If you have been affected by any of the issues raised in this article or the film, there are organisations that can help. Visit the information and support page.