The British attitude towards a prime ministerial jet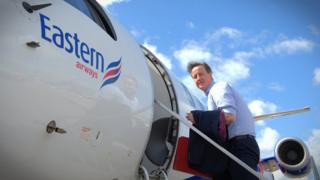 The prime minister and other senior ministers are to get their own plane for official trips. Why are leaders' aircraft so controversial, asks Jon Kelly.
There's always a punning reference to the US president's aircraft. When Tony Blair planned to buy two private jets for official use - later cancelled by his successor Gordon Brown - the project was nicknamed "Blair Force One". Now, less satisfyingly, the press are talking about "Cam Force One".
The government insists the £10m proposal to refit a RAF Voyager A330 air-to-air refuelling aircraft is far more modest than its American counterpart and will, in fact, save public money. It is reported that the new arrangement would cost £2,000 per flying hour, compared with an average £6,700 to use either Royal Squadron planes or a long-haul charter. The Royal Family will also be able to use it and it will be available for refuelling duties when not in use.
Labour says the true price tag won't be known until it comes into service, but the debate never comes down to a simple cost-benefit analysis. While Blair's plans were seen as a sign of hubris, Cameron's critics say it's inappropriate at a time of austerity. UKIP MP Douglas Carswell tweeted that while politicians and pundits may think it's perfectly sensible, voters "won't see it that way".
This, coupled with a very British distaste for extravagance and ostentation, helps explain why the UK is the only G20 nation not to have a dedicated aircraft for transporting either heads of state or government. France, Germany and even Belgium each have their own.
But while it's widely accepted elsewhere, there are plenty of other countries where VIP jets are controversial - particularly in Africa. A planned luxury 4bn rand (£185m) aircraft for South Africa's Jacob Zuma has been widely criticised, as were Swaziland's King Mswati plans to acquire a second private plane. By contrast, former Malawian President Joyce Banda was widely praised when she auctioned her official jet and vowed to hitch rides with other leaders.
There are other benefits beyond national prestige. A dedicated aircraft allows secure communications as well as the protection of missile detection systems. Also, it's potentially an opportunity to show off British engineering. "If it showcases an aircraft in which Britain plays a key part, that's a tangible benefit," says air transport consultant John Strickland.
Others complain that it will only serve to separate the UK's leaders more from ordinary people. Either way, it's unlikely that any film studios are jostling to produce a British remake of the action film Air Force One - in which Harrison Ford's all-action US president improbably battles a band of terrorist hijackers led by Gary Oldman at high altitude.
Subscribe to the BBC News Magazine's email newsletter to get articles sent to your inbox.