What one Syrian family thinks about coming to the UK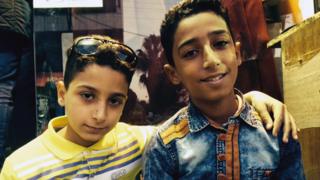 The UK is taking in 20,000 Syrian refugees between now and 2020. But how does a family feel about a new life in an unfamiliar place?
"I know it's very cold," says Bayhas, 11.
"It's the country of democracy, the UK, and it is four countries united in one," says Adham, 20.
Batool, 18, has a notion about what Britons are like. "I know the people are humane."
These are the words of three members of a Syrian family who have headed to the UK. They'd been living in Jordan since 2013 after fleeing Syria. When they got the call to tell them they were moving abroad, they were told they were going to Newcastle for a new life. But that has changed and they have now flown to Glasgow, their new home.
Nourallah is the "head of the household". He was pleased when he heard he would be coming to the UK. "I was very happy and I said our situation would be better, much better than here."
Nourallah is in need of medical treatment. One side of his jaw was destroyed when a rocket hit their home, a village close to Damascus. He went to hospital, but "after 20 days, the doctors advised me to leave Syria for treatment as they were running out of medicine and there was no medical equipment available for operations". He left with his wife, Hedija. In Jordan he discovered he also needs a heart operation.
Hedija says she thought they'd travel to Jordan for the surgery and go straight back. She left three children by her first husband with relatives in Syria. She sobs as she says she hasn't been able to return to them. "My only wish in life now is to get my two boys out of the war in Syria," says Hedija.
With them on the flight to the UK were Nourallah's two children by his first marriage, Adham and his sister Batool. Also in Nourallah's care are two nephews, nine-year-old Laith and 11-year-old Bayhas. Their father, Nourallah's brother, was diabetic. "At the start of the war in Syria, he suffered a diabetic shock. I tried to get him treatment but I was stopped at a checkpoint. I was held there so long, he fell into a coma and died."
Batool is full of trepidation. "I am scared and a bit worried but still I am optimistic. I dream of a better life. The most important thing is to continue my studies."
The family came to Britain on the Vulnerable Persons Relocation scheme. Prime Minister David Cameron expanded the scheme after photos of a Syrian child washed up on a beach shocked the world. Before that, 216 Syrians had arrived in Britain through that route. Now 20,000 will be given homes over the next five years. Up to 1,000 will arrive in the UK before Christmas.
The UNHCR refugee agency oversees claims for resettlement. No refugee has a right to be resettled - instead UNHCR assesses their vulnerability according to various criteria. About 10% of the refugees who've fled Syria will be deemed vulnerable enough to require resettlement. Criteria can include a combination of medical needs, experience of torture or sexual violence, family size and impoverishment, and women and children who are at risk once the "man of the house" has been killed.
At the UNHCR resettlement office in Jordan, about 200 refugees are interviewed each day. There's been a push from many countries in the past few months offering sanctuary - 130,000 pledges of resettlement places have now been offered globally - and in the past few weeks this office in Jordan alone passed 560 names to the UK.
Myriam Baele, the head of resettlement for UNHCR in Jordan, says fewer refugees want to be resettled from the regions round Syria than in other conflicts she has known. "In the Syrian population, the willingness to go abroad is far less. People here are very much attached to this region, their country. They still have families and friends and want to be close to them so in that respect it is a hard choice to go."
It was a tough decision for Nourallah's family. But life in Amman had been tough. Adham, tried to bring in some money, working in restaurants. Even with his wages and charity money they were given, it wasn't enough. Most refugees in Jordan don't live in camps, but, like this family did, in rental accommodation which costs money. Many also have to go without medicines and treatment.
It's illegal for Syrian refugees to work without a permit, but often they have to, and are vulnerable to exploitation. Adham says he was arrested by the Jordanian authorities three times. A frightening experience, but not as bad as what they could expect back in Syria. "The thing I feared most in Syria was getting arrested. Arrest is quite terrifying, and there's torture. I was arrested once with my uncle for six hours. I was also arrested for three hours on my own. My uncle was beaten."
Though apprehensive about moving far away from everything they know, and a little worried, they suggest, that there won't be flat leaf parsley to make the tabouleh salad that is a staple in the Middle East, the family say they're keen to learn English quickly and integrate. As Nourallah puts it: "My health situation will improve, I'll get treatment. I'm expecting to start a new future for me and my children. I know we will start from scratch, but I think it will be a better future."
Hedija confesses that she knows little of life in the UK. "My husband is going to get the treatment he needs for his jaw - he cannot eat properly - and this is the most important thing for me. I know nothing about Britain and the most important thing is to be with my husband."
Nourallah struggles to imagine returning to Syria. "After my treatment the first thing I will do is learn English. For my age and what I see, I think Britain will be my homeland. I don't think in the situation now that I will be able to go back, so the UK will be the place to live to the end of my life."
BBC Newsnight is following two families from Syria as they resettle in the UK as refugees. You can watch part one in this series here, follow their journey on this blog and on social media - the hashtag is #2familiesfromSyria
Subscribe to the BBC News Magazine's email newsletter to get articles sent to your inbox.