Wembley: La Marseillaise as an act of defiance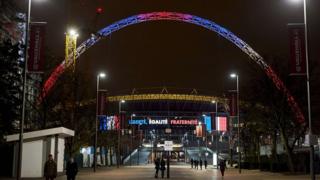 England fans will be encouraged to join in the singing of La Marseillaise as a moment of solidarity during the match against France at Wembley on Tuesday. Could it be a powerful symbol of defiance, asks Finlo Rohrer.
After Friday's Islamist attacks in Paris that claimed the lives of 129 people, videos circulated of fans singing La Marseillaise while being evacuated from the Stade de France.
And for a non-French audience the anthem conjures images of the memorable scene from Casablanca where French patriots drown out a group of singing Nazi soldiers. Plenty of YouTube commenters have been drawing parallels in the last couple of days.
On Tuesday, the FA will encourage the tens of thousands of England fans to join in the singing of La Marseillaise, displaying the words on the big screens. In a change of protocol, La Marseillaise will be played after God Save The Queen.
The FA will also replace the usual human flag - formed by fans holding up coloured cards - of the St George's Cross with the Tricolour.
"Since 1998 we've been laying out a St George cross before every England game but for the first time there won't be a St George's cross. You can probably guess what flag will be replacing it - the French flag," says Mark Perryman, a fan representative and organiser for Raise the Flag. "We've never dropped our own flag so it's a very special moment."
Another fan representative, Malcolm Clarke, chairman of the Football Supporters' Federation, was among those who contacted the FA on Saturday to back the idea of mass participation in La Marseillaise.
"I think it just shows solidarity with the French. I don't think anything like this has ever been done before. We will all have to polish up our French pronunciation."
In the past the FA has had some issues with a minority of England fans booing opposition anthems. But Tuesday is likely to be a completely different sort of occasion.
"The away team anthem is always sung first," says Perryman. "It's been a long time since fans booed that anthem and they won't be booing it, they'll be doing their best to join in. It's a tremendous statement from the FA and I'm sure the fans will buy into it universally. The message is very simple - it's for common humanity."
The forum for the England supporters club has had numerous posts from England fans wanting to sing the opposition's anthem. Dating from the wars of Revolutionary France in the early 1790s, La Marseillaise is full of stirring calls to arms. And, Perryman notes, there's an eternal link between the French Revolution and England in the form of radical Tom Paine, which gives extra resonance to the anthem.
"It is a song of rebellion, a song of defiance," says Perryman.
---
La Marseillaise first verse and chorus
Allons enfants de la Patrie,
Le jour de gloire est arrive!
Contre nous de la tyrannie,
L'etendard sanglant est leve (repeat)
Entendez-vous dans les campagnes
Mugir ces feroces soldats?
Ils viennent jusque dans vos bras
Egorger vos fils, vos compagnes!
Chorus: Aux armes, citoyens,
Formez vos bataillons,
Marchons, marchons,
Qu'un sang impur
Abreuve nos sillons (repeat)
Translation
Arise, children of the Fatherland,
The day of glory has arrived!
Against us tyranny's
Bloody banner is raised
Do you hear, in the countryside,
The roar of those ferocious soldiers?
They're coming right into your arms
To cut the throats of your sons, your women!
Chorus: To arms, citizens,
Form your battalions,
Let's march, let's march,
Let an impure blood
Water our furrows.
Subscribe to the BBC News Magazine's email newsletter to get articles sent to your inbox.