Daniel Holtzclaw trial: Standing with 'imperfect' accusers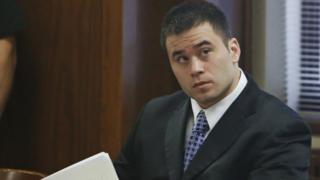 The trial of Daniel Holtzclaw, a police officer accused of sexually assaulting more than a dozen poor, black women, has failed thus far to make a large impact on the national stage. Now one local group of activists is determined to fill the void.
A little over a year ago, after multiple felony sexual battery and rape charges were filed against former Oklahoma City police officer Daniel Holtzclaw, the story made national headlines.
The allegations were shocking - the uniformed officer allegedly sexually assaulted multiple women after stopping them in the course of his duties, targeting ones from a poorer, predominantly African-American part of the city. Over the course of the investigation, the number of accusers grew to 13. Holtzclaw currently faces 36 charges, including felony sexual battery, rape, forcible oral sodomy and stalking.
He was fired from the force in January.
The story was huge when it broke, so local FOX25 reporter Tom George was surprised when he walked into the courtroom for the first day of Holtzclaw's trial last week.
"The first week, it was almost empty," says George. "I think there was an assumption that it would be packed."
There has also been minimal national media attention for the trial, as pointed out many times on social media, sometimes with the hashtag #BlackWomenMatter.
"13 women have accused former police officer #Daniel Holtzclaw of sexual misconduct/rape. Where's the outrage?" wrote one person on Twitter.
"I'm disappointed that many women's orgs came out to support other victims of police brutality but have remained silent on this case," tweeted activist Feminista Jones.
The alleged victims - who range in age from 17 to 57 - are all black. They have accused Holtzclaw of fondling their breasts, forcing oral sex, and in two cases, rape. Some told investigators that Holtzclaw implied that he would help them with their cases if they performed sexual acts.
Holtzclaw has pleaded not guilty to all charges against him.
The first alleged victim to come forward was a 57-year-old grandmother who called the police after Holtzclaw allegedly pulled her over, searched her under her bra, then forced her to perform oral sex on him.
Some of the other women have criminal records, worked as prostitutes or were using drugs. The prosecution has argued that none of them came forward because they were afraid no one would believe them - and that they were targeted for this very reason.
That background may also explain why the courtroom looked so empty in those first days, says Pastor Jesse Jackson Jr of the East 6th Street Christian Church in Oklahoma City.
"All these victims down there didn't have that kind of family - the courtroom was not packed," he says. "Some of these ladies - they aren't little old church ladies. But all of them are victims."
Concern about the absence of supportive faces in the court was compounded by the fact that the jury in the case is all white and mostly male - eight men and four women.
"These are the women that even among women, we say disparaging things. They're not as valued," says Grace Franklin, a co-founder of the group OKC Artists For Justice, which has been organising around the case since the beginning. "He knew people would have a hard time believing them."
The founders of OKC Artists also say that since the news broke over a year ago, they've reached out to many, larger national groups (they declined to name any) about joining their protest movement around the case, but received little response. The lack of interest from media, from the general public, from local churches and from other activist movements has been baffling for Franklin, and is playing out once more in the mostly empty rows in the courtroom.
"It kind of fuels the feeling of separation between black so-called feminists and white feminists," she says. "Why aren't there more women out here of all shades, of all backgrounds for these women? Why are we doing this alone?"
Blogger and cultural critic Mikki Kendall has written about the lack of support for the alleged victims in this case in the past.
"I think that a lot of people perceive this as risky to bet on because these women are not perfect victims," she says. "Particularly when you bring in factors of race, we've seen that white women are not necessarily going to dig in on behalf of black women."
In an effort to push back, Jackson and OKC Artists For Justice held a meeting to make sure that the rows are filled with supporters for the rest of the trial, which could last as long as a month. They are scheduling volunteers in morning and afternoon shifts, in part using a Facebook event page and in part with a handwritten sign-up sheet.
The group's presence is not meant to be an aggressive protest action. Participants are instructed to remain silent in the courtroom, turn off their mobile phones and wear teal, a symbolic colour in support of victims of sexual violence. Candace Liger, another co-founder of OKC Artists For Justice, says that they have a contact within the group of alleged victims who are aware and appreciative of their actions. But that is the extent of communication - their presence is meant to be one of silent support.
"I think it absolutely helps, it just helps to sit there and say, 'I believe you,'" she says.
Two victims have testified so far in the case, and in addition to describing their assaults in detail, they have faced vigorous cross-examination by Holtzclaw's defence lawyer. He questioned one about how much marijuana she had been smoking the day of the alleged assault. He asked the other about her PCP use and about the fake names she has given to police in the past. He reminded the jury she has three or four felony convictions on her record.
But while the first alleged victim told her story to a mostly empty courtroom, the second saw a sea of sympathetic faces when the trial resumed on Tuesday, thanks in part to the efforts of Jackson and OKC Artists.
"Big change from last week - almost every seat at #DanielHoltzclaw trial now full," tweeted George.
Subscribe to the BBC News Magazine's email newsletter to get articles sent to your inbox.