The fallout from a social media bombshell
By Maisie Smith-Walters
BBC News Magazine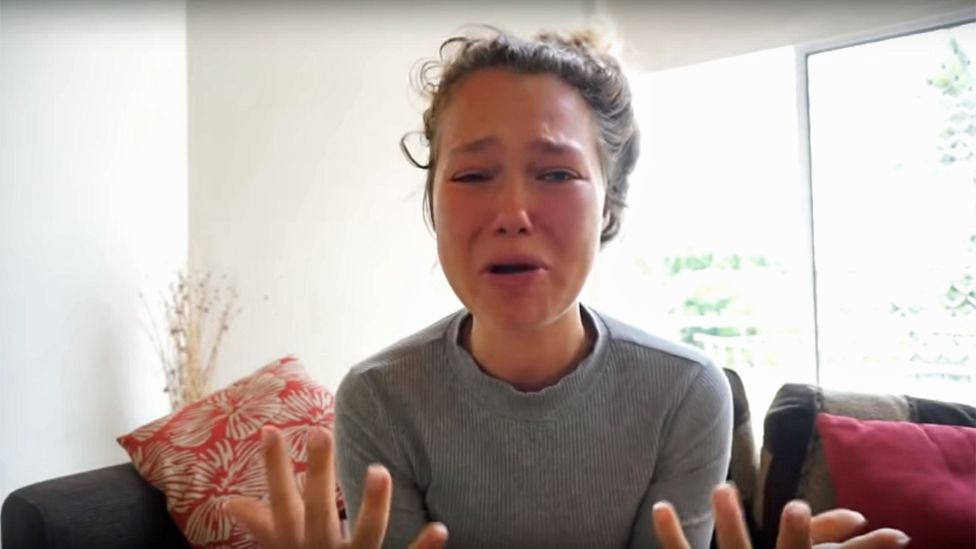 Instagram star Essena O'Neill generated masses of coverage this week when she declared she would quit social media. Why has her announcement caused a big reaction?
O'Neill uploaded a 17-minute-long video to YouTube - now deleted - and told her tens of thousands of subscribers why she had decided to leave behind the world of Instagram, Tumblr and Snapchat.
The 19-year-old complained that her glossy lifestyle, documented in a string of photos, was not making her happy. And she criticised bloggers' relationship with advertisers and the pressure to stay thin and beautiful.
Some columnists around the world have praised her stance. "There is much to admire about O'Neill's very public, attention-attracting stand," wrote one.
But many have speculated that O'Neill's outburst was a publicity stunt - pointing out that she has generated massive attention.
One response to O'Neill came from fellow YouTube stars and friends Nina and Randa Nelson who accused O'Neill of staging a hoax and rebutted her video line by line.
O'Neill has deleted her YouTube and Instagram accounts and even got rid of a forum on her new website full of mostly supportive comments.
But many people have also posted video replies, and started a worldwide conversation on the issues O'Neill raised.
The way social media stars are paid
"[Social media] is now a business… Companies will email you with dot-points of what you should say, with times of the day to post, what you should do in the photo how you should hold the product, where you should have it in the background. Companies know the power of social media and they are exploiting it."
O'Neill lifted the lid on the relationship between blogging stars and companies. The likes of O'Neill are paid to display particular products but many fans may be unaware they are watching advertising. In the UK, the Advertising Standards Authority has warned bloggers over the issue.
But some have pointed out that O'Neill, having turned against her sponsors, is now asking for donations in connection with her new website.
Brian DiFeo of the Mobile Media Lab, a company that specialises in finding Instagram pages for companies to send products to, was disappointed by O'Neill's stance.
"It doesn't surprise me that she was offered those opportunities, but it surprises me that she took those opportunities, executed them and then bad-mouthed them afterwards."
Rather than the whole process being flawed, DiFeo suggests it's a question of what product a blogger is pushing.
"I think the downside is when these influencers, Essena for example, they say yes without really considering if it's a good fit for them, or what the repercussions will be."
O'Neill complained she wasn't living "a real life" and that she was betraying her followers by presenting a lifestyle that was really underpinned by free products and sponsor payments.
In her video, O'Neill explained that for days she would restrict her calorie intake and use carefully contrived poses to get the desired "skinny" look.
She said she looked up the measurements of models and compared herself with them, hoping one day to look like them.
O'Neill's stance on the dangers of "perfect" images for young people engaging with bloggers rings true for Dr Amy Slater, an expert in body image and social media at the University of the West of England.
"It's an extremely visual environment, so photo sharing is extremely common. What that means for young people is that there's the opportunity to compare yourself to people that you're seeing in your feeds.
"In the images that are presented to us in our feeds from our social media friends, if they are more and more enhanced and altered, that comparison also has the potential to make us feel bad about ourselves."
A lot of the current generation of internet personalities are open when it comes to their emotions, like fashion blogger Zoella and her battle with anxiety.
O'Neill talked about having symptoms of depression despite her apparent "perfect life" and how "it was never enough".
She wanted to change the range of videos and photos she posted - promoting causes like veganism for example - but still felt pressure to present the life she had always upheld.
Many of her followers may have expected her to show them the same idyllic life she had been building since the age of 12.
Her position echoes other YouTube stars. One blogger, SprinkleofGlitter, said in a video she didn't think it was right when people called her an "idol" and an "inspiration". She thinks she's not deserving of that title, and she sometimes gets overwhelmed when meeting her fans.
In her video and in her re-posted Instagram captions, O'Neill talks about the obsession with taking hundreds of photos to find the perfect one.
This would result in hours spent taking and then editing the photo, to match up with the rest of her social media profiles.
She also said that the only thing that made her happy was when she gained followers, likes and views - which she would monitor constantly.
In a follow-up video, O'Neill said: "I was addicted to social approval, and I didn't even realise."
Social media is a good way of sustaining existing relationships, but our need for both connection and value is getting a bit distorted, argues sleep expert Dr Nerina Ramlakhan, who has studied the effects of heavy technology use.
"Our need to connect, it's becoming more like a series of interactions rather than connecting from depth and connecting from the heart.
"The connections we make online can give us that warm glow, but we mustn't mistake that for true connection."