A Point of View: When my mother was painted gold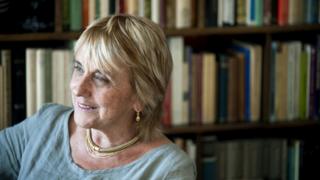 Historian Lisa Jardine, who has died aged 71, presented many editions of A Point of View. This piece from May 2010, on her mother and the importance of recording personal memories, is re-published as a tribute.
My mother Rita trained as an artist, and was a sculptor (in wood and stone) at the time I was born. By the standards of the 1950s and 60s when I was growing up, she was flamboyant, unconventional, and bohemian.
As young adults, my three sisters and I would beg to be entertained by her stories about what life was like when she was young.
One of our favourites was the story of how, in the early 1930s, she was the crowning glory on top of a float at the Chelsea Arts Club ball, held in the Albert Hall.
She was a student at St Martin's School of Art, to which she had gone on a scholarship at the age of 14 - skipping any further conventional schooling, which her intellectually aspiring Jewish immigrant family would have preferred.
The first time she told us this story, as I recall, was in 1964, when we had just seen the James Bond movie, Goldfinger.
In it, an unfortunate minor love interest of Bond's is discovered by the film's villain to have been sleeping with the enemy. She is murdered by the bizarre expedient of painting her naked body head to toe with gold paint - thereby supposedly asphyxiating her.
"Nonsense," snorted my mother. "I was naked except for a g-string and painted from head to toe in gold paint, and did not suffer any adverse consequences at all.
"Just as well," she went on. "I had no idea that once the parade of floats had circled the hall, the ball-goers would set upon them and tear them to pieces. As our float disintegrated beneath me, I had to leap from the top of it into the arms of a fellow student, to avoid crashing to the floor."
Stories like this one shaped my own confidence in myself as I grew up. They encouraged me to be bold. They reassured me that you did not have to be entirely conventional to succeed in life. They challenged my teenaged views of what was appropriate for a studious, ambitious, headstrong girl to attempt.
My mother never wrote down her beguiling tales, and neither did we.
My mother is now a frail 92. I am spending this week with her in Los Angeles, where she lives with one of my sisters. She is in good health - as good as one can expect at such a great age - and still able to get around, although she is unsteady on her feet and prefers a wheelchair now when we go out.
She enjoys the warmth of the California sun, watching the waves breaking lazily on the Pacific shore, or instructing me which dead flower heads to cut off in the garden where she loves to spend time.
But these days she lives entirely in the present. A consummate raconteur who could hold listeners spellbound at any party, time has played a terrible trick on her.
It has deprived her of any memory much beyond the interval between one meal and another. Names entirely elude her.
---
About the author
Lisa Jardine was professor of Renaissance studies at University College, London
Among various other roles, she served as head of the Human Fertilisation and Embryology Authority and was a trustee of the Victoria and Albert Museum
She died on 25 October 2015 at the age of 71
---
The situation is particularly poignant for me because I have recently embarked on the research for a memoir about my father, Jacob Bronowski.
I was prompted to do so by discovering last year in a cupboard - while moving my mother from her home of almost 40 years in southern California - a box containing the diaries my father kept from the 1930s until his death, and a bundle of letters written by him to my mother at the end of World War Two.
He had been sent to Japan, in the aftermath of the dropping of atomic bombs on Hiroshima and Nagasaki, as a lead member of a team of British and American scientists and statisticians.
It was a military mission - the continuation of work he had done during the war on strategic bombing with the Operational Research unit in the British Ministry of Home Security and the Joint Target Group in Washington.
His team's task was to assess the damage to buildings - especially Western-style buildings - caused by the two atomic bombs dropped by the Allies six months earlier.
Communication was difficult. In the entire three months he was away, only three letters from my mother reached my father - none at all while he was actually in Japan. Nevertheless, he wrote almost daily.
These letters give me a tantalising glimpse of my father's feelings faced with the two devastated cities, and the difficulties in executing the task he had been set.
They also allow me to listen to him sharing those experiences with his young and much-loved wife, left to cope on her own back home, with a toddler and a babe-in-arms - myself and my sister Judith.
He already, he wrote, found the eerily empty wasteland caused by saturation bomb-damage to Tokyo disturbing.
"Tokyo itself is simply a ruin - the devastation goes on for mile after mile, all burnt down flat with no horizon but a few concrete houses and factories. The impression is quite different than, say, Hull, because there is no rubble to speak of. What is burnt has left no trace but the corrugated roof sheeting, which has often been knocked together to make a new little home - if you can call it that."
Still, that did not prepare him for Nagasaki. A day after his arrival there, he described his first impressions.
"The ruin is beyond description. I have seen nothing so terrible before, even the little mounds of bones where they have burnt the bodies found in the rubble are not an index of it. It is not worse than Tokyo in appearance, of course (except for the tangled buildings pushed askew), but in one's awareness that all this happened within seconds, not hours."
His diary for the same period tells me he "visited Omura hospital and casualties". He did not mention these to my mother.
As an antidote for such horrors, he described to my artist mother the beauty of the landscape surrounding the devastated cities.
"I still feel that Kyushu, the southern island on which Nagasaki stands, is most beautiful because of its mountain wildness gashed with blue bays; but I was surprised to find Hiroshima, which I knew to be flat, in fact surrounded by high and lovely hills, like all Japanese hills wooded thickly to the very crown."
I learned too from his diary that he was reading War and Peace when off duty. He finished it on the return journey to Washington.
My father wrote only a little about that trip - apart from the classified documents he filed shortly after his return. He never mentioned it to us children at all, as far as I can recall.
How I wish, then, that I could talk to my mother about those days - what it felt like to receive those spare, intense communications, with their dark hints at what he was witnessing, how much she already knew about the bombings, what else he told her once he got home.
"We have seen so much of the squalor, we find pity rather indifferent," he writes in one letter, towards the end of his assignment.
I am too late. After more than 30 years preserving my father's memory, she no longer recalls that she had a husband, or at least cannot recall clearly who he was.
Nothing could bring home to me more sharply the importance of memory for history. Nothing more strongly reminds me of the responsibility those of a historical temperament have to document and record events in the present as they unfold, lest future generations forget.
When my mother was in her 80s and visiting my family in London, I took her one evening to the Chelsea Arts Club, where photos of those flamboyant and bohemian balls in the 1920s and 30s still hang on the walls.
Together, over dinner, we entertained a group of friends with the story of her starring role dressed only in gold paint, all those decades earlier. She chipped in constantly to correct me, or to add a further wonderful and funny detail, her eyes sparkling with delight at the recollection.
How much better that story of hers with which I started was for her lively interventions. In fact, in the telling of it here, I have probably left out the very best bits. But alas, although she is still here with me, she is no longer able to fill in the gaps.
A Point of View is usually broadcast on Fridays on Radio 4 at 20:50 BST and repeated Sundays, 08:50 BST - or catch up on BBC iPlayer
Subscribe to the BBC News Magazine's email newsletter to get articles sent to your inbox.