Where does UK aid to Syria actually go?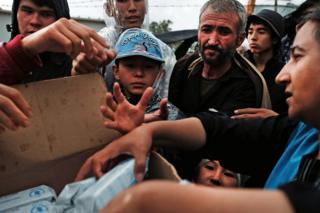 The UK's Department for International Development is spending over £1bn on aid for Syria. But where is it going and how much is reaching the Syrians it is supposed to help, asks Simon Cox.
How hard is it to find out exactly how DfID's £1bn for Syria is being spent?
If you head to DfID's development tracker site you can find the amounts being donated to charities and the UN agencies like the UN children's fund Unicef and the World Food Programme (WFP).
DfID has even provided a breakdown showing who the donations went to and in which countries the money was being spent.
But what about the detail of how much is actually spent on the projects themselves?
The Norwegian Refugee Council (NRC) is a good place to start. It has received £17m from DfID for projects in Jordan and Lebanon. The money is used to refurbish houses owned by Jordanians that are used to provide rent-free accommodation for refugees for up to two years.
So far NRC has upgraded 1,300 houses, providing homes for 4,500 Syrian families - like that of Abdul Rahman. He fled Syria with his wife and three children in 2012 as he says he feared for his life.
For the past three years he has relied on handouts as Syrian refugees are not allowed to work. He says his new home is a massive step forward: "Giving Syrian refugees a new house with no rent, we really feel dignity and stability."
DfID sets strict limits on what percentage of the project's budget can go towards overheads. In NRC's case it's 8.6% and the money is spent at NRC's HQ and in Jordan. "These are costs like the rent on our office space, [and] vehicles that are not directly associated with the project but that the office needs to be able to continue to function," says Catherine Osborne, NRC's protection adviser in Jordan.
Over a dozen organisations like the Norwegian Refugee Council, Oxfam and Save the Children are receiving over £230m from the British government for work in Syria and neighbouring countries. But these charities only account for a fifth of DfID's Syria budget.
The majority, almost £600m, goes to the big UN agencies. The World Food Programme (WFP) gets the most - £227m which is used for food inside Syria and vouchers in Jordan and Lebanon which refugees use to buy food.
The WFP, like all UN agencies, contribute information to the aid transparency website d:portal.
For Syria the only detailed WFP budget easily findable on the whole of the site is a $24m breakdown for food vouchers for three months in 2012.
This shows that 7% or $1.5m went on a management fee for officials at WFP headquarters in Rome. This is apparently typical for all UN budgets.
A further 21% - or $2.3m - went on staff costs, with over half of that for international staff and consultants. So almost a third of the budget went on staff and administration.
Abeer Etefa, WFP's senior spokeswoman for the Middle East, says this level of overheads is not common, "We run a very lean operation when it comes to Syria and all the other emergencies that we do. Over 90% of the donor funding is going directly into the refugee vouchers."
Claudia Williamson, an economist at Missisippi State University, has conducted several studies looking at overheads and efficiency in the aid sector. She found the UN agencies were by far the least transparent.
---
How much aid reaches projects?
We found that aid projects can sometimes receive only around half the money paid out by the government.
Where does the rest of the money go?
7% initially goes to United Nations HQ
15% of the remaining fund pays for UN agency costs (staff, vehicles, offices)
Up to 25% of what's left then covers direct costs of the charity or other group involved (staff, vehicles, security)
5% is then also used as a contractor fee if a contractor is paid to do the work
---
"If we just had the budget information for each agency we would have been happy. For most bilateral agencies, so country to country aid, you can get that information, it's the multilateral especially the UN agencies that typically do not report, do not post online or were not responding to us with that information."
UN agencies are mammoth organisations, and much of their work is actually contracted out to charities and other groups. The agency in charge of coordinating the relief effort is UNHCR.
It registers all new arrivals in Jordan, Lebanon and Turkey, and runs camps such as the giant Zaatari site in Jordan. It also distributes cash to refugees to buy essential items.
There are lots of statistics on the number of people UNHCR is helping and data on individual purchases the organisation makes over $100,000. But what isn't publicly available is a detailed budget breakdown showing exactly how it is using British aid money in Jordan.
Kilian Kleinshmidt worked for UNHCR for two decades and oversaw the Zaatari camp until October 2014. There is a chain, he explains, where UNHCR often contracts charities and other groups to carry out work on its behalf. The group may then employ a local contractor to actually do the work on the ground. Each link in this chain takes a cut for their bureaucracy and overheads.
This can eat into the budget. "If you think about the chain that makes it possible, up to 50% may go in the chain, this is maybe acceptable in times of emergency, but as fast as possible we have to change that to rationalise on the management structures in the aid sector."
The suggestion that half a budget could go in overheads is concerning for Andrew Harper, the head of the UNHCR in Jordan, who denies having seen such a case.
He shared the detailed budget for the funding for the cash assistance programme which transfers money directly to refugees.
"The latest tranche of funding that we've received from DfID is some £10m. It will cover 29,000 families for four months here. It goes down to about 1.6% is in staffing costs and office premises and associated elements. We're actually trying to figure out how we can reduce it even further".
This is unusual as there are no charities or contractors involved. Dorian LaGuardia has conducted evaluations of the UNHCR's operations in Jordan and Lebanon. He had similar difficulties in finding out detailed information,
"We metaphorically banged our heads against a wall in looking at this issue, the way that budgets and financing documents are done across the UN is obtuse. I think the biggest issue for us and one we spent quite a bit of time investigating is what is directly related to helping refugees and what is considered overheads, the costs of keeping the lights on in senior management and in looking at those types of figures there are a lot of considerations that one has to take into account."
His research found overheads for UN agencies could be up to 25%, and beyond that in some cases. This was understandable at the start of the Syria crisis, he suggests, but after four years that shouldn't be the case.
What do DfID make of this? No minister was willing to be interviewed about this but in a statement they say: "From day one of the Syria crisis, we have focused relentlessly on getting help where it is needed most and on doing so transparently, effectively and accountably. To suggest otherwise is both misleading and wrong.
"The reality is these responses are UN-led and it's the UN that has the reach, influence and leverage to co-ordinate an international response of this scale. And we of course work closely and continually with our UN partners to ensure they are delivering maximum impact and value for British taxpayers' money."
So how much of DfID's £1bn is reaching the refugees? Until the UN becomes more transparent it's impossible to tell.
---
More from the Magazine
The UK has committed to spending 0.7% of its GDP, about £12bn, on foreign aid. It is said to be the first nation in the G7 to meet a target set by the UN 45 years ago.
Where does the UK's aid currently go?
---
You can listen to The Billion Dollar Aid Question on BBC Radio 4 at 20:00 on 27 October 2015, or catch up afterwards iPlayer.
Subscribe to the BBC News Magazine's email newsletter to get articles sent to your inbox.