One woman's 21-year odyssey to visit every Wetherspoon's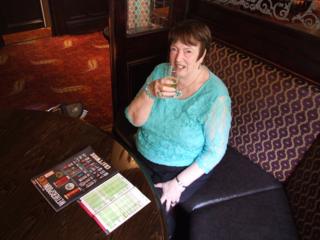 Many Britons enjoy a visit to the pub, but Mags Thomson has been on an extraordinary mission to visit every pub in one massive chain.
It's 10.30am in Wetherspoon's.
A family of four squirt ketchup on to fried breakfasts. A pensioner in a flat cap orders half a Guinness. A hen party, in pink T-shirts and matching headbands, knock back white wine and blue WKD.
Sitting alone, on a round table next to the hens, is Mags Thomson, from Livingston. If anyone has seen this before, she has.
Mags has been to 972 Wetherspoon's and - in every sense - counting.
The chain only had 936 pubs as of July this year but Mags' total includes 80 that have closed. The empire stretches from Wick in Caithness to Penzance in Cornwall. Mags has been to both.
She has, of course, been to this one before - the Shakespeare's Head in London. She can't remember when. After a while, they start to look the same.
---
'Spoons facts
The chain was founded by law graduate Tim Martin in 1979
The first Wetherspoon's was in Muswell Hill, London
The company is named after one of Mr Martin's old teachers, "a nice fellow who couldn't control a class"
---
Sitting by the window, warmed by early autumn sunshine, 66-year-old Mags goes back to where it began - Reading railway station in 1994.
"My husband was a railway enthusiast," she says, sipping a half pint of cider. "We used to go on holiday and spend a lot of time standing on platforms.
"To begin with, it was quite interesting. But it soon got very cold and boring, so I thought I'd have a look around Reading. I came across this pub. I phoned my husband and said: 'Why don't we meet here?'"
It was her first.
The railway trips continued - if they found a Wetherspoon's, all the better. After a couple of years, they became Wetherspoon's trips. The hobby was born.
From Aberdeen to Aberdare, Mags and Ian criss-crossed the country, one pub at a time. They even went to airports, if there was a branch before security.
For some people, a tour of Britain means Stonehenge to Edinburgh, via Windsor Castle and York Minster. For Mags and Ian, it meant Beccles, Biddulph, and Batley. Theirs was a not-the-National Trust tour of B-road Britain.
At first they kept a list of where they'd been. Then the firm printed a directory, with a tick box by each entry. "That made things a lot easier," says Mags.
By 2010, they had been to 708 Wetherspoon's. And then, in July that year, Ian died.
Mags "lost all confidence", she says. She didn't travel for two years. The directory stayed in a drawer.
After a while, her friends encouraged her to start travelling again, if only for one or two nights. But it wasn't easy. "It was a thing Ian and I did together," she says. "But after a while I thought - I can't just sit at home all day. He wouldn't want that."
In 2012, she went on a two-night trip to Newcastle. It's an easy train ride from Edinburgh, and there were some newly-opened Wetherspoon's pubs.
"I didn't know how I'd get on," she says. "But while I was away, I couldn't wait to be away again."
Mags again started collecting Wetherspoon's.
This autumn, Mags had a two-week, self-organised tour of Wetherspoon's in south-east England. Her itinerary took her from Aylesbury to Aldershot, via Southend, Shoeburyness, and Bishop's Stortford. She does it all via public transport and taxis - even the branch at Beaconsfield Services, on the M40.
So what do others make of her hobby?
"It's a good conversation point - if I meet someone from, say, Swansea, I can say: 'I know Swansea - nice Wetherspoon's there, the Bank Statement...'"
Normally, Mags will reach her first pub of the day by mid-morning. She'll have coffee and toast, or a filled roll. If she wants something stronger, it's half a cider, a brandy and ginger, or a Fireball.
A Fireball?
"It's American whiskey [liqueur]," says Mags. "Very nice."
She travels alone - although a friend, Evelyn, often joins her on one-day Scottish trips - and is usually back at her hotel by early evening.
"I enjoy other people's company, but I enjoy my own," she says. "The good thing about Wetherspoon's is, they're always places I can sit on my own - read a paper, read a book, have a drink.
"Alright, there's one or two you might think 'I'm not sure'. But the vast majority are fine."
On the table next door, the hen party gets louder with every popped cork.
"Oh, I've seen a few hen dos and 21sts," says Mags, looking round. "I've even been asked to join a few."
Before this trip, Mags had been to 969 Wetherspoon's, including 80 that had closed. When she returns to Livingston, she'll be on 990.
She hasn't been to any in Ireland, either side of the border - that, says Mags, might be her next challenge.
Her ambition is to finish the list. But at the rate Wetherspoon's expands - there were 12 new branches between July 2014 and 2015 - it's like painting the Forth Bridge.
"Since I got back from Devon and Cornwall, they opened branches in Teignmouth and Tavistock," she smiles. "Still, it gives me a reason to go back."
Does she ever raise a glass to Ian?
"Oh, I do think of him," she says. "Quite often things will happen and I think: 'I wish Ian was here'.
"I go to new pubs, but I also visit ones where Ian and I went as a couple. It can get emotional."
"But what's the alternative? Sit at home and feel sorry for myself? He wouldn't want that. I've gone out and seen places, done things, met people."
Mags heads off to number 973: the Manor House in Royston, Hertfordshire. A new pub, a new green line in the directory, and a new story to tell.
Subscribe to the BBC News Magazine's email newsletter to get articles sent to your inbox.