Pizza Express: The war over tipping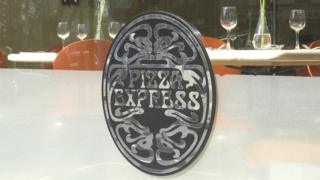 Pizza Express is getting rid of an 8% admin charge levied on tips paid by card. It came after an extraordinary backlash, writes Gareth Rubin.
In the end, the waiters won.
But it was a bitter fight. A campaign led by trade union Unite came to a head with protests last month that sparked fury on social media.
The Pizza Express chain, which has 430 outlets, was accused of taking a fee from the "tronc" - the communal tip pot - simply to boost its own profits. The company returned fire, insisting that the allegation was "incorrect". "Under no circumstances does Pizza Express generate additional profit through the tronc," it said at the time.
Now it has agreed to let its waiting staff keep all their tips, ending its policy of deducting 8% from any paid by card for "administration costs".
In the days after the August protest the strand #boycottpizzaexpress appeared on Twitter. One disgruntled customer City Girl No More tweeted: "Please set up a page for me to claim refund of service charges. If I pay tips/service, it's for server, not you!" The company's Facebook page garnered comments from customers who swore they would never cross its threshold again until it amended its policy.
Google Trends shows searches for "Pizza Express tips" spiked in August, as they had in 2009 when there was similar outrage over accusations that many restaurant chains were using waiters' tips to bring their pay up to the level of the minimum wage.
The fallout spread to other chains. Cote was accused of keeping the entirety of the service charge when paid by card - ostensibly so the firm could pay above the minimum wage. Cote has denied it. "Contrary to recent press reports, Cote distributes the service charge income to the restaurant level employees at which the service charge was collected. This... is always paid in addition to a base amount which is at least equal to the national minimum wage. Where customers leave a cash tip, it is at the waiters' discretion to keep it for themselves or to include it in a general pot."
Perhaps the most extraordinary allegation was that staff at the Las Iguanas chain actually had to hand their bosses 3% (or a different sum in London - the company gives this as 4.4% but a figure of 5.5% has also been reported) of the value of customer bills out of tips or their own pocket. Former employee Amy Grimshaw tweeted: "So many times I went home in tears because I OWED YOU money to work the shift because my tips didn't cover your 3%". As of this week, 79,000 people had signed a petition on the website 38degrees to force the company to end the practice.
Under the Las Iguanas system a waiter whose table spent £1,000 in a night and who earned £125 in tips would pay £30 back to the restaurant (or £44 in London). Las Iguanas's policy says this money is "shared with the restaurant staff including incentives, investment in enriched training and to pay individuals in our bar and kitchens more than minimum wage". Las Iguanas has previously said waiters are never left out of pocket by the policy.
The Bill's restaurant chain was also accused of keeping service charges and paying staff the same rate whatever tips had been received in a given day. But the chain denies this. "Employees of Bill's receive all of the optional service charge (after the deduction of relevant taxes imposed by HM Revenue & Customs). It does not go solely to the waiter in question but rather is distributed across the whole team within the restaurant. If any cash tip is then left this goes directly to the waiter."
Pizza Express doesn't concede that it was people power that forced it to back down. Instead it maintains that the change has been brought about by a new computer system that it was planning to introduce anyway and the timing is coincidental.
Chief executive Richard Hodgson said: "We recognise that our team members are critical to delivering the fantastic customer experience that Pizza Express has built over many years. We're committed to best practice and to ensuring that our people are properly rewarded."
The public backlash and union campaign led to a response from the government. Sajid Javid, the business secretary, launched an investigation into "abuse of tipping", to decide whether legislation was needed to crack down on restaurants. "I'm concerned about recent reports, suggesting some restaurants pocket tips for themselves. That's just not right," he said. Conservative backbench MP Andrew Percy previously attempted to introduce such legislation.
"Tips are given by customers for the benefit of staff who have served them, they are not for businesses to cream off for their own profit," he says. "The government must keep under review the possible use of legislation to make sure workers get what is rightly theirs." He added that if the government declined, he might have another go himself.
Throughout the furore, the catering industry was rattled by the way it was portrayed, according to Amanda Afiya, editor of The Caterer magazine. "It's made a lot of operators out to be really greedy and actually the margins are really small in the hospitality industry and they've got massive overheads," she says. "They've got a nightmare ahead trying to meet the National Living Wage and pay tips on top of that." It was the unions, she adds, who have been "fanning the flames".
Unite held a victory demonstration on Thursday. Dave Turnbull, Unite's officer for food and drink, was there. Pizza Express's reversal was "great news", he says, but it wasn't the end. "The fight goes on - companies like Ask and Cafe Rouge are still doing this, and other bad practices have been exposed in the press at Cote and Las Iguanas."
Ask and Zizzi, which both charge 8% admin fees, are considering some form of change. "With our recent change of ownership, Zizzi and Ask Italian have already commenced a review of the policy on tips and service charge including any deductions to cover administration fees. This is part of a broader review of all pay, rewards and benefits, to include the introduction of the National Living Wage," a spokeswoman says. [Update: See note at bottom of article]
Others also make the admin charges on service charges - Belgo (10%), Bella Italia (10%), Cafe Rouge (10%), Strada (10%) and Prezzo (10%). "Our tips policy is clearly outlined on our menu in each Prezzo restaurant," a spokesman says.
The Giraffe chain, owned by Tesco, has already scrapped its 10% charge.
Turnbull says the union's campaign has been transformed by customers getting involved. "There is a lot of fear among restaurant staff about challenging their employers - they think that if they speak out they will be told: 'If you don't like it, you know where the door is.' So it really was crucial that the public thought this was unfair as well as the staff. That gave them the confidence to take on the employers."
Michael (not his real name) works in a London branch of Pizza Express. "It's a shame that they have been taking 8% for so many years, but I'm happy now," he says.
"I work seven shifts per week and it will probably mean another £5 per shift, so that will be enough for me to buy my food for the whole week. The public support was the most important thing - without it, this wouldn't have happened."
Update: After publication of this article, Ask and Zizzi announced that they would be scrapping the 8% admin charge from November.
---
The Magazine on tipping
A New York restaurant has banned tipping to spare customers the bother, while some restaurants in other US cities have already replaced the gratuity with a fixed optional service charge. So is the discretionary tip falling out of favour in the land where it's king?
Should tips be banned in restaurants?
---
Subscribe to the BBC News Magazine's email newsletter to get articles sent to your inbox.