WW2: Guy Byam, the BBC's lost reporter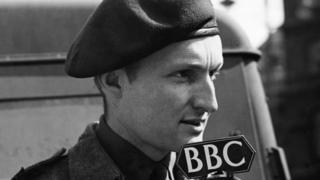 Guy Byam was one of two BBC news correspondents who lost their lives on active duty in World War Two. Seventy years on, Michele Byam still hopes to learn more about the father she never knew.
With great care Michele Byam hands me a scrapbook. The pages are large and yellowed and not wholly intact.
Letters and invitations and little black and white snaps trace the career of the young Guy Byam-Corstiaens of the Royal Naval Volunteer Reserve. (Later, broadcasting on the BBC, he would be Guy Byam.) The scrapbook was compiled by his mother.
I unfold two telegrams, each dated 14 November 1940. It was nine days after HMS Jervis Bay, the armed merchant cruiser on which Byam was serving, had been destroyed by German fire in the north Atlantic.
By then his mother must have been losing hope of ever seeing Guy again.
It's impossible to say which message arrived first at the small hotel in west London where she was staying. It may have been the official Post Office Telegram, which mangled the family name:
HAPPY TO INFORM YOU THAT YOUR SON SUB-LIEUT G BRYON-CORSTIAELS IS SAFE = REGISTRAR SEAMEN
Or the even briefer Western Union Cablegram, complete with censor's stamp, which Guy himself had sent:
GOT A DUCKING BUT SAFE AND WELL HOME SOON
Guy's casual tone disguised the horrors he'd faced. Of the 254 men on the Jervis Bay only 68 survived. He lost the sight of one eye, escaping death by swimming through oil to his Swedish rescuers.
Guy Byam was invalided out. At 22 he needed a career. He went first to the engineering company Kryn and Lahy in Letchworth, Hertfordshire - but his heart was set on journalism.
It was that ambition to report which led to his death covering an air-raid on Berlin.
"My father died when I was a few months old," explains Michele Byam. "I don't recall there being photographs of him at home but my mother was known as Nan Byam when she worked for the BBC and I've always used the surname in my publishing career. Then in 1948 my mother married a radio announcer who went on to become well-known on TV - the newsreader Robert Dougall.
"I remember at eight or nine wondering if my father might one day just walk in. It seemed quite possible because his body was never found. It sounds strange but I imagine post-war many people had similar thoughts.
"In later life I started to want to know more about Guy Byam - and the fact he'd been a BBC war correspondent gave me a place to start. I also think it's wrong that he and Kent Stevenson, who also died, are almost entirely forgotten. They gave their lives for journalism."
---
Kent Stevenson
The other BBC correspondent who died on active duty in WW2 was Kent Stevenson, killed on 22 June 1944. He was 36. Like Byam, he had been reporting on an air-raid over Germany. He was in an RAF bomber of 49 Squadron which took off from RAF Fiskerton in Lincolnshire as part of an attack on an oil refinery near Cologne. The Lancaster he was in was one of a number which did not return. His grave is in the Rheinberg war cemetery.
---
The BBC archives near Reading hold enough of Guy's personnel files to give an insight into the two-and-a-half years he spent with the corporation.
He joined the BBC in November 1942 as a sub-editor in the corporation's French Service at a salary of £8 a week. By April 1944 Guy had joined the War Reporting Unit, set up to cover the invasion of Europe.
His annual salary was now £750. A memo explaining the raise was sadly prescient:
"He is occupied in the invasion set-up and is in fact doing what will undoubtedly be the most dangerous and may be the most specialised of all the jobs, namely airborne..."
Guy could have a short fuse. His final annual report reads:
"Corstiaens has done some excellent work for the War Reporting Unit. But he is temperamental and this sometimes affects his good relations with the departments. It must be recognised however that this condition is probably due to the pressures which the period since D-Day have imposed on him and is not necessarily a permanent characteristic. He is exceptionally keen and has been responsible for some outstanding broadcasts."
A handful of recordings survive. Probably the most familiar is his report on D-Day describing parachuting on to French soil with Britain's 6th Airborne Division. In the 1980s Michele heard it when the BBC issued an album of WW2 material.
"I remember thinking it sounded slightly literary, even over-dramatic. But perhaps that's unfair - styles change and possibly he was ahead of his time. Reporters like my father and Richard Dimbleby and the others were working in extraordinary circumstances. And it was one of the things which made me want to learn more about him.
"I went to Broadcasting House and sat in a cubicle and I listened to everything they had of his broadcasts. Obviously there's an emotion listening to the voice of a parent you never knew."
There is a photograph of Guy and fellow correspondent Stanley Maxted, also sitting in Broadcasting House. They are talking to the press after their return from the Battle of Arnhem in late September 1944. They both look exactly the way the public wants war correspondents to look - intense and exhausted.
But the scrapbook also contains another photograph, printed in the Radio Times a few weeks before the photo with Maxted was taken. It foreshadows Guy's death on 3 February 1945.
Everyone is beaming as the King and Queen visit RAF Thurleigh near Bedford a month after D-Day, accompanied by the 18-year-old Princess Elizabeth. The station had been passed over to the US 306th Bomb Group. Guy was there to witness the renaming of an American B-17 as the Rose of York, a ceremony carried out by the princess.
In one picture he stands looking on through dark glasses, probably because of his damaged eye. Was it from this encounter with the American Air Force that the unusual idea emerged of sending a BBC reporter on a US bombing raid over Germany the following year?
On 3 February 1945 Guy and the nine-man American crew of the Rose of York took part in a large daylight raid on Berlin. Guy was recording to disc on one of the BBC's so-called midget recorders of the era, which resembled heavy record-players.
It's thought German anti-aircraft guns knocked out two of the aircraft's engines. The pilot radioed that he hoped to get back to Britain but the Rose of York and the men in it were never seen again. It's likely they crashed into the North Sea.
This time there was to be no longed-for telegram. No "got a ducking but safe and well".
"You're not going to think the same things as an eight-year-old as 60 years later," says Michele. But I have always been aware of missing him, or of not having known him.
"I'm lucky that because he was in broadcasting there are a few extra reminders of my father. Even if I put aside being his only child I do think he had a very interesting war. So I'd like a few more people to know who Guy Byam was and what he did."
---
More from the Magazine
"The first part of D-Day involved the dropping of 24,000 British, Canadian and US troops in Nazi-occupied France, shortly after midnight...."
D-Day: In the words of the BBC journalists (June 2014)
---
Subscribe to the BBC News Magazine's email newsletter to get articles sent to your inbox.