The professional baseball league played in 43C heat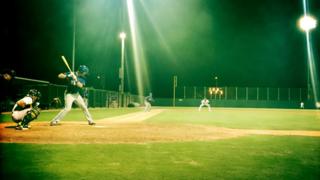 Want to know what a breeze feels like on a summer day in Arizona? Take a hair dryer, put it on high, and point it at your face.
At 110F (43C), beads of sweat form on exposed skin almost instantly. When the sun blazes, the heat takes a heavy toll. Walking is an effort, never mind sustained physical exertion.
And yet in Arizona, this is baseball weather. Every June, hundreds gather in spring training complexes run by Major League Baseball (MLB) franchises on the outskirts of Phoenix to play in the 10-week-long Arizona League. It's the bottom rung of professional baseball, the farthest point from the big leagues one can inhabit while still drawing a paycheque.
The League of Fire, as it's sometimes called, is populated by a collection of teenagers fresh out of high school, former university-level players, recent arrivals from overseas teams and veterans working their way back from injury.
They've received invites - or were drafted - by one of the 30 Major League baseball clubs. Housing and some meals are provided by the clubs, and players earn $1,100 (£719) a month before taxes.
For a few it's the first step toward a professional baseball career that ends in fame and fortune. For others it's the last stop before a more traditional career - one that doesn't involve running around on grass and hitting leather balls with cylindrical pieces of wood.
On a typical night in mid-July, the A's face the Rangers at the former's training facility in Mesa, Arizona. The evening temperature hovers around a relatively balmy 103F. The players, however, have been out since mid-afternoon, stretching, drilling and taking batting practice.
"You really can't prepare for this kind of heat every day," says Sean Doran, the strength and conditioning coach for the A's. "Some players just aren't ready for it, especially the new kids. They try to go hard, and it's too hot. They're sweating all day, and they don't know how to replenish."
Although the two teams play by the same rules and wear the same uniforms as their big league counterparts, the Oakland A's and the Texas Rangers (based near Dallas), that's where the similarities end.
There are no cheering crowds. Although admission is free, few area residents know about the games - and those who do aren't particularly interested in braving the evening heat when there are no food vendors, no public address announcers and no jumbo-sized scoreboards showing player names or instant replays.
Often the games look more like a community softball match than the proving ground for future stars.
The small metal bleachers are mostly filled with teammates not playing that day - pitchers and the injured - who have to stay at least until the game is halfway through.
On this night, Mesa resident Greg Thomas, and his son Jackson, 12, constitute the bulk of the A's non-player cheering section. The father says he learned about the league from a friend and loves the chance to watch some free baseball.
"If you look, there are some good players out there," Thomas says. "They're all trying to reach the majors. A lot of these guys aren't going to make it. The numbers aren't with them, but they're all trying."
Those numbers are daunting. Of the thousands of players who pass through Arizona and a league in Florida for East Coast teams, only 3% will ever rise through the ranks and set foot on a Major League field. For the A's that means tours with teams in places like Burlington, Vermont; Midland, Texas; and Sacramento, California.
So close, so far
One player in the stands has come close, however. Jeff Urlaub, a pitcher who grew up in nearby Scottsdale, Arizona, made it as far as Sacramento last season, four rungs higher than the Arizona League and just one step below the majors.
"It was awesome," he says. "You're realising that you're getting closer and closer to your dream the higher up you go - but the higher you go, the better the talent is."
Now Urlaub is back in Arizona, recovering from surgery on his throwing arm. He notes that casual fans don't appreciate how hard the players have to work; how professional baseball - which he's played for five years - is a daily grind.
"Unless you go through a week in our shoes, nobody has any idea," he says. "You don't realise when you're in the minor leagues, there's practice before every game, the travel is incredibly hard at some levels, you've just got to get used to playing every day, playing through soreness, playing hurt. It's all part of the job."
Dakota Chalmers - an 18-year-old from Georgia - is just starting to learn about the endurance test that is a professional baseball season. During the evening's game, he sits at a table behind home plate, jotting down information on the night's starting pitcher, Xavier Altamirano.
Just a few months ago, Chalmers was pitching in high school. Now, as Oakland's third selection in the 2015 player draft, he's the second-youngest player on the A's team. He's also a millionaire.
Although the standard pay for Arizona League players is meagre, high draft picks are offered a one-time signing bonus. Chalmers, who can throw a baseball 94 miles per hour and mix in slower pitches that swerve and dive as a batter swings, pocketed $1.4m to play for the A's.
He says despite his top-pick status, however, he's not treated any differently.
"Once the draft is over, everyone is on the same team," he says. "You're at the same spot, and you all have equal opportunities. Just going out there and doing what got me here is good enough."
Even Altamirano's work isn't finished after he leaves the field. When the starting pitcher is done playing for the night, his next task is to recover balls hit out of play. In the budget-conscious Arizona League, foul balls aren't fan souvenirs, they're team property.
"Gotta have that," Craig Lefferts, director of player rehabilitation, barks to Altamirano from his seat in a golf cart near the bleachers, as a ball sails over the fence behind them.
Lefferts pitched 696 games in the big leagues over an 11-year career, including twice in the World Series. Now, he's enjoying watching Altamirano sprint farther and farther into the night to chase down errant balls.
"It's just natural to want to help out," Altamirano says. "You're not better than anyone else, that's my mentality."
A grown-up game
Garvin Alston, pitching co-ordinator for the entire A's organisation, is another ex-Major Leaguer, having spent three years with the Colorado Rockies before an injury ended his career. He points to a long scar that runs up the inside of his throwing arm.
"It was everything I dreamt of," he says. "Unfortunately, I got hurt early."
He says he knew when it was time to go, although he wishes he had made more effort during his playing days to enjoy the journey.
"It was all about career, it was about baseball," he says. "Instead of creating memories with friends and doing more."
Now he tells the players he coaches to keep perspective and learn to handle the physical and the mental aspects of the game.
"They want to impress and try to do things to make sure we remember them," he says. "They don't understand that it has nothing to do with that. It has to do with your everyday preparing, getting ready for the game, how you deal with failure and how you deal with the successes."
Alston's son, Garvin Alston Jr, also plays baseball - although he opted to turn down a contract from the Chicago White Sox to take an athletic scholarship at nearby Arizona State University.
"I told him, son, it's too early for you," he says. "This is a grown-up game, and once you get into it you've got to understand it's a business. If you don't understand that, you're going to be lost."
Tranquilo
Meanwhile, on the field, the game rolls on. A new pitcher, Jesus Rivas from Venezuela, gives up a string of hits to the Rangers, who take the lead.
"Tranquilo!" shouts A's manager Ruben Escalera to his rattled pitcher. Calm down.
More than half the 37 players on the A's hail from Latin and South America, so Spanish often is the primary language in the dugout.
A few of the US-born players in the stands echo him. "Tranquilo! Tranquilo!" they shout, half-jokingly.
It may be the only word of Spanish they know, but if they're going to make it in the Major Leagues - where 29% of the players are Latino - a bit of Spanish fluency isn't a bad thing to have.
The exhortations are in vain, however, and the A's end up losing. After the game, outfielder Brett Siddall packs up his gear, drenched in sweat from a long day of work. The heat might be hardest for him.
Born in Windsor, Ontario, just a few months earlier Siddall was playing university-level baseball at Canisius College in Buffalo, New York.
"I try to tell myself I'm getting used to it, but it seems to be getting hotter every day," he says.
"But it's been fun," he continues. "I'm meeting a lot of new guys, the coaches and players. I get to know everybody's name. Things are settling down now."
For Siddall, however, that routine wouldn't last long. A week later, after batting .342 over 19 games, he was promoted to the next level, joining the Burlington Lake Monsters and putting the League of Fire behind him - with any luck, for good.
The average summer high in Vermont? 79F.