The school places police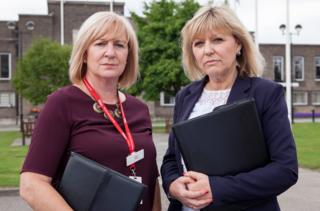 As demand for places at high achieving state schools across the UK continues to grow, the schools admissions process is becoming an ever tougher battleground. One local authority in outer London has deployed investigators to the "front line", sent out to catch the parents trying to get round the rules.
It's after dark, but investigators Ruth Kirkby and Leigh Stevens are still hard at work, driving round the streets of Upminster in east London.
They're on the trail of school admissions cheats - a hunt that goes on well beyond office hours.
They've been sent on a reconnaissance mission to a small flat, just down the road from one of the area's most sought-after secondary schools.
The address has been listed as the main residence by a family applying for a place at the school for their child.
Its proximity to the school gate means the flat falls within its small catchment area.
But the schools admissions team have received an anonymous tip off that the family really own and live in another, far larger property in another, more affluent part of town.
If true, that would put them in breach of the application rules, which require applicants to use their normal place of residence.
"We get these calls every year," says the School Admissions Secretary for Coopers Coburn School in Upminster, Juliet Orton.
"We have lots and lots of applications. So when parents are seeing that people who can afford it are renting properties and getting places, if they know this information, they're going to tell us," she adds.
When Ms Kirby and Ms Stevens arrive at the small, modern, yellow-brick building listed on the application form, the lights are all out, and they find nobody at home.
"It seems strange that they should leave a big property to go and live in a little one. So we're going to go and check that," says Ms Stevens, as they get back in the car and drive to the location which they now believe to be the family's real home.
"This is a lovely road to live down," she says to her partner as they make their way along a tree-lined street of handsome, detached houses.
"They're saying they've left that great big house to move in there… and the school just down the road," she adds, incredulously.
The inspectors find several family members inside the home they'd supposedly moved from to live in a small flat.
And the inspectors could see no evidence of the building work which the family claimed as their reason for moving.
After a terse exchange with the occupiers, the investigators leave and prepare to report what they've found to the admissions team.
"They're in their pyjamas. All the children are in their pyjamas. They're living there," Ms Stevens observes.
The family maintain that they did live in the flat occasionally and intended to live there during planned building work to their house.
Ms Kirby and Ms Stevens' detective work results in a letter from the local authority to the applicants, officially rescinding their application.
The two women have been working as investigators for around 15 years.
They normally chase benefit fraud.
"With benefit fraud, there's a monetary gain, but when it comes to admissions, people want the best for their kids. So the lengths people will go to come from a different mindset," says Ms Stevens.
Havering council, the local authority responsible for Upminster and the surrounding areas, drafted them in to deal with admissions cheats.
Council officers had grown concerned after receiving a far higher number of applications for the schools under their control than they had expected.
In her two weeks on the admissions beat in Havering, the other cases Ms Stevens came across included two instances where the real occupiers of properties listed on schools application forms had never heard of the people who had filled in the form.
"One man was particularly concerned. He could not understand why somebody he did not know would have picked his address and used it to apply for a school place," she says.
"He had been selling his house, so we think someone spotted the 'for sale' sign and thought 'nobody will know who the new owners are' and so they put that address down," she adds.
Approximately one in six families across Britain fail to get their children into the school they wanted.
The problem's made worse by the thousands of parents who are suspected of lying on their schools application forms.
"There's a kind of education tourism taking place," acknowledges Paul Winn, who spearheaded Havering's zero tolerance approach.
"Hopefully what we do will put people off coming to Havering to apply fraudulently for their school places," he says.
"They're potentially denying a child who is eligible for a place at a school," adds his colleague, Havering Admissions Officer Jonathan Goodwin.
Local authorities are not alone in having to tackle this issue.
Popular faith schools are faced with the phenomenon of "pew jumping" - parents who attend church with the sole purpose of fulfilling admissions criteria requiring them to be church-goers.
This has now become such a big problem that the London Diocesan Board of Schools is pushing to ditch the religious qualification completely.
Father Martin Hislop is the priest in charge of St Luke's church in Kingston, Surrey, where the decision has already been made to abolish faith as a criterion.
The church has a primary school linked to it, and which was rated as "outstanding" by Ofsted in its most recent report.
The number of pew jumpers suddenly rocketed.
"They were not staying, they weren't attending any of our parish functions and some of my parishioners would be rather irritated that they would be talking through services," he says.
"Others would turn up, sign the register and then go," he adds.
Whilst faith remained a criterion, Fr Hislop kept a spreadsheet detailing attendance.
The listing for 2014 shows that out of 20 new congregants who had joined around the start of the admissions application process, 11 stopped attending church almost as soon as the allocation of school places was announced in April.
"They were clearly there for one purpose and it wasn't for the worship of God," says Fr Hislop.
He is now hoping that if - as seems likely - fewer new members join in 2016 than in previous years, the new policy will at least mean he has seen the last of the 'pew jumpers'.
"The schools admissions system had broken down," he says. "It was not serving our community. The children who the school was supposed to be for - those living close to the school - were not getting places."
In Havering, Admissions Officer Jonathan Goodwin is optimistic that the council's zero-tolerance approach will pay dividends too.
"We're trying to make sure that everybody gets a fair shot at the application process. So ideally local children will get places at local schools," he says.
Watch The Schools Scandal: Playing the System on Panorama at 19:30 BST on Monday 24 August on BBC One, or catch up afterwards on BBC iPlayer.
Below is a selection of your comments.
I once worked for a dentist who used the dental practice address rather than his home address, for the purpose of putting his four children in the right catchment area. Nobody lived there at all.
Julie, Manchester, UK
This is a common practice in Hong Kong and is deemed as acceptable.
Justin Hayward, Hong Kong
Why are our councils wasting money snooping on families trying to get their children the best start in life? Why can't they spend this money on the under achieving schools and bring these up to scratch? Far better way of spending money.
Andrew Levo, Runcorn, UK
Forty years ago I became vicar of a new church in East Hampshire. It was in a growing new town, but had a name for being a slightly less desirable place. I had a five-year -old son, who was automatically enrolled to begin in the local primary school. Shortly after moving in, the vicar of a neighbouring parish thought it might be nice to have my son in the faith based school of which he was Chair of the Governors. Obviously in my case all faith criteria were met! The very night before he was due to start in the faith school situated in a pleasant hamlet, the headmaster rang to say that he had seen our application. He added that whilst he could not refuse us on faith grounds he wanted to make it clear that my son would be most unwelcome as we lived outside the catchment area, and his admission could unlock a flood of application from our quite (undesirable) area in the future. However for the next 13 years as vicar of a growing town with houses being added by the bucketful and new young families moving in, I had to suffer the continual personal pain of having families worship in our church purely to achieve faith status to qualify for entrance to faith schools in nearby more pleasant Hampshire villages. I didn't realise that they are called 'pew jumpers'. I can testify to their existence.
Dr Clifford Owen, Huntingdon, UK
Subscribe to the BBC News Magazine's email newsletter to get articles sent to your inbox.