Who, What, Why: What is the topple danger from Ikea furniture?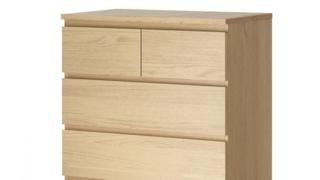 Ikea has warned customers to use wall mounts on one of its items of flatpack furniture after two toddlers were killed by toppling units. Why is there a danger, asks Chris Stokel-Walker.
Flatpack giant Ikea has sold 65 million sets of Malm drawers worldwide since 2002. But the Swedish company has been forced to take action after two American toddlers were killed by falling units in their bedrooms last year.
The firm has said that as well as these two incidents, it has received three other reports of "tipover" fatalities since 1989 involving other models of Ikea chests and units.
The retailer has reminded customers to use all the parts it provides in its packages - including wall mounting brackets. It has a page advocating safe setup and warning against placing heavy objects like televisions on top of units, and letting children play on open drawers.
Ikea's testing ensures the product can withstand a certain amount of weight - provided it's built correctly. The firm carries out risk analysis on its products, which are tested according to the company's own internal standards "as well as all applicable national and international standards through tests done at independent third party test laboratories", a company spokesperson says.
One issue might be the weight of the units. The Malm, at just under 40kg, is lighter than some chests of drawers of similar dimensions available to buy elsewhere. A unit with a light base is vulnerable to toppling if heavy contents are at or near the top.
DIY expert and television presenter Craig Phillips advises a "belt and braces" approach to flatpack furniture: "What people don't always get is that not all walls are the same." Plasterboard is not the same as brick.
"If you're putting a flat pack piece of furniture together," Phillips advises, "put glue on all the joints, double check the fixings, and when you mount it on the wall, consider what you're mounting it on. Use the brackets, but I'd also use longer screws and plugs, drilling deeper into the wall. That way I get more peace of mind."
The company is keen to point out they are not recalling the Malm chest of drawers. The company says: "Ikea chests of drawers and dressers are safe to use when assembled according to the assembly instruction and attached to the wall using the restraints provided in the packaging of these products."
Subscribe to the BBC News Magazine's email newsletter to get articles sent to your inbox.