Weird places readers charge phones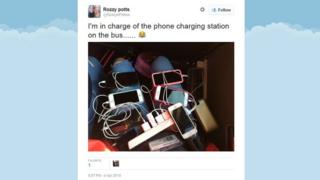 As our phones get more complicated, they use more power and need to be charged more often. Last month, a Broadway show was halted when a man tried to charge his phone to a fake plug on a Broadway stage.
We asked readers to name the oddest places they had charged their mobile phones.
Here are some of their answers.
---
David Sobell, Rio de Janeiro, Brazil
"In South Korea I came across a phone charger powered by gym equipment! Korea is more than a little obsessed with mobile phones so it didn't come as a big surprise when I was climbing a mountain and came across a phone charger, powered by cycling."
---
Stuart, Leicestershire, UK
"Perhaps the most entrepreneurial and exploitative battery charging service I have seen was in Lindela Repatriation Centre, Krugersdorp, South Africa.
Whilst waiting for 30 days to be voluntarily deported back to the UK, my 5000+ fellow deportees were given so little information by the staff that they were desperately using mobile phones to contact relatives, friends or Embassy staff.
People with phones rented their use to others whilst staff at the shop charged them for re-charging their phones.
When you have 10 sockets for about 2,000 phones, you can name your price."
---
---
Sian Burnell, Southampton
"I unplugged the lead to put my charger in and accidently pulled out what turned out to be my manager's computer plug. He wasn't happy as he lost all his work due to me trying to charge my phone!"
---
---
Syed Jamshed Ali, Pakistan
"Once I shut off the flight schedule screen unknowingly at Peshawar airport when I pulled out the cord and tried to put my charger in the socket. The security personnel rushed at me and I was greatly ashamed when told that I had switched off the screen."
---
---
Robert, UK
"I work for public libraries and I regularly see fights breaking out due to phone charging. In addition people often unplug our devices.
The most dangerous was someone who had shoved a screwdriver into the earth socket, so they could plug a European plug straight in, without an adapter."
---
Jane Denny, London
"About 15 years ago I was in a pub in Cambridge and needed juice for my Samsung. I noticed there was a socket so I unplugged the lamp and plugged my phone in and waited. Some minutes later the landlord came over wondering why the cigarette machine wasn't working - I'd unplugged the wrong one."
---
---
Darren, Portishead, UK
"I once sat in the waiting area in Bristol children's hospital with my little girl. We saw a woman go up to the fish tank and unplug it in order to plug her phone charger in! She was aghast when the receptionist told her to remove it and plug the fish tank back in."
---
Gazza, Malvern, England
"During a recent live music performance at a Worcester pub, a woman in the audience approached the stage area and plugged a cell phone charger into a 'spare' mains socket that was serving the PA system and left it there. After five minutes she returned to the phone to look at her Facebook account. When the 'log-on' chirp from the phone started to break through on the on-stage monitors, the PA technician unplugged the phone and handed it to the venue manager. This is not the first occasion this has happened during a live performance."
---
Patrick Atkinson-O'Sullivan, Dublin, Ireland
"I regularly charge my phone in my car, but as I drive a Replica Model T Ford, I have to charge it directly from the battery."
---
Tim Salter, Mold, Wales
"Some of the best phone reception in the Nepal Himalayas is near to Everest Base Camp. So when approaching here from less well-connected places, phones start to light up with activity. I've set up a solar charger on top of Kala Patthar (18,500 ft) to keep my smartphone going. On the other hand, I carry a backup dumbphone - like many locals use - and it will stay charged for a week."
---