Did aerial photo of Michael McIntyre break privacy rules?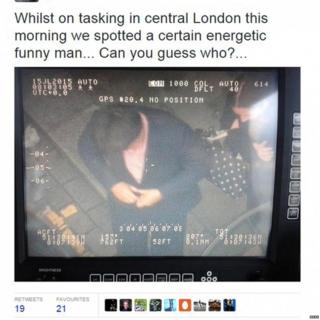 A photograph taken by a police helicopter camera and circulated on the force's official social media account has raised questions. Was what they did unlawful, asks Chris Stokel-Walker.
At 10:34 BST on Wednesday NPAS London, the official Twitter account of the National Police Air Support Unit - which provides helicopters to ground-based police to help find criminals and missing people - tweeted the picture above.
The grainy image, seemingly taken just after 09:00 BST, shows a man with a mop of black hair in a pink shirt and dark blue suit standing on the edge of a pavement. The latitude and longitude points in the bottom corners of the picture appear to indicate where the helicopter was hovering as the picture was taken - a point between Leicester Square and Covent Garden Tube stations.
The picture's caption says: "Whilst on tasking in central London this morning we spotted a certain energetic funny man... Can you guess who?..."
It was indeed Michael McIntyre, comedian and host of several BBC programmes, accompanied by publicist Alison Peters.
The picture has since been deleted by NPAS London, which claims that "each activity undertaken" by its helicopters "can be categorised into four principle [sic] roles: Public and Police Safety, Intelligence Gathering, Tactical Support and Counter Terrorism". Responses on social media have largely been opposed to the picture being taken, but is it unlawful?
The Information Commissioner's Office is investigating already. "The police especially must ensure that they have legitimate grounds for processing personal data, and disclosing images of this nature without a justifiable policing purpose could potentially breach the Data Protection Act. We will follow this up with the force concerned."
"In a nutshell, the taking of the photograph is unlikely to be an invasion of privacy," explains Simon McKay, a criminal and human rights lawyer, and author of the leading textbook on covert policing law. "However, its needless publication almost certainly is, assuming Michael McIntyre didn't consent, which seems likely."
The UK has historically had no deliberate privacy laws, but it is widely believed that a form of law has been built up through the Human Rights Act as well as other bits of legislation.
According to McKay: "The Metropolitan Police is a data controller and this is personal data, so there are compliance issues. On the face of it it also breaches the CCTV Code of Practice."
The post is a breach of the 12-point code, Surveillance Camera Commissioner Tony Porter said. He has contacted the Metropolitan Police. "Under the code, images should only be used for their stated purpose - which for the police is to tackle crime and anti-social behaviour. Public disclosure of anyone's image for the purposes of fun is a clear breach of that."
McKay said there was legal precedent that related to the McIntyre case. "The courts have held the arbitrary publication of photographs by the police without a pressing need to do so is unlawful." Taking the picture was not an issue, but the decision to post it online could cause problems.
A Metropolitan Police spokesperson said in a statement that "this tweet does not, as far as we know, constitute a breach of data protection legislation", adding that it "was deleted due to due negative responses on Twitter".
McKay calls the incident "an ill-judged moment made without thinking which has placed into sharp focus the inherent risks of the surveillance society".
Subscribe to the BBC News Magazine's email newsletter to get articles sent to your inbox.