The rescued dogs that rescue people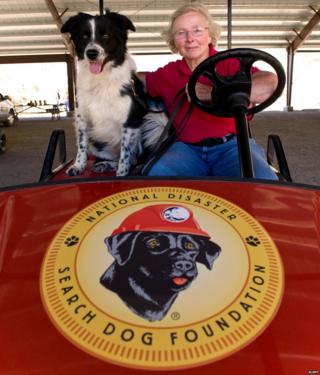 When she retired, Wilma Melville decided to train a dog in search and rescue in earthquake-prone California. Her project grew into a charitable organisation and she has sent dogs all over the world to help in crises - including the recent earthquakes in Nepal.
The first surprising thing I learn about Wilma Melville is that she shares her living room with an aeroplane. Its left wing sticks out over her sofa in the aircraft hangar she has made her home.
At an age when many septuagenarians might wish for a leisurely retirement, she has sought her toughest challenges. She tried acting, magic and stand-up comedy - a long way from the shy little girl who used to telephone the operator just to practice speaking to people - and she trained a dog.
"Perseverance," Wilma insists, "is the most necessary trait. I am not particularly intelligent, no more than the average person but I have an abundance of perseverance that knows no end."
California is prone to earthquakes and Wilma, a former PE teacher, wanted to be ready with her dog to help search for survivors. Then on 19 April 1995 a bomb exploded in downtown Oklahoma City. Wilma and her dog Murphy joined the Los Angeles County task force on board a huge air force plane. She describes the impact of the whole experience as "ferocious".
When the manager of the search team watched Wilma at work, instructing her dog with short blasts on a whistle from 50 yards away, he was impressed. But Wilma realised that many of the other task forces did not have dogs and those that did were clearly untrained, on leads and more concerned with their footing on the rubble than the task they were there for.
It wasn't the number of dead (168) that affected Wilma the most but the impact it had on the people of Oklahoma City. "You probably know people on the East Coast, New Yorkers," she says, "and you know people on the West Coast, but you don't know anybody in the middle. They are different. They are wonderful people. They believe in God, they believe in America, they go to church, they believe in family and they don't believe that anything like that could happen in the middle of the country. They stood there, looking at that building and they just cried."
As Wilma says the words, she too begins to cry and adds, "But now they're different. I think they must have grown up since then."
When she got home, she discovered there were only 15 search and rescue dogs in the whole of the US. Switzerland, a country the size of the US state of New Jersey, had 52. It was clear to her that more were needed. Raising funds from small events she founded The National Disaster Search Dog Foundation and devised a plan to recruit rescued dogs, team them with firefighters and train them for catastrophes.
On 11 September 2001, Wilma was able to send 13 dogs to the collapsed World Trade Center buildings and attracted the attention of an intern at Fox News whose job it was to type the text that scrolled across the bottom of the screen.
"This is such an interesting story, you should tell the public," said the intern. "I know young lady," replied Wilma, "but how do I do it?" The woman didn't answer but the next day Wilma's phone started ringing with donations from the East Coast, then as America awoke, from the Midwest - more telephones had to be installed and money poured in from the West Coast.
After two days the young woman called again and asked, "Is anything happening?"
"My God," replied Wilma, "of course it's happening!"
The woman had put Wilma's telephone number along the bottom of Fox News's coverage. It remained on screen for another 12 hours, by which time Wilma's bewildered volunteers had received $1m. "The terrible thing is, I don't even know who she was," Wilma admits. That rebellious intern at Fox News helped build a rescue foundation and has saved lives.
Wilma then faced a new problem, how to make best use of $1m.
Since then Wilma's dogs and their handlers have responded to crises all over the world, most recently sending six teams to Nepal.
Her dream is to build a national training centre, the first of its kind in the US, where rescued dogs become rescuers and where international search teams can tackle state-of-the-art simulations of any disaster anywhere on Earth. And through Wilma's indomitable perseverance it's nearing completion on 125 acres of donated ranch land, 90 minutes north of Los Angeles.
"Next time you visit I'll take you there in the plane," she promises and I glance nervously over my shoulder at the aircraft. Her two dachshunds, Newton and Darwin, yap excitedly around her feet. "Now these two," she confides, "have me very well trained."
How to listen to From Our Own Correspondent:
BBC Radio 4: Saturdays at 11:30 and Thursdays at 11:02 BST
Listen online or download the podcast.
BBC World Service: At weekends - see World Service programme schedule.
Subscribe to the BBC News Magazine's email newsletter to get articles sent to your inbox.