Who, What, Why: Is it illegal to display an IS flag?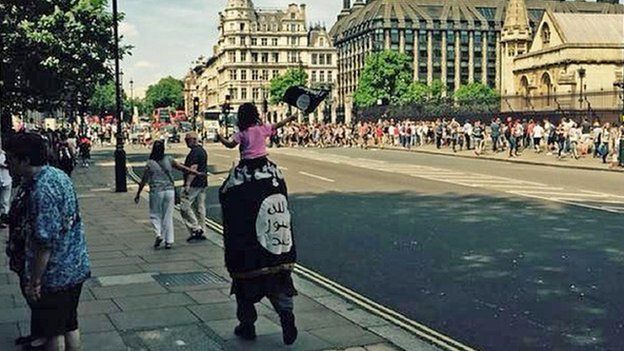 Police have been criticised for not arresting a man who walked through Westminster apparently displaying the black flag associated with the Islamic State group. Is such an act against the law, asks Finlo Rohrer.
The man, with a small child on his shoulders also holding a flag, walked near the Houses of Parliament while draped in the black flag, apparently similar to that used by the Islamist militant group.
The Metropolitan Police said they stopped him but then let him go on his way. "This man was spoken to by officers, with consideration given to relevant legislation, particularly the Public Order Act, and the decision was taken by officers at the time that the man was acting within the law. He was not arrested.
"Wearing, carrying or displaying of an emblem or flag, by itself, is not an offence unless the way in which, or the circumstance in which, the emblem is worn, carried or displayed is such as to cause reasonable suspicion that the person is a supporter or member of a proscribed organisation. While support of and membership of [IS] is unlawful it is not a criminal offence to advocate the creation of an independent state."
The black flag with a white shahada [Islamic creed] has been used by other militant groups before Islamic State.
There remains the possibility that the episode was some sort of spoof. And Met chief Bernard Hogan-Howe said that further investigation was needed to establish if the flag was of the sort typically used by IS.
One relevant passage from the Public Order Act 1986, which covers England and Wales, says someone is guilty of causing "harassment, alarm or distress" if they "display any writing, sign or other visible representation which is threatening or abusive within the hearing or sight of a person likely to be caused harassment, alarm or distress thereby".
The pan-UK Terrorism Act 2000 is also relevant. "A person in a public place commits an offence if he (a) wears an item of clothing, or (b) wears, carries or displays an article, in such a way or in such circumstances as to arouse reasonable suspicion that he is a member or supporter of a proscribed organisation."
The Islamic State grouping has been proscribed in the UK since last year. This offence carries a prison sentence of up to six months and a fine.
"I'm surprised the police didn't at least arrest him," says Edward Elwyn Jones, senior associate solicitor at Hodge, Jones & Allen. "I've seen people legitimately protesting arrested for less than this."
Jones cited the Rankin v Murray case from 2004 where it was established that a ring inscribed with "UVF" (Ulster Volunteer Force) was sufficient for a conviction.
"But having spoken to the [flag wearer] they might have taken a view that he was genuinely not supporting IS," Jones adds.
Gary Watt, professor of law at Warwick University, says: "The police might have been justified in concluding that it didn't breach any strict statutory wording."
But regardless of the Terrorism Act and Public Order Act, Watt says it is interesting that the police didn't think the flag constituted a "breach of the peace" under common law.
"Had this been a naked person walking down the street would the police have intervened? They probably would have intervened even though there is no strict letter of the law against being naked in public."
The key issue is where the offence was felt, Watt says. In this instance there was apparently little reaction from the crowds of tourists passing the man, possibly with some or many unaware of the significance of the flag.
"The real outrage has been a social media outrage," says Watt. And there is currently no suggestion from anyone that the police should be taking into account the global reaction to an event when trying to maintain the peace locally.