The mystery of the 'Vauxhall cannibals'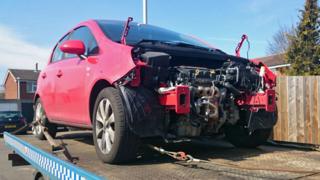 A bizarre crime wave is sweeping one part of England - thieves are stripping down Vauxhall cars as their owners sleep. Hundreds of owners have fallen victim - but why?
One morning Lisa Frankland woke to discover the front of her Vauxhall Corsa had vanished.
A neighbour knocked on her door and told her she should take a look. The bonnet, the bumper, the front lights and radiator had all been stolen.
"I just wasn't expecting it," says Frankland, 43, a midwife. "I didn't expect to go out and find the front of the car missing."
The day she discovered the theft, she had to cancel her shift at work 40 minutes drive away and the damage cost £5,000 to repair.
But though this crime was odd, it was far from rare. In and around Bedfordshire, where Frankland lives, owners of Vauxhalls have been waking to find their cars taken to pieces overnight.
Bedfordshire Police say there have been more 500 offences in which components have been stolen from Vauxhall Astras and Corsas since August 2013.
The thieves take body parts in varying quantities. Sometimes only the bumper and the number plate might be stolen. In other cases, the cars are stripped right down to the chassis.
In 150 cases the damage was too extensive for repairs to be economically viable.
At first, the thefts were sporadic, but recently they have picked up in pace. Since April 2015, five to 10 of these crimes have been recorded every week.
"I work out of Luton, Dunstable, area of Bedfordshire and we're seeing maybe one a day," says Katy Stewart, a scenes of crime officer with the force. Police say they are also aware of incidents in the neighbouring county of Northamptonshire.
The culprits generally choose cars in residential locations or at garage forecourts. The Vauxhalls are typically targeted between 02:00 and 04:00.
CCTV footage taken in April shows two men on a residential street casually and methodically stripping the front of a Corsa. When a neighbour's cat sets off a security light, the pair carry on, apparently unperturbed.
"The limiting factor in this is how much they can physically carry away from the location," says Ch Insp Ian Middleton, who is leading the investigation.
The distinctiveness of the thefts raises the question of why exactly so many cars of one particular manufacturer have been targeted in this area.
It may be relevant that General Motors' Vauxhall plant is in Luton, where vehicles have been made since 1905.
"As a consequence of that it's got a huge brand loyalty locally," says Middleton. "There is a disproportionately high number of Vauxhalls owned within the Bedfordshire area."
Officers suspect the components are being sold on to the body repair market. Typically, they are the kind of parts would need to be replaced in the event of an accident.
The value of those stolen so far runs to tens of thousands of pounds, and detectives believe the thieves are making big profits. The sheer number of thefts suggests that a large and organised criminal network is responsible.
Anyone who thinks they will be getting a bargain by buying non-verified motor components is warned it could backfire.
"You might think you're getting a good deal and a cheap offer but bear in mind these people are unscrupulous and they won't hesitate to come back and revisit the places they've been sold to and you may well find yourself the next victim," says Middleton. He urged anyone who knows who is responsible for the thefts to come forward.
While the thefts appear odd, Middleton says it can be distressing for victims to find their cars stripped down and later written off.
Others who have found themselves targeted are simply baffled.
"Everyone said you must be really angry, really upset," says Frankland. "I was just shocked, really - I couldn't understand why they would do that."
Anyone with information is urged to call police on 101, or contact Crimestoppers anonymously on 0800 555 111.
The investigation into Vauxhall cannibals was shown on BBC One's Crimewatch Roadshow, on 1 July - you can catch up on BBC iPlayer
Subscribe to the BBC News Magazine's email newsletter to get articles sent to your inbox.