Why is 2015 such a blockbuster year for film?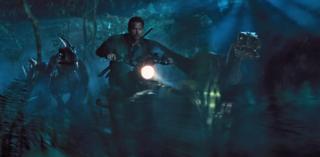 Jurassic World has been smashing box-office records. On Monday it became the fastest film to make $1bn at the global box office - a feat that took just 13 days - and $511m of that came in its opening weekend, making it the highest global opener ever.
"Jurassic World took everyone by surprise," says Keith Simanton, senior film editor at the Internet Movie Data Base (IMDb).
"Universal estimated that it was going to make half what it did domestically. For it to end up where it did took almost everyone unawares."
It's been a phenomenal six months for blockbusters, with Avengers; Age of Ultron and Fast and Furious 7 also breaking the $1bn barrier - an achievement that was almost unheard of until a few years ago.
Why is 2015 proving such a blockbuster year for film?
One obvious reason is inflation.
The average US cinema ticket costs $8.17. That's almost double what it would have cost to see the first of the Jurassic series, Jurassic Park, on its release in 1993.
Adjusting for inflation, Jurassic World was actually only the third-biggest film, in terms of box office takings on its opening weekend, according to movie budget experts at the-numbers.com.
In second place is Spider-Man 3, which took $382m internationally when it opened in 2007, the equivalent of about $543m today.
The top spot goes to Harry Potter and the Deathly Hallows, Part 2. This, the final Potter film, took $483m in its opening weekend in 2011, equivalent to $554m today.
---
Cloned dinosaurs
Biggest opening weekends, adjusted for inflation
Film
Total taken (worldwide)
Harry Potter and the Deathly Hallows: Part 2 (2011)
$554m
Spider-Man 3 (2007)
$543m
Jurassic World (2015)
$524m
Pirates of the Caribbean: At World's End (2007)
$490m
Harry Potter and the Half-Blood Prince (2009)
$486m
Star Wars: Episode III - Revenge of the Sith (2005)
$484m
Transformers: Dark of the Moon (2011)
$439m
The Lord of the Rings: The Return of the King (2003)
$436m
The Avengers (2012)
$425m
Pirates of the Caribbean: On Stranger Tides (2011)
$402m
Source: www.the-numbers.com
It's notable that none of the top 10 are original films.
"I think you might see a pattern here. We've got sequels and reboots and re-imaginings," says Simanton. "People are going to see 'event' films, and they certainly saw Jurassic World harking back to a franchise that people really loved."
He says the popularity of sequels is a big influence on creative decisions in Hollywood.
"Studios tend to put their massive production budgets behind things they feel are safe. When you've got a well known, established franchise, you may not even do that well domestically in North America, but you're definitely going to repay your investors internationally."
Jurassic World: The secret of its success
---
Inflation is only part of the story, however.
Fast and Furious 7, which recently became the third most successful film of all time (without adjusting for inflation), illustrates another factor behind the recent spate of box office records.
The previous film in the franchise, Fast and Furious 6, did well, making nearly $800m, but 7 has made almost twice that, thanks in part to its huge success outside the US.
Fast and Furious 7 did a bit better in America making about $100m more than Fast and Furious 6. But international sales were half a billion dollars better.
So where are all these tickets being bought?
"China is this massive market that loves both their domestic product and are voracious consumers of Hollywood movies," says Simanton.
"If you look at Furious 7, of their estimated $910m foreign box office total, 26.4% of that came from China. And that pattern seems to hold up. Of [Jurassic World's] current total, 31.5% of that take is in China."
It used to be difficult to get foreign films screened in China at all, but in 2012 the Chinese government expanded its quota, and cinemas now show 60-70 each year.
Hollywood is responding by making more films that cater to Chinese taste. Universal Pictures has begun production on The Great Wall, a fantasy film set in China, directed by Zhang Yimou and co-starring the American actor Matt Damon and Andy Lau, an actor from Hong Kong.
It's one of an increasing number of cinematic links between the US and China, says Kevin Ma, who writes about the Chinese movie market for Film Business Asia.
"You also see China Film Group's name in both Fast and Furious and Jurassic World. They were co-producers on those films. And of course last year they shot a lot of the new Transformers film in China. There's a very clear attempt at trying to court the Chinese audience by Hollywood studios."
There is another important factor affecting box office records too, and this is the increasing number of films released in 3D and Imax formats. Cinema-goers pay more for these screenings, and they encourage bigger audiences because they are an "event" - an experience viewers cannot have at home. When China expanded the quota for foreign movies in 2012 it was specifically for these special format films, Ma notes.
The Chinese market is only going to become more important as time goes on.
In 2014, Chinese cinema-goers spent almost $5bn on tickets. It was a record amount - about a third more than the year before. The accountancy firm Ernst & Young predicts that in just five years China will overtake the US and become the biggest film market in the world.
Listen to More or Less on BBC Radio 4 and the World Service, or download the free podcast.
Subscribe to the BBC News Magazine's email newsletter to get articles sent to your inbox.