What makes a great museum?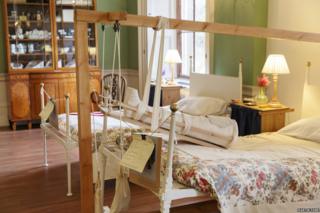 The six finalists for the UK Museum of the Year competition have been announced. With visitor numbers growing, what is it that makes a great museum today?
It's an eclectic group. There's a Georgian National Trust country house, Dunham Massey in Cheshire, that was converted to look once again like the military hospital it had been during World War One.
Another of the six contenders short-listed for the charity Art Fund's Museum of the Year 2015 is the Tower of London, which housed an evolving installation of 888,246 ceramic poppies in its moat last year, each one representing the death of a British or Commonwealth soldier during World War One. It was viewed by more than five million people.
Oxford University's Museum of Natural History is recognised for efforts which included outreach work with a penguin. Belfast's Metropolitan Arts Centre, Manchester's The Whitworth and London's Imperial War Museum are the others shortlisted for the prize, worth £100,000.
"It's been an absolutely marvellous year for museums," says Lisa Jardine, professor of Renaissance Studies at University College London. The commemorations of last year's centenary of the outbreak of World War One were sensitively and engagingly handled, she says.
There are almost 1,800 museums accredited under the UK-wide Museum Registration Scheme, aimed at ensuring the professional management of collections and that visitors are well treated.
The UK's directly government-funded museums and galleries have increased in popularity during the past decade. In 2004-5 there were 35.7 million visitors, according to the Office for National Statistics. By 2013/14, the figure was 50.8 million. The British Museum alone accounted for almost 6.7 million.
These statistics don't include those funded by charities, local authorities and educational establishments, many of which receive money from the National Lottery.
Museums, competing with other places of cultural interest, are working hard to increase "footfall" - the numbers attending. Some employ outreach workers to attract visitors.
"One thing museums need to do to survive and thrive is challenge the preconceptions of their audience," William Cook wrote in The Spectator. This is particularly the case when so much historical and artistic information is available online, he argued. Institutional stuffiness and aloofness are two of the threats.
Those on the Art Fund's short list have devised innovative ways of engaging with the public. During its £4m redevelopment, Oxford University's Museum of Natural History allowed some of its specimens to "escape" to the city. Bookworms were seen in a bookshop and a penguin turned up a fishmongers. The museum set up a Goes To Town trail for those interested in finding out more about animals.
The Art Fund's description of "museums" goes a little beyond that which many British people might associate with the term - it includes art galleries. One, The Whitworth, used "pop-up" exhibitions while closed for its £15m redevelopment, which saw a doubling in size. They visited pubs, shops and care homes in Manchester. One of its exhibitions didn't have any accompanying information, the idea being that visitors could look at the artworks on their own terms, without preconceptions.
Belfast's Metropolitan Arts Centre, which opened in 2012, features galleries, theatres, a family room, an artist-in-residence studio and workshops. It uses volunteers known as "Mactivists" to show people around.
"For many people being involved in culture is a social thing," says Art Fund's director Stephen Deuchar. "So museums and galleries have to have an appropriate and welcoming ambience. You don't want them to appear fusty and forbidding."
The redesigned atrium of South London's Imperial War Museum tells the story of 20th Century war through objects such as guns, vehicles and clothing. Permanent World War One galleries have opened as a reminder of the conflict's size and devastation, including interactive displays on life in the trenches. The museum employs advisers on how to attract a young audience.
The most-visited of this year's short list is the Tower of London, whose Blood Swept Lands and Seas of Red by Paul Cummins and Tom Piper is described by Art Fund as a "visual metaphor, both epic and personal". It placed the Tower at the "forefront of innovation in the museum sector", it adds. "It burst in at you," says Jardine. "There were hundreds, thousands of people. You could hardly get near it."
"British museums are almost restlessly innovative," says Deuchar. "It's kind of wonderful. There's something daring and experimental, which has really developed over the last 10 or 15 years. I really think Britain has something to say to the rest of the world about museum presentations and experiences."
The Art Fund will announce the winner of its prize on Wednesday 1 July.
All this week the Magazine will be featuring a series of videos on the Museum of the Year competition, in partnership with the Art Fund.
Subscribe to the BBC News Magazine's email newsletter to get articles sent to your inbox.