NBA finals: Both coaches have Middle-East ties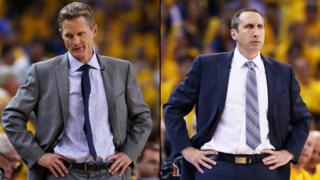 The NBA finals have pit Oakland against Cleveland - but the link between both coaches stretches far beyond rivalries on the basketball court.
The top teams in US professional basketball have battled it out on the court for weeks, vying for one of two coveted spots in the championship games - one team from the midwest region, the other from the west coast.
But this year, the games have extended beyond American borders, across an ocean and a couple of continents to the Middle East, to one of the most tense spots in the region - the Israel-Lebanon border.
Steve Kerr, head coach of the Golden State Warriors, was born in Beirut and spent much of his childhood in Lebanon and the wider region.
David Blatt, who is coaching the Cleveland Cavaliers, is a dual American-Israeli citizen and former Israel Defense Forces (IDF) soldier. He is said to be on a first-name basis with Israel's Prime Minister Benjamin Netanyahu and spent years coaching professional basketball teams in Israel.
Fans in Israel have been braving the time difference to watch Blatt at work. After suffering a big upset at home on Thursday night, he addressed his overseas supporters apologetically.
"That's a hell of a thing to have on your conscience all the time," said the coach. "When I got seven million people waking up and then feeling bad all day because we didn't win, you know that's a heck of a thing to carry around all day."
Kerr has much more sombre ties to the Middle East. His father, Malcolm Kerr, was the head of the American University in Beirut before being assassinated by Islamic militants in 1984.
American diplomat Dennis Ross was Malcolm Kerr's student and teaching assistant during his time at University of California-Los Angeles.
"He was an extraordinary observer of the region," Mr Ross told the BBC. Malcolm Kerr's parents had also taught at the American University, and he had grown up on the campus.
"I had dinner with him when he was on his way to Beirut. I told him at the time this was a very different Lebanon than he had grown up with. You'd already seen the emergence of groups like Hezbollah although they weren't called that yet. I remember saying to him you have to be mindful of your security there because these groups really reject any symbol of America."
But Malcolm Kerr - who was a revered academic and spent much of his time writing about the intra-Arab conflict - wasn't prepared to live with a wall between him and the Lebanese, Ross says.
The then 18-year-old Steve Kerr did not go to Beirut following his father's death. Instead he played his best game of his freshman season at the University of Arizona. A certain resiliency seemed to follow him in tragedy, one that's transpired on the court today.
Four years later, fans from rival school Arizona State University tried to use his father's death to taunt Kerr, shouting: "PLO! PLO!" "Where's your dad?" "Your father's history." And, "Why don't you join the Marines and go back to Beirut?"
Instead he brought home a win with six straight three-pointers in the first half of the game. The university's athletic director later sent him an apology letter.
Both coaches tie their success - albeit in very different ways - to being shaped by their experiences in the Middle East.
David Blatt has profound connections to Israel. When the Cleveland Cavaliers advanced to the finals last month, Prime Minister Netanyahu called Blatt to congratulate him and the team.
The 56-year-old was born in Massachusetts but is also an Israeli citizen. He spent 16 years coaching there, the last four at the helm of the Maccabi Tel-Aviv, one of the most revered Israeli basketball programmes. He's even been known to speak out about Israeli politics - coming out strongly in support of the operation in Gaza last summer.
Steve Kerr has spoken openly about how his international upbringing has shaped his views both on and off the court.
"My parents literally showed me a whole world that existed beyond typical American culture," Kerr said in a 2004 commencement speech at the University of Arizona.
"They gave me an education in understanding people, in being compassionate and respectful. They taught me that though people may speak or dress differently, or have customs or beliefs that were foreign to me, it was important to take the time to not only understand those differences, but to embrace them as well."
He later joked: "That came in handy years later when Dennis Rodman became my teammate with the Bulls."
Despite the absence of relations between Lebanon and Israel, the two rookie coaches appear to have an affinity for one another.
They almost ended up on the same side - Kerr wanted Blatt to be his assistant coach. Instead they made basketball history together. This year marks only the second time two first-time head coaches have been matched up in an NBA championship series, the last time being 1947.
As the games continue, sports diplomacy is in full swing.
"We've seen sports politicised but we can see sports as a bridge builder as well," Dennis Ross says.
Blatt and Kerr will meet again on the court on Tuesday evening. Golden State leads 3-2 in the the best-of-seven series.