Gone fishing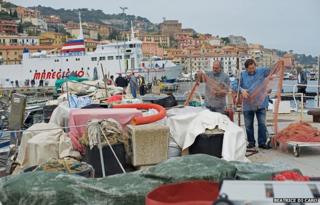 Beatrice Di Caro has just completed a BA in photojournalism at the London College of Communication, her final project focusing on the lives of fishermen in Monte Argentario, an area in the south of Tuscany in Italy.
Her pictures portray the lives of the fishermen onshore and the work carried out on the piers, the routine tasks that are essential to the smooth running of days at sea.
"I have decided to focus on their daily winter activities which mainly consist of repairing nets and maintaining their boats in preparation for the summer's intense workload as that is when they have the most demand for fish," says Di Caro.
Outside the tourist months, the area is fairly quiet, and fishing remains an important source of revenue, with goods sold locally and further afield.
"The fishermen who work in this area are all usually 40 years old and more," says Di Caro. "There is a real problem in finding young men willing to work the difficult hours that the job entails."
"Since I have spent all of my summer holidays in this area, I knew some of these fishermen and was able to connect at a deeper level as they did not see me as an outsider.
"I was also able to go out fishing for eels which was interesting, to say the least, as we were on a very small boat and the eels kept scrambling all over my feet."
Beatrice Di Caro's pictures can be seen at along with others from the course at the London College of Communication until 11 June.