Who, What, Why: Can the KitKat shape be a trademark?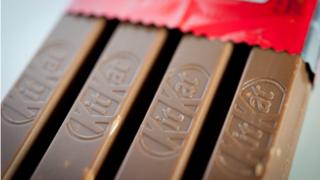 Confectionery giant Nestle is attempting to turn the shape of the KitKat bar into a trademark. But is this possible, asks Justin Parkinson.
KitKats are hugely popular across much of Europe, North America and Asia, with more than one billion products bought each year.
Manufacturer Nestle is arguing the four-fingered version of the chocolate-covered wafer snack should become a trademark in the UK, possibly preventing similar products being made. It says that, without the red-and-white packaging, and even without the word KitKat embossed on the chocolate, it should be regarded in law as distinct.
Having had its trademark application rejected by the High Court, after rival confectioner Cadbury opposed it, Nestle is going to the European Court of Justice. It's not seeking to trademark the two-finger version. But could the four-fingered type gain this status?
Nestle argues that, over time, its physical form has acquired a distinctive character associated with the company, and should become a trademark. It cites a survey in which 90% of people shown a picture of the bar, without any names or symbols embossed on it, mentioned KitKat in their comments.
But Cadbury says the shape is merely a result of being a cheap and easy way to manufacture a chocolate wafer bar, with other products made similarly.
It's not enough simply for someone to say "KitKat" when they see the snack's shape for a trademark to be registered, says David Rose, head of intellectual property at the law firm King & Wood Mallesons. "The definition of a trademark is that it distinguishes the goods and services from those of another company."
A rival bar called the Kvikk Lunsj, meaning "quick lunch", launched in Norway in 1937 and is available in some UK shops. It's undoubtedly similar.
The four-finger KitKat, originally called Chocolate Crisp, was first sold in England in 1935. It soon became the KitKat Chocolate Crisp and, after World War Two, just KitKat. So, the shape preceded the name.
The European court is expected to issue its advice within a few months. Nestle's application then returns to the High Court, which will make the ultimate decision. A separate case is going on, in which Nestle is trying to get a Europe-wide trademark for the KitKat shape.
Subscribe to the BBC News Magazine's email newsletter to get articles sent to your inbox.