The myth of bad British teeth
By Justin Parkinson
BBC News Magazine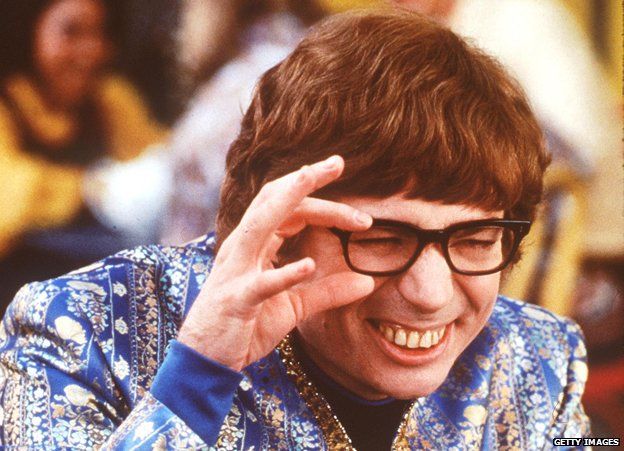 Britain has become "internationally renowned" for having "really lousy" teeth, according to TV doctor Chris van Tulleken, with people not caring enough about staining and decay. Is this label fair?
Having bad teeth is one of the stock American jokes about British people. In the world of film, spoof super-spy Austin Powers cavorts around London as a would-be sex symbol, not realising that his discoloured, crooked grin is being mocked.
In one episode of the Simpsons, a dentist scares a young patient into better oral hygiene by exposing him to a horrific publication called The Big Book of British Smiles. It features mocked-up pictures of gappy, unaligned teeth belonging, among others, to Buckingham Palace guards, the Prince of Wales and Sherlock Holmes.
Chris van Tulleken, a British doctor and TV presenter, has joined the criticism by telling Radio Times magazine that British dental standards are globally infamous and having "brown, foul teeth doesn't really bother us".
But are British mouths really in such a state and is there such a lack of vanity?
Lance Knight, a dentist from Manchester, dismisses van Tulleken's comments as "out-of-date". "People in the UK want their teeth to look better," he says.
He thinks cosmetic dentistry in the US is based on people wanting to "look the same way", with rows of perfect, shiny white teeth, like those flashed by the Osmonds or the Kennedys.
In the UK it's more about patients going for cleaning and some straightening but maintaining a more "natural look", he adds.
While 90% of Knight's cosmetic dentistry customers want just an "improved smile", he estimates, the rest want brilliant white teeth seen on reality TV shows like Big Brother and The Only Way is Essex, influenced by the more dazzling American aesthetic.
Whatever the priority, UK private spending on improving teeth has increased sharply. It reached £1.86bn last year, according to the market research group Mintel, up 27% since 2010.
Just 3% of people in the UK have had teeth-whitening work, lagging behind the 14% in the US, it says. But there's little sign of the complacency van Tulleken describes, with three in 10 UK adults unhappy about the appearance of their teeth, Mintel adds.
"The media are more aware now of teeth," says London dentist Uchenna Okoye, "and beauty pages now cover teeth and toothpastes, which years ago just didn't happen.
"Rightly or wrongly, we are appearance-driven and, as teeth have become more of a focus with makeover shows and celebrity news, people have become more interested - and naturally the health of their teeth as well as the appearance becomes a focus."
It's going to take some time to overcome but the UK is definitely making progress.
Statistics suggest that, taken on pure oral health rather than appearance, the UK does better than the US.
The last figure reported by the OECD for the US, in 2004, was 1.3 - when the UK also got 0.7. The UK's decay and replacement rates started falling below those of the US during the mid-1990s. Going back to 1963, the UK rate was as high as 5.6.
Source: OECD - the 2004 figure for the US is the latest available. At that time the UK's figure was also 0.7.
"We have seen real progress," says Mick Armstrong, chairman of the British Dental Association, "but dental disease and deprivation still go hand in hand. We need parents, educators and government to work together to help dental teams secure further improvements to the nation's oral health."
In some ways risks to dental wellbeing are high across the developed world. Children in the US, UK and elsewhere are constantly exposed to sugary foods and drinks, a major cause of decay.
The National Health Service provides free orthodontics to under-18s "who need it". The braces provided are metal. Parents who want less obvious ceramic or plastic versions, often clear or even invisible, have to go to private companies, at a cost.
The image, some might say cultural stereotype, of British teeth being so bad might have had some truth once. Only 6% of UK adults have no natural teeth, the British Dental Association says. In 1978, the figure was as high as 37% in Wales. And people in the UK are among the most likely in Europe (72%) to attend dental surgeries, second only to those in the Netherlands (79%), the BDA adds.
Meanwhile, two in three children aged 12 are now found to be free of visible dental decay, compared with fewer than one in 10 in 1973.
So, are the jokes likely to stop?
"I have many patients that come see me if they are being posted to the States or have important deals there because they have been told they will not be taken seriously if they do not sort out their smiles," says Uchenna Okoye. "The Americans view it almost like personal grooming. If you can't be bothered to look after yourself, why should they trust you with million-dollar deals?"
But could a transatlantic exchange once unthinkable be taking place? Okoye is currently in Phoenix, Arizona, teaching dental students "how to create more natural British smiles".
"I got involved with cosmetic dentistry because I got fed up with the Americans making fun of British teeth," she says. "Yes, there are things that we are playing catch-up with. They tend to have the innovations, materials and equipment there first. But we are fighting back."
Chris van Tulleken's The Truth About Your Teeth airs on Thursday 4 and 11 June, BBC One at 9pm.