A very generous donation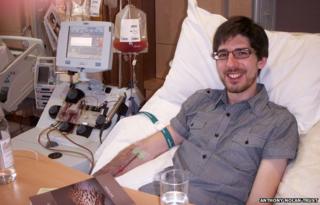 You sign up to a stem cell or bone marrow register. You forget about it. Then years later you get a phone call.
"Come on, seriously, this can't be happening today of all days," Jeremy Brice remembers thinking.
Is there a perfect time to be asked to help save someone's life?
Perhaps, but most people are never asked, and the timing for Jeremy wasn't ideal.
He'd spent the previous year caring for his mother as she battled breast cancer, and at the beginning of 2012 had just gone back up to Oxford to restart his PhD.
It was then, while retrieving his belongings from storage, cardboard box in hand, that the phone rang.
Most unrecognised phone numbers seems to end up in an offer of payment protection insurance refunds these days. This one told Jeremy he was a match for a patient with blood cancer in need of a stem cell transplant.
Jeremy, now 28, had signed up to the blood cancer charity Anthony Nolan's donor register eight years before, in 2004, "on a whim", he says. "Then life goes on and you don't think about it much."
Until the call.
"As soon as you hear the words Anthony Nolan you kind of know there's only one reason they'd be calling you," he says.
But despite the sudden, surreal responsibility over a stranger's life - and the somewhat inconvenient timing - Jeremy had made up his mind before he'd even hung up.
"It feels like you've been chosen to do something that nobody else can do," he says. "It's a privilege."
Stem cell transplants are potentially life-saving treatments that replace diseased bone marrow with specialised stem cells, which then develop into healthy bone marrow. It's a way to kick-start the immune system after chemotherapy, often allowing for higher doses.
In the UK, someone is diagnosed with blood cancer every 20 minutes on average, according to the trust.
Actor Michael Thomas, 63, was one of those in October 2010, when he discovered he had myeloma, a type of blood cancer.
After other treatments failed, he needed to become one of the roughly 1,000 people to have a stem cell donor transplant every year.
More than a million people are on the UK's stem cell donor registers, and within three months he had a match.
There are two types of stem cell donation. Nine out of 10 are essentially like a three-hour blood donation. There are mild side effects but you're typically out the same day. The remaining 10% are more invasive, involving extracting bone marrow directly from the hip bone. The recovery time is slightly longer, although most donors are walking again the same day, explains Ann O'Leary, head of register development at Anthony Nolan.
Jeremy's donation was the former, and in April 2012 the transplant was a success - not that he knew.
Michael was equally in the dark about who'd tried to save his life.
Strict anonymity rules prevent donor and recipient crossing paths or revealing their identity for two years after the transplant.
It's to protect both parties and ensure altruism is the only motivation, explains O'Leary, and lasts two years in case another transplant is needed.
But in the UK the donor and patient are allowed to send anonymous "Dear donor" cards through Anthony Nolan - although Jeremy couldn't be sure of ever receiving one.
Jeremy knew only three things about the recipient. That he was older, he was male, and he was heavier - as doctors use the recipient's weight to calculate certain cell counts.
"I don't know of any other set of circumstances where you would have that combination of being connected to someone in a way that is potentially life and death - but also being utterly ignorant about them," he says.
He tried not to dwell too much on who might be receiving his stem cells. "You are aware that not every donation story has a happy ending," he says. "I also didn't feel that I had a right to know. The donation process wasn't about me."
Stem cell UK facts
A sibling only has a 25-30% chance of being a donor match
White Europeans have a 96% chance of finding a suitable donor
This falls to 60% if you're from a black, Asian or ethnic minority background due to a relative lack of donors
The chances of a "perfect" match is 60% for white Europeans and 20% for people from ethnic minority backgrounds
Many donors themselves opt to remain anonymous, explains O'Leary, as they don't want to get too involved.
It's a point Michael considered too. "You have to be sensitive," he says. "There are all sorts of complications about getting in touch. I don't know what's going to happen to me, to be honest, in terms of my illness and so do you want to burden somebody with the thought of that?"
But Michael's gratitude did prompt him to send a card.
The pair continued to exchange cards about twice a year, but still they were strangers linked only by a biological match and a potentially life-saving transplant - although Michael did channel his inner sleuth.
He correctly assumed that his donor was a younger man.
This was a safe bet. Anthony Nolan only registers new donors between 16 and 30 years old (although they'll stay until 60), primarily because it costs the charity to sign people up and young males are most likely to be selected for donation - although other organisations such as Delete Blood Cancer do register much older people.
"I tried to find clues in the cards," Michael continues. Could a West Country scene on the front reveal where he's from?
"I lost my hair through the treatment and it grew back in a sort of blonder way," Michael says, "[and] people say sometimes you get the hair of your donor.
"But it turns out he's got very dark hair, so that was completely wrong."
Who was Anthony Nolan
Anthony was born in 1971 with a rare condition called Wiskott-Aldrich syndrome - the only cure was a bone marrow transplant, but none of his family were a match
In 1973 Simon Bostic had the first successful unrelated donor transplant, inspiring Anthony's mother, Shirley, to start a bone marrow register
In 1974, the Anthony Nolan Bone Marrow Register was established in Westminster Children's Hospital, where Anthony was a patient
Anthony died in 1979, aged eight
For more information about donating stem cells visit www.anthonynolan.org
One thing he was sure about was his donor's blood type - because now it had become his too.
"My blood changed type," he explains. "I was A before and now I'm O, so I knew he was Group O."
It's not a characteristic that leads to recognition on the street. But as the two-year anniversary approached, and with it the lapsing of enforced anonymity, Michael proposed meeting up.
Jeremy initially hesitated. But curiosity eventually led them to meet last summer.
"At the beginning there are a lot of 'thank yous'," says Michael. "It was very fortuitous that Jeremy was such a charming, lovely guy."
"It's great that we do get on and I feel very lucky to have had this opportunity to meet Michael and his family," adds Jeremy. "It's a nice added bonus."
They've since met on two more occasions.
One of those involved Jeremy and his girlfriend watching Michael perform in The Crucible - and meeting fellow star Richard Armitage backstage - at the Old Vic.
After the performance, Michael returned to the stage and gave a speech thanking Jeremy, prompting a standing ovation. Thankfully, Jeremy says, Michael didn't point him out and he could keep his anonymity within the crowd.
But there's only so many times you can say thank you.
"I just have to say to myself, 'You've done the gratitude'," says Michael. "I think that's sort of understood now, the gratitude is there."
So the pints aren't all on him?
"Oh I'll certainly do that."
Subscribe to the BBC News Magazine's email newsletter to get articles sent to your inbox.