10 things that Prince Charles wrote letters about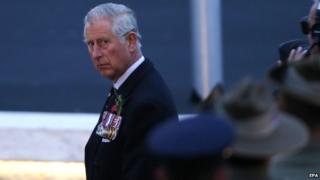 Prince Charles's letters to Labour ministers from a decade ago have been released after lengthy legal battle. Here are 10 things they have revealed.
In the letters he discusses issues he has long been known to be interested in - including the plight of dairy farmers, climate change and architecture - but he also covered a number of other topics.
1. The issue of Lynx helicopters performing poorly in high temperatures was brought up with then Prime Minister Tony Blair. The prince suggested the slow speed with which they were being replaced arose out of pressure on the defence budget. "I fear that this is just one more example of where our Armed Forces are being asked to do an extremely challenging job (particularly in Iraq) without the necessary resources."
2. Charles was concerned about the plight of the Patagonian Toothfish. In a letter to environment minister Elliot Morley dated 21 October 2004, the prince praises the government's efforts to combat "pirate and illegal fishing". "I particularly hope that the illegal fishing of the Patagonian Toothfish will be high on your list of priorities because until that trade is stopped, there is little hope for the poor old albatross, for which I shall continue to campaign."
3. The controversial culling of badgers to stop TB spreading to cows was strongly supported by the prince. In a letter to Tony Blair he wrote: "I do urge you to look again at introducing a proper cull of badgers where it is necessary. I, for one, cannot understand how the 'badger lobby' seem to mind not at all about the slaughter of thousands of expensive cattle, and yet object to a managed cull of an over-population of badgers - to me, this is intellectually dishonest."
4. Prince Charles seems to have been aware that there was a danger his letters could be sucked into a Freedom of Information request. In a letter to Tony Blair he wrote: "It was very good to see you again the other day and, as usual, I much enjoyed the opportunity to talk about a number of issues. You kindly suggested that it would be helpful if I put them in writing - despite the Freedom of Information Act!"
5. He wanted then Culture Secretary Tessa Jowell to consider Antarctica as British territory. After a talk with New Zealand PM Helen Clark in 2005, Prince Charles wanted the UK to help conserve the Antarctic huts built by explorers Scott and Shackleton during their polar expeditions. But funds from the Heritage Lottery Fund and the Department for Culture, Media and Sport are not meant to be used overseas. Prince Charles wrote that "there was something called 'The Government of the British Antarctic Territory,' which must mean that there is some British Territory to be 'governed!'" The prince resorted to a "plea to you for a bit of imaginative flexibility in the interpretation of these rules".
6. The NHS's plans for herbal medicine and acupuncture, subjects in which Prince Charles has long taken a keen interest, were the subject of a conversation between Charles and Health Secretary John Reid. In a letter to Charles following a verbal conversation about "integrated health", Reid said there was "strong support" for better regulation of the trades.
The issue of regulations affecting "complementary medicine" also came up in one letter to Tony Blair. The prince wrote: "We briefly mentioned the European Union Directive on Herbal Medicines, which is having such a deleterious effect on the complementary medicine sector in this country by effectively outlawing the use of certain herbal extracts. I think we both agreed this was using a sledgehammer to crack a nut." The prince offered contacts, for which the prime minister thanked him and added: "The implementation as it is currently planned is crazy."
7. The prince wrote about Armagh Gaol, which closed in 1986, in a 2004 letter to Northern Ireland Secretary Paul Murphy. He suggested that Ruthin Gaol in Denbighshire, an ex-prison turned popular visitor attraction, could be an example for what could be done with the site. Charles concluded the letter with "apologies for pestering you about so many things".
8. The dominant position of the big supermarkets in the UK and the negative effect on prices for farmers was a matter of concern to Charles. In a letter to Tony Blair he wrote: "There is no doubt that the dominant position of the retailers is the single biggest issue affecting British farmers and the food chain, and if it is not dealt with all the other good work which has been going on risks becoming virtually useless."
9. The sale of NHS properties, especially the redevelopment of the site of Cherry Knowle Hospital in Sunderland, was a matter that also concerned Charles. He expressed worries about wider building projects, bemoaning "failed opportunities to create imaginative, and innovative heritage-led regeneration initiatives". The prince added that "I can't help thinking that transferring this [area of policy] to another government department risks the introduction of further complexities and delays". Towards the end of his letter to Health Secretary John Reid, he added that he did not want to become a "complete bore about this".
10. Describing himself as "someone with such old-fashioned views (!)", Charles wanted to address a "gap in the teaching of English and History" identified by his own Educational Summer Schools. In a letter to Education Secretary Charles Clarke, the prince said his summer schools were "challenging the fashionable view that teachers should not impart bodies of knowledge, but instead act as 'facilitators' or 'coaches,' a notion which I find difficult to understand, I must admit".
Subscribe to the BBC News Magazine's email newsletter to get articles sent to your inbox.