Been and Gone: Acclaimed war film director and the man behind All Right Now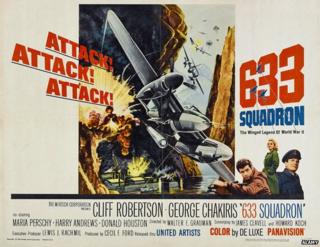 Our regular column covering the deaths of significant - but lesser reported - people of the past month.
The film 633 Squadron, directed by Walter Grauman in 1964, has become something of a cult, thanks to interminable repeats on television and the stirring theme music written by Ron Goodwin.
The film, about a fictional RAF fighter-bomber squadron in World War Two, was the first aviation film to be shot in colour. It was panned by the critics for its many historical inaccuracies but was subsequently voted one of the best 100 British war films of all time. George Lucas once credited it as an influence on his so called "trench run" sequence in Star Wars.
Grauman flew combat missions with the US Army Air Force over Germany during the war before becoming a stage manager at a film studio in Los Angeles. He became a TV director working on a number of shows including The Fugitive and The Twilight Zone and the original TV series of The Untouchables, starring Robert Stack.
Barrister Anthony Scrivener's eclectic mix of clients included Saddam Hussein. He led the former dictator's legal team which challenged the lawfulness of the tribunal that tried him.
He also defended Gerry Conlon, a member of the Guildford Four, and Winston Silcott, who was acquitted of the murder of PC Keith Blakelock. In one of his most high-profile cases he represented the Norfolk farmer Tony Martin who, in 1999, shot dead an intruder at his house and was eventually convicted of manslaughter.
A committed socialist and republican, Scrivener abided by the rule that obliges barristers to represent people with whom they fundamentally disagree. These included Dame Shirley Porter after she was accused of selling council houses in Westminster to bolster Tory support.
He relished the challenges such cases could bring. "A common law barrister like myself has seen every type of depravity possible," he once remarked, "and can say it in Latin."
John Renbourn's acoustic guitar was a fundamental part of the British folk music scene, notably with the band Pentangle. Their folk-jazz fusion made them one of the most influential bands of their era and featured his acclaimed partnership with Bert Jansch.
His style owed much to a diverse range of musical influences. Initially trained as a classical musician he developed an early interest in medieval music, while the blues boom of the 1950s saw him incorporate that style of music into his performances.
His first collaboration with Jansch, Bert and John, was seen as a breakthrough in so-called baroque folk and led to the founding of Pentangle which featured Jacqui McShee on vocals. The band's fusion style produced four best-selling albums and appearances at many festivals including the Isle of Wight. Renbourn continued a solo career but avoided the limelight, preferring to play in pubs and clubs.
All Right Now, co-written by Andy Fraser, became one of the most played rock anthems of all time. As well as still being a feature on rock radio stations, it has been used in a host of films and commercials. The success of the song made his band Free, which Fraser had co-founded when he was just 15, into one of the most famous acts of the early 1970s. Their blues-flavoured rock, coupled with their youthful swagger, made them great crowd pullers. But their success was to be short-lived. Fraser quarrelled with singer Paul Rodgers, while the lead guitarist Paul Kossoff developed a heroin addiction which meant he could no longer play. Fraser went on to form his own band but failed to find success. However, he established himself as a successful songwriter. Robert Palmer, Joe Cocker and Rod Stewart were among the stars that recorded his compositions.
Graham Saxby did much to champion the science of holography, often in the teeth of opposition from the photographic establishment. The technique of 3D imaging was first developed in the 1940s but it took the arrival of lasers to advance the process. Saxby began his photographic career in the Royal Air Force before becoming a teacher in Wolverhampton where he built a holography laboratory and taught students from a wide variety of science courses. He went on to become a visiting lecturer at the Royal College of Art where he was one of the driving forces behind the establishment of the college's holography unit. In 1988 he published his book, Practical Holography which, nearly three decades on, is still seen as the definitive work on the subject. In 1998 he endowed the Royal Photographic Saxby Award for achievement in the field of three-dimensional imaging.
The former Controller of Radio 1, Derek Chinnery, became embroiled in the investigation into the activities of Jimmy Savile after it emerged he had once questioned the presenter over rumours of sexual misconduct. Chinnery, who ran the music network between 1978 and 1985, said that when he tackled Savile about the allegations, they were firmly denied. Chinnery later said he had no reason to disbelieve Savile and took no further action. Chinnery joined the BBC in 1941 and, after a short spell of service in the RAF, returned to the Corporation to work as a producer in light entertainment. He was 53 when he took charge of the BBC's youth music station and quickly put his own mark on the output. He allowed the playing of records containing the names of commercial products and mentored a number of future presenting stars including Nicky Horne and Bruno Brookes.
Among others who died in March were:
Terry Pratchett, author of the Discworld novels and campaigner for assisted dying
Lee Kuan Yew, the father of modern Singapore
Jackie Trent, singer/songwriter, who co-wrote songs including Don't Sleep In The Subway and the Neighbours theme
Shaw Taylor, TV presenter famous for Police 5
Malcolm Fraser, former Australian prime minister
Sam Simon, co-creator of The Simpsons
Subscribe to the BBC News Magazine's email newsletter to get articles sent to your inbox.