A truly dangerous meeting of minds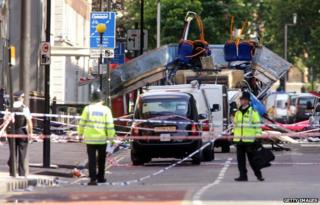 In the winter of 2003 jihadist turned MI5 spy Aimen Dean attended a lecture by Anwar al-Awlaki, a man he had never heard of but who would become an inspiration to Islamist extremists throughout the world. Also listening, and taking notes, were three of London's 7/7 bombers.
In a converted flat on the first floor of a building in the Black Country town of Dudley, about 30 men were gathered to hear a lecture by an American visitor who was building a reputation as an inspirational jihadist scholar.
In the audience were three men who would go on to launch suicide bomb attacks in London just over 18 months later, but also an undercover informant for the Security Service, MI5.
What happened behind the closed doors of this private meeting offers a rare insight into the battle between British Islamist extremism and the spies who fought against them.
It was a battle which would erupt with bloodshed on the streets of London in the summer of 2005.
The former MI5 agent who calls himself Aimen Dean recently spoke for the first time about his work for the UK intelligence agencies. He explained in an exclusive interview for the BBC that he turned his back on extremism following al-Qaeda's bombings of two US embassies in East Africa in 1998. For the next eight years he worked as an MI5 agent, tasked with infiltrating extremist groups in the UK.
He says his job was to "understand al-Qaeda and other jihadist movement cells based in the UK as well as their recruitment and fundraising activities".
So it was that in the winter of 2003 he went to the meeting room in Dudley to attend a lecture by a man he had never heard of but who would go on to be an inspiration to Islamist extremists throughout the world. Anwar al-Awlaki, who was killed in a US drone strike in 2011 in Yemen, became one of the leading voices of the global jihad against the West. His online sermons incited numerous acts of violence.
Dean says he was invited to the eight-day course of lectures by someone who was at that time being watched by MI5 because of concerns he was involved in terrorist activity. Curious to hear the preachings of this new kid on the block, he agreed to be there.
---
More from the Magazine: Aimen Dean's al-Qaeda story
"There is no single process of radicalisation. Some people, it took them years to be convinced of coming to the jihad and some people it took them minutes. Some people were studying in religious seminaries - they're a minority by the way - and then decided to come and some people basically just came straight out of a nightclub you know while he was consuming alcohol basically to come and seek redemption there in the jihadist world."
The spy who came in from al-Qaeda
---
Dean said he shook hands with everyone there, including three men who'd driven down from Leeds. They introduced themselves as Mohammad, Shehzad and Abu Abdullah. The next time Dean saw their faces was in news reports following the 7/7 bombings in which 52 people died. The three men, Mohammad Sidique Khan, Shehzad Tanweer and Germaine Lindsay were part of the four-man terror cell which carried out the attack.
Like all of those gathered, they seemed mesmerised by al-Awlaki's talk. At the beginning the cleric explained he would focus on a book written by the Islamic scholar, Ibn Nahhass al-Dimiatti, who he said died as a "shaheed" - or martyr - six centuries ago. Perhaps concerned that his words were being monitored he said, "I want to state in the beginning and make it very clear that our study of this book is not an exhortation or an invitation to violence or promotion of violence against an individual or society or a state. This is purely an academic study."
Despite this he spent the next hour selectively quoting the works of Islamic scholars who had promoted the notion that physical fighting is a religious obligation. He said, "Muslims will never experience peace unless jihad is established because the harm of the enemy can only be stopped through jihad. No peaceful means will deliver that."
He went on to say, "Jihad is not mandatory on children, mentally incapable, women and the ill. It is mandatory however on the one-eyed, the one who is suffering from a mild illness, a sore tooth or a fever or the one who has a slight limp. If the enemy enters the Muslim land or even approaches it and amasses on its borders even if they do not actually enter and their armies are double the size of the Muslims or less then jihad becomes mandatory on each and every individual."
Dean explains that the book which formed the basis of the lecture series "is what many jihadists learn as an introduction to the ideology of jihad and martyrdom". Indeed he says some of the audience were reduced to tears.
He remembers Germaine Lindsay, who went on to kill 26 passengers on a Piccadilly Line train, taking notes and asking for al-Awlaki's views on how women could support the jihad. Lindsay's widow Samantha Lewthwaite, is currently on the run in East Africa as a suspected supporter of the militant group al-Shabab.
It's not clear what role, if any, the talks by al-Awlaki would have had on the increasingly extremist mindset of the 7/7 plotters. Most British jihadists in that period were focused on fighting overseas. Indeed Khan and Tanweer would go to Pakistan a year later, intent on dying as martyrs in Afghanistan.
It was only once they arrived there in late 2004 that they were told by their al-Qaeda bosses in the tribal areas to launch an attack on their own country.
---
The search for Samantha Lewthwaite
Lewthwaite grew up in Aylesbury, where she converted to Islam shortly before completing her A-Levels. From then, she seems to have drifted slowly from a benign version of Islam to a more violent creed. She met Germaine Lindsay on a Stop the War demonstration in 2002. Three years later, he killed himself and 26 others on the London Tube. She was accused in some media reports of involvement in the terror attack on the Westgate Shopping Mall in Nairobi, Kenya, in 2013.
The White Widow: Searching for Samantha
---
There is no evidence in these talks that al-Awlaki was encouraging his audience to attack targets in the UK but he could be heard extolling the virtues of the jihad and the life of the fighter or mujahid. At one point he read approvingly from a text saying "jihad is the greatest deed after believing in Allah. Jihad is greater than worshipping in the house of Allah and serving it and serving the pilgrims… Mujahid is the greatest of all people".
Usama Hasan, a senior researcher with the counter-extremism think tank Quilliam, says "the kind of preaching that Anwar al-Awlaki was carrying out in late 2003 would have inspired the idea of jihad in young Muslims… but the kind of jihad that only takes place through non-states actors and terrorist groups like al-Qaeda".
Hasan says he met al-Awlaki in this period and recalls that the charismatic English-speaking preacher was being seen in some quarters as a future leader of Western Muslims.
At this stage al-Awlaki had not been linked to al-Qaeda but his views were clearly hardening. Hasan recalls challenging him after he had led Friday prayers at his mosque in east London around the same period as the talk he gave in Dudley. "I remember being concerned that his sermon was very divisive. It was very them and us. He was preaching that the Muslim community in this country was under siege."
Though there was nothing particularly unusual about preachers taking this line in the period when the "war on terror" was at its height, in a few years al-Awlaki would achieve global infamy for his support of al-Qaeda and the policy of carrying out acts of violence against civilians in the West.
In the winter of 2003, MI5 were sufficiently interested in what their agent told them about the lectures that the BBC understands they hurriedly mounted a surveillance operation outside the venue, photographing people coming and going. But by the time the team was in place it seems the men from Leeds had left, since no photographs of them were taken.
Dean remembers reporting to his MI5 handler that all of those in the room could potentially become suicide bombers, but he says that he never expected anyone to attack the UK. "How do you follow 30 or 40 people all the time? And that's only 40 people in that context. What about the other people that Anwar al-Awlaki went and inspired to become martyrs and suicidal jihadists?"
Back in the winter of 2003 the three men from Leeds had not been identified by the Security Service, though Khan had featured twice in surveillance operations on other men. Within weeks of the al-Awlaki lecture he and Tanweer would also appear as part of a major counter-terrorism surveillance operation but they had still not been identified and were assessed as not posing an immediate threat to national security in the UK.
In this period MI5 prioritised the people it was investigating based on the threat they were believed to pose. An "essential" target was someone assessed to be actively planning a terrorist attack. Both Khan and Tanweer were categorised as "desirable" targets because of their association with other more serious plotters.
A parliamentary committee report in the aftermath of 7/7 found that it could not criticise the judgements made by MI5 and the police based on the information that they had and their priorities at the time. There is no reference in the report to the lecture given by al-Awlaki in Dudley but that may have been because the intelligence had come to MI5 from an undercover agent who needed to be protected.
Though al-Awlaki is now dead, the ideas of violent jihad he promoted seem stronger than ever. Saddened by the subsequent rise of violent extremist groups like Islamic State, Dean says: "It is the side of the extremists that is winning the argument. They have their own way of appealing to young people. The other side seems to be at a loss to understand how to deal with the mindset."
This, he explains, is the reason why he has decided to speak out. "This is serious. It's about the existence of Muslims in Europe, about the identity of our faith. We cannot compromise on this."
This story will also feature on BBC Radio 4's Today programme.
Subscribe to the BBC News Magazine's email newsletter to get articles sent to your inbox.