Female contemporaries of famous artist get their due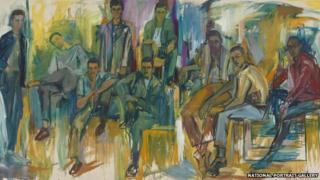 Raise your hand if you've heard of Elaine de Kooning.
Now raise your hand if you've heard of her husband Willem de Kooning, whose paintings attract some of the highest prices on record.
Both were artists at the cutting edge of the Abstract Expressionist movement in New York. But Elaine, like so many other women of her generation, has languished in the shadow of her more famous husband.
Not for much longer. An exhibition at the National Portrait Gallery (NPG) in Washington is giving new prominence to a woman considered to be one of the most important portrait painters of the 20th Century.
"This was a huge risk for us," says NPG director Kim Sajet. "People said, 'Nobody's ever heard of Elaine de Kooning, why are you doing this?'"
The same question was asked at the Delaware Museum of Art, which is planning the world's first retrospective of Marie Spartali Stillman in November.
She was one of the Pre-Raphaelites, a group of English painters working in the mid to late 1800s who are often best remembered for their sensual depictions of women. A renowned beauty, Stillman also modelled for the "Brotherhood" which included Dante Gabriel Rossetti.
---
Meet the missus…
Elaine de Kooning was overshadowed by her more famous husband Willem de Kooning even though she is considered to be one of the most important portrait painters of the 20th Century. Here are some other artist wives and partners you may want to meet:
Gabriele Munter was a leading German Expressionist - but her lover Wassily Kandinsky is better known today.
Leonora Carrington painted a portrait of Max Ernst - pioneer of the Dada movement. But despite their long running romance and her artistic importance, she's not even mentioned in his Wikipedia entry.
Lee Krasner is one of only a handful of women to be the subject of a retrospective at the Metropolitan Museum of Art - but she is better known as the wife of 'drip painter' Jackson Pollock.
Tom Doyle was a well-known sculptor in the 1960s - but his wife, Jewish sculptor Eva Hesse became more famous once they divorced.
---
"Her paintings are just as good as Rossetti's," says chief curator Margaretta Frederick.
"But British art is a hard sell in the US, and if anyone has even heard of Rossetti they sure as heck haven't heard of Marie Stillman."
So why are museums in the US focusing on little-known women artists? The obvious answer is that their work deserves attention, but there's another reason.
While much is known about their male counterparts, there's been comparatively little study of women artists, which is exciting for curators looking for something new.
"As far as I know there is no master list of Elaine's work," says the NPG's Kim Sajet. "We have 13 paintings which is the largest public collection, but two-thirds of this exhibition came from private collections. We had to go on a hunt to find paintings."
One was discovered in an office building in Philadelphia. Another, the 14-foot-long Burghers of Amsterdam Avenue was rolled up and stored in somebody's home. A number had to be treated before they could be moved.
Delaware Art Museum faced a similar problem.
"A great deal of Marie Stillman's work is missing or we have not located it yet," says Frederick. "During the time we have been engaged in this exhibition which is now almost eight years we found a lot of them and undoubtedly as soon as we do the exhibition more will come to light."
Other efforts are underway to raise the profile of women in art - dead or alive.
An estimated 400 new entries about women artists were created during this year's Wikipedia art and feminism edit-a-thon. Fifteen hundred people participated from 17 countries. They also improved an estimated 500 existing articles - including one about Elaine de Kooning.
"It's not just about the shows - it's also who writes about you," says Susan Fisher Sterling, director of the National Museum of Women in the Arts.
"If you're written about in your lifetime and there's scholarship on your work then obviously you're going to be remembered in history."
But she says many art movements weren't only dominated by men, they actively oppressed women.
"When Leonora Carrington (a British-born Mexican artist) was involved with the Surrealists she was given very short shrift. She was seen more as muse than as artist when in fact she was one of the most talented of them all."
Other women changed their names to disguise their gender. Lena Krasner became Lee Krasner in part because she struggled with her identity as a woman and the public's perception of her as the wife of Jackson Pollock.
And Grace Hartigan, another Abstract Expressionist, changed her name to George.
"But as the director of the only museum in the world that is solely dedicated to celebrating the creative accomplishments of women artists, I can say that I see progress," says Sterling Fisher.
She says many major museums and galleries are now run by women which creates a more receptive environment for women artists.
Kim Sajet is the first female director of the National Portrait Gallery and says she has a vested interest in staging exhibitions such as the Elaine de Kooning show.
"But it's not just women," she says. "We're looking at our representations of Latinos, African Americans - and the disabled. If we really are going to be the portrait gallery that represents this nation we have to take a good hard look at what we're doing."
Elaine de Kooning - who would have been 97 this week - was born before women were allowed to vote in the US. Yet she went on to paint the portrait of President John F Kennedy.
He sat for her several times and her resulting sketches and paintings are among the highlights of the exhibition.
Even so, Sajet says her work is barely recognized by the commercial art market, while her husband's paintings are worth millions.
His Woman III sold for $137.5m (£92.4m) in 2006, one of the highest known prices ever paid for a painting.