The buses you choose because of their music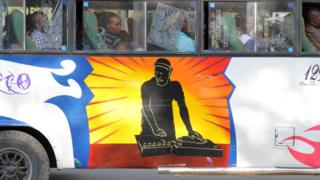 Nairobi's minibus taxis, known as matatus, are renowned for their graffiti-style artwork - but they also play a big part in the city's music scene.
The three million people who live in Nairobi use matatus to get around, but they are more than just buses, they are a cultural phenomenon. Their garish decorations and blaring music celebrate whatever is hip and current. The buses are decorated with whoever is popular - Obama, Jesus, P Diddy, and lately the Kenyan band Sauti Sol. If your face is painted on a matatu, you've made it.
Matatus have destinations, but no timetables. The privately owned minibuses compete for the same routes and only leave when they are full - it's not worth the trip otherwise. Some unscrupulous owners even trick customers into hopping on board, by paying people to occupy seats (they then get off as it fills up and go and sit in an empty one).
The buses that fill up the quickest are the ones with the brightest artwork, the most likeable drivers, the nicest-looking conductors - and the best tunes. If there is a really good mix in the matatu, people are dancing in their seats. And because the music attracts more customers, they fill up and get to their destination sooner.
If you're an aspiring DJ these buses are the best way of showcasing your talent. I started out selling mixtapes to matatus in the 1990s - my mother looked after the four of us on her own, so I helped out by earning a bit extra. As well as making money, the mixtapes helped to get my name known - it was broadcast all the way into town and back.
When I returned to Nairobi recently, I met an aspiring DJ who is doing exactly the same. DJ Brownskin (real name Michael Macharia) started selling his music mixes to matatus when he was still at school. "My father was giving me 50 shillings (£0.35; $0.55) to go to school, but that was not enough for me - I had to make some extra money," he says.
So Brownskin got a job as a matatu conductor before and after school. Wearing his conductor jacket over his school uniform, he would get up at 05:00 and fit in three trips before starting school at 07:00.
After school he would do one more stint as a conductor before starting his other business - selling CDs of his mixes. "I was making a lot of cash - I'd come home in the evening and have 700 shillings (£4.90; $7.60)," he says.
As Brownskin's music became better-known, he was offered gigs in nightclubs - all while he was still at school. "It was challenging because sometimes I slept at the club, and then you have to concentrate in school," he says.
The sacrifices have paid off. Brownskin now has a regular club night at Nairobi's Scratch Bar & Grill. "The matatu made me who I am now," he says.
I recognise DJ Brownskin's story, although some things have changed. The mixtapes themselves make less money - I used to charge 500 shillings (£3.50; $5.50) for cassettes, Brownskin charged 100 shillings (£0.70; $1.10) for CDs - and now it's 50 shillings (£0.35; $0.55) per download.
And the competition is fierce, even compared to when Brownskin started out, five years ago. At that time there were about 15 DJs selling mixes to matatus, and they sold like hot cakes. "Now you have 100 DJs in the matatu industry. Everyone wants to be a DJ - we even have DJ schools," says Brownskin.
When I started off 20 years ago it wasn't really thought of as an acceptable career. That's different now, says Brownskin, as club culture has really taken off in Kenya. "These days you have more potential of getting to be a rich man or a rich lady because in Kenya they really party - you can party from Monday to Monday in Kenya. Every night somewhere is rocking," he says.
What has also changed is that young people no longer expect to get a nine-to-five job. Instead, they "hustle" on the side - many are self-employed and work flexibly, any time, any day of the week. "My family used to tell me - if you are going to make money out of something else, as long as it's not stealing, that's good to me," says Brownskin. "That's why I love my dad.
Now even the Kenyan government seems to recognise the economic potential of matatu culture. Ten years ago, colourful graffiti and loud music were officially banned from matatus for safety reasons, although the practice carried on. But in November President Uhuru Kenyatta made it clear that he supports the artwork, since it creates employment. "We should surely support our youth to do business with their talents," he said.
In this perfect capitalist microcosm, music makes the wheels go round. And musicians repay the compliment - the rapper Octopizzo chose his name partly because of the number eight bus that goes to Kibera, the slum where he grew up.
Photographs by Manuel Toledo. Additional reporting by Vibeke Venema.
Listen to DJ Edu exploring Nairobi's Nightlife on the BBC World Service.
For more on the BBC's A Richer World, go to www.bbc.com/richerworld - or join the discussion on Twitter using the hashtag #BBCRicherWorld
Subscribe to the BBC News Magazine's email newsletter to get articles sent to your inbox.