Australia's 'beautiful prison' in Papua New Guinea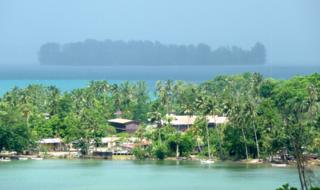 For more than a year Australia has sent asylum seekers arriving on Christmas Island to a holding camp in Papua New Guinea. If their applications are upheld they can stay in Papua New Guinea, but will never return to Australia. A year ago there was bloodshed, and many in the camp are at breaking point.
"Imagine a large and real cage in the most isolated island, surrounded by ocean and jungle and tall coconut trees," says Omid, a 25-year-old Iranian.
"No doubt our prison is the most beautiful prison in the world."
Omid is not exaggerating. Manus Island, in Papua New Guinea (PNG), is small and rugged, covered in thick jungle, and the coastline is stunning.
It's home to around 50,000 islanders - but also to about 1,000 detained asylum seekers who never wanted to be here and are mostly desperate to get out and go anywhere except back where they came from.
Until mid-2013, Omid was a journalist in Iran. He fled the country under the threat of arrest, paying traffickers a small fortune to take him to Australia.
Like many asylum seekers setting off from Indonesia, Omid headed for Christmas Island, a tiny Australian territory much closer than the mainland.
Despite reaching Australian borders, he was relocated to an overcrowded detention centre on Manus Island, where he has been stuck for the last 18 months.
That's because of a controversial deal between Australia and Papua New Guinea in July 2013, in which Australia effectively began outsourcing much of the responsibility for these asylum seekers to its impoverished Pacific neighbour.
"Any asylum seeker who arrives in Australia by boat will have no chance of being settled in Australia as refugees," stated Kevin Rudd, Australia's prime minister at the time.
If the men and women apply to stay in PNG, and they are judged to be genuine asylum seekers, they will be settled there.
If they are judged to be economic migrants, they will be sent home.
But most of the people held in the camp have refused to apply for residency in PNG and remain in the camp, for lack of anywhere else to go, in a kind of limbo.
"They were padlocked behind gates and [within] the first five minutes [of my arrival] the asylum seekers started shaking the fence and started calling for help," says Australian student Nicole Judge, who worked there as a support worker for four months in 2013.
"Manus Island had an instant sense of imprisonment."
A former Australian naval base, the centre initially consisted of a series of old army tents, rammed full of people, mainly from Iran, Iraq, Afghanistan and Sri Lanka.
"It was totally degrading and humiliating," Judge says. "The stench of faeces, it's unbearably hot - and you've got mosquitoes."
Detainees contracted malaria and typhoid, which was aggravated by a regular lack of toilet paper and running water.
The squalid conditions form part of a long list of troubling claims.
"Every day I saw asylum seekers humiliated by staff. We'd have a lot of stereotyping, a lot of racism, ill-treatment," says Judge.
The conditions took their toll on vulnerable detainees.
"I saw quite a few times men attempt suicide, self-harm, or just sit down and scream, yell or cry," says Judge.
Omid, meanwhile, says mental illness is rife, and describes self-harm as a daily occurrence.
"We are now used to watching the blood. People cut themselves and they feel relaxed temporarily.
"Dozens of asylum seekers are traumatised with sleep disorders and nightmares."
One year ago, in February 2014, growing animosity between asylum seekers and their local guards came to a climax.
Guards responded violently to protests by detainees, and local people joined in the bloodshed after being allowed into the camp with machetes and knives.
Twenty-three-year-old Reza Barati was brutally murdered. A further 77 people were injured, including one who was shot and another blinded in one eye.
An Australian parliamentary inquiry concluded that the events were "eminently foreseeable".
Improvements to the camp were subsequently made, including new accommodation blocks, clean water from Australia, floodlights at night and higher security fences.
But discontent continues to fester.
About 700 of the detainees went on hunger strike in January this year. At least 10 sewed their lips shut in protest. Others swallowed razor blades and hazardous chemicals.
The Australian government defends its tough actions as a necessary step in combating people trafficking. It also argues that this is the best way to save lives lost at sea in rickety, overcrowded vessels.
In 2013, 400 boats carrying more than 26,000 asylum seekers reached Australian territory, but more than 300 people died in the attempt.
In 2014, by contrast, just one boat arrived. A further 15 were intercepted and turned back by the Australian navy.
At the end of the year the government signed a similar deal Cambodia, raising the possibility of detainees in Nauru being resettled there.
Of those held in Papua New Guinea, an unspecified number, up to a few hundred, have gone home of their own accord.
Only 80 have so far been granted asylum. Ten of those have moved out of the camp and are living temporarily in Manus, waiting to be resettled elsewhere in PNG.
But while Australia and PNG may be close geographically, economically and culturally they're a world apart.
Four Australian cities made the top 10 "liveable" cities in 2014, as judged by the Economist Intelligence Unit, while PNG's capital Port Moresby came third from bottom, behind only Dhaka in Bangladesh and Damascus, capital of Syria.
Machete attacks, gun crime and carjacking are frequent events.
Unemployment is high, health and education standards are low. The country's 7.2 million people speak 700 different languages, and four fifths of them live in rural areas with few of the facilities of modern life.
Critics have questioned whether a country with such problems can withstand an influx of foreigners with whom they share very few cultural ties - and this may help explain why few of the asylum seekers have applied to stay there.
"They don't want to be in Papua - they want to be in Australia," says Charlie Benjamin, the mayor of Manus.
"If somebody doesn't want to be resettled here and you force them to be, definitely there will be a problem."
He adds: "Settling people from another culture - another religion - here in Papua New Guinea is not easy for us to accept."
Australia spends nearly $500m to run the camp each year, employing local cleaners, caterers and security guards.
Manus has also received Australian development aid - a new market is being built in the main town of Lorengau - though critics say Australian construction companies are favoured over local ones.
The islanders call it "boomerang aid".
The fact that the few refugees to have moved out of the camp are being housed in a new housing unit costing more than $100m - better equipped than most islanders' homes - has already caused some resentment.
"Is the assistance they are giving to us equal to what we are giving them?" asks Benjamin. "I don't think so. Maybe my expectation is too high."
Omid's expectations, meanwhile, are at their lowest.
"What makes it worse than a prison is the uncertainty we face. A prisoner knows how long he will be imprisoned but we don't," he says.
"Sorry, I don't care what happens to me any more."
Additional reporting by Tom Heyden.
Listen to the documentary Dying for a Better Life on the BBC World Service
For more on the BBC's A Richer World, go to www.bbc.com/richerworld - or join the discussion on Twitter using the hashtag #BBCRicherWorld