Are train travellers without the right ticket treated fairly?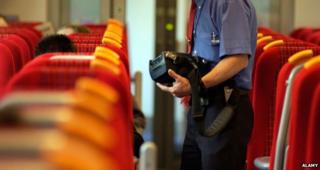 The Department for Transport has announced a consultation to make it easier for rail passengers to appeal against fines for having the wrong ticket or misplacing a travel pass. Chris Stokel-Walker asks, why do people avoid fares, accidentally or deliberately, and should shirkers feel guilty?
When 22-year-old Katie Alicia Duke arrived at Prittlewell train station for the 07:44 to London Liverpool Street in early January, she was confronted with a familiar issue. The ticket office was closed until 09:00 due to staff illness, and the station's ticket machine was out of order.
On the train, Duke tried to explain all this to the ticket inspector, showing him pictures she had taken at the station as proof. "He didn't believe I had taken the pictures that morning," she explains.
Another ticket inspector corroborated the fact that the office was closed, and let Duke travel without a penalty. But if his colleague hadn't been on the same carriage, Duke believes the original inspector would have fined her.
People who skip fares cost train operators more than £240m in lost revenue, according to the Association of Train Operating Companies (Atoc). It estimates that between 3% and 5% of all train passengers are travelling without a ticket or the right kind of ticket for their journey.
"It's the problem of the free rider," explains ethicist Carissa Veliz of the Oxford Uehiro Centre for Practical Ethics. "The problem is the number of people who pay for the rail services is very large, and if one person doesn't contribute to the collective effort they benefit from the efforts of others without contributing anything. In essence, it's a type of stealing."
Each rail company bases the way they deal with fare dodgers, or those who travel having forgotten a ticket or railcard, on the rules set out in the National Rail Conditions of Carriage and the Railway byelaws, which require passengers to produce, when asked, a legitimate and valid ticket for the journey they're making.
The legislation that allows rail companies to fine or prosecute fare dodgers was enshrined in law before Britain's railways were privatised. Train operators can levy a flat fine of £20 or twice the cost of buying a new ticket to the next station at full price. But that's not just a British thing, explains rail analyst Christian Wolmar. "Railways across the world generally have these kinds of powers."
While a "firm but fair" approach is necessary to deal with the small minority who deliberately dodge fares, the industry is "working hard to help ensure passengers feel they are being fairly treated", says Michael Roberts of the Rail Delivery Group, which represents Network Rail and rail operators.
However, some passengers feel unfairly treated. There are some stations on the network where you can't buy tickets. And sometimes passengers make an innocent mistake - they misplace a ticket, misread the terms of travel, or forget an all-important railcard. There have even been reports that some train companies incentivise staff to issue penalty fares.
If a penalty fare isn't paid, letters are sometimes sent out to passengers threatening criminal sanctions if the person does not pay up - something the Department for Transport suggests might be "not appropriate" in its new consultation.
"Those who have made an innocent mistake and been caught out by the many rules and restrictions should be treated with understanding and not immediately assumed to be guilty," believes Colin Foxall of Passenger Focus, an independent railway watchdog.
Barry Doe, a rail fare expert, believes it's unacceptable that so many "have fallen foul of the rules accidentally". Train tickets have become more confusing than ever before. "There are far too many options," says Doe.
Tickets may soon more clearly state what travel restrictions there are. And seat reservations would not be on a separate card.
Doe believes that - although two wrongs do not make a right - the revenue gained from passengers who overpay for tickets ill-suited to their travel needs probably exceeds that lost from fraud.
Assuming people are being dishonest may have drawbacks. "When people feel they have been wronged in some way they're more likely to rebel against the system," explains Veliz.
---
Valid reasons for appealing against a penalty fare
You didn't realise you would have to pay the penalty fare, because the signs weren't clear enough, English isn't your first language or you couldn't read the notices because of a sight impairment
You didn't get a chance to buy a ticket or permit to travel - this could be because there was a long queue and no ticket machine available, or you couldn't use the machine because of a disability
There was a notice at the station where you started your journey which said that you were allowed to travel without a ticket
A station employee told you that you were allowed to travel either without a ticket or with the ticket you had
There was no clear notice at the station where you started your journey to warn you about penalty fares
Source: Citizen's Advice Bureau
---
"There is a significant level of people who deliberately try to use advance tickets on other trains hoping to bluff their way round it," notes Doe. But for those who buy a reduced train ticket and genuinely misplace a railcard, there should be an initial requirement to pay the difference between the reduced and full price fare, with the ability to waive the fee at a later date provided they quickly produce their railcard as proof at a booking office soon after, he suggests.
But why do some people feel comfortable ripping off train companies while they wouldn't feel comfortable stealing from a corner shop? Although Katie Duke has a season ticket for her commute, she believes others skip fares "because the cost of them is absolutely ridiculous these days. The prices are going up and the service is getting worse".
Veliz believes people apply different moral standards to stealing from public and private entities. "If the train company is a big company and you think they're earning an inordinate amount of money, you think the wrongness of stealing from that company is not as bad as stealing from - for example - the NHS."
Dishonesty is almost assumed in the system - any mistakes are viewed as an attempt to defraud the train operators. "The industry does not have to prove that you set out to evade payment, nor does it have to give due regard as to why you did not, or could not, buy a ticket - all it has to demonstrate is that you did not have a valid ticket at the time," explains Passenger Focus.
Penalty fares and ticket gates at stations are fine for closed networks like the London Underground, believes Doe, but have never been appropriate for the national system, and their presence assumes that if they were absent, people would skip paying.
But that assumption may be true, based on one light rail operator's experience.
"Fraud is a problem for every transport operator in the world," explains Raymond Johnstone, director of rail and infrastructure at Nexus, which runs the Tyne & Wear Metro. In November 2013 the Metro installed ticket gates at 13 of 60 stations. Fraudulent journeys dropped from about 5% two years ago to 3.6% today.
Some believe rules are not enforced consistently. Some ticket collectors will follow the letter of the law. Others can be more lenient, explains Wolmar.
According to a spokesman for First Great Western, its staff have the ability to exercise discretion in the event of an unforeseen circumstance, such as the failure of a ticket machine at a station. They are not given bonuses for issuing penalty fares.
For Doe, the less than harmonious relationship between train operators and passengers stems in part from a misunderstanding, propagated by the rise of online ticket booking.
"For once I think it's not got anything to do with privatisation or profits," says Doe. He believes nothing has changed in the train companies' attitudes to its passengers, presuming guilt where there may be none. "It's just that in earlier days people tended to have the right ticket because they'd bought it from a person."
---
The Magazine on the rails
---
Subscribe to the BBC News Magazine's email newsletter to get articles sent to your inbox.