How Page Three fell out of step with the times
By Justin Parkinson
BBC News Magazine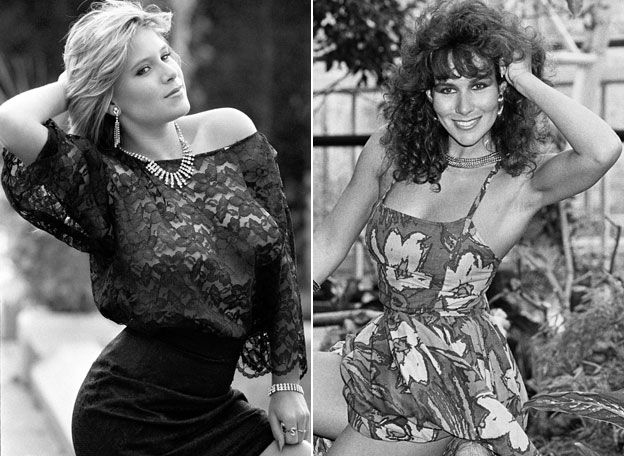 The Sun newspaper has apparently stopped showing topless women on Page Three. How did it go from being the best-known feature in the nation's most popular tabloid to an anachronism?
Page Three girls were superstars in the 1980s. Teenager Samantha Fox famously earned more than Prime Minister Margaret Thatcher. Linda Lusardi was almost as famous.
Every day millions of Sun readers opened their edition to be confronted with bare breasts. It annoyed and offended many who saw it as sexist and demeaning to women, but the idea of Britain's bestselling newspaper dispensing with Page Three would once have been unthinkable.
But it has apparently happened. The Times, also owned by the Sun's proprietor Rupert Murdoch, reports: "The News Corp executive chairman is understood to have signed off on the change of policy." In News Corp-speak, that means the boss has spoken.
Murdoch's decision ends a cultural phenomenon lasting 44 years. The first topless model to appear on page three of The Sun was German Stephanie Rahn in November 1970, an idea proposed by the then editor, Larry Lamb.
"It seemed like it was rebelling, that it was taking part in the sexual revolution," says Roy Greenslade, the former Sun deputy editor who was a junior member of staff when Page Three started.
"It's a very, very different world more than 40 years later. It now appears reactionary." There were always some who believed that it was "subverting, or even perverting" moves towards greater freedom, he adds.
Page Three, which owner Rupert Murdoch reportedly opposed initially, is credited with helping The Sun overtake the Mirror in the circulation battle by 1978. By the 1980s, pin-ups of Fox, Lusardi, or others like Suzanne Mizzi or Maria Whittaker were ubiquitous in building site huts and garages.
"The editor at the time, Kelvin MacKenzie, saw Page Three's sales potential and there was the emergence of a phenomenon in Samantha Fox, who was cheeky and pretty and lovely," says Greenslade. "She was made for Page Three and Page Three was made for her."
Fox, with her big hair and personality, retired at the age of 20 and went on to a recording career, her biggest hit being Touch Me, which got to number three in the UK charts in 1986. In a scene that surely encapsulates the ideological debates of the 1980s better than any other, she broke through the picket line of striking print workers at News International's headquarters in Wapping, east London, in a tank.
The Sun's sales peaked at 4.2 million a day in the mid-1980s, but critics began to question its self-styled credentials as a "family paper".
Labour MP Clare Short started a campaign to have Page Three banned, claiming it objectified and commoditised women, who would suffer body-image problems. Short encountered hostility and personal abuse, The Sun describing her in 1986 as "fat" and "jealous".
Page Three stars continued to become household names, among them Melinda Messenger in the mid-1990s, who went on to a career as a TV presenter.
At about the same time, Jordan, her real name Katie Price, made her first appearance. She has since made millions of pounds from books and appearances in magazines and on reality shows.
Not all Page Three careers have ended so well. In 2008, 19-year-old Jenny Grant from Merseyside took her own life after complaining of depression. She had won the Sun's Page Three Idol the previous year.
In an age when pornography became more readily available on the internet, Page Three came to be regarded as more of an anachronism. The status of women in society had changed, too. To a new generation, it was rather surreal to open a newspaper and see a pair of bare breasts amid stories about Westminster and the weather.
Gradually anti-Page Three feeling gained in popularity. The actor and writer Lucy-Anne Holmes started the No More Page Three campaign in 2012. It won the support of organisations including Mumsnet, Breast Cancer UK and the Guide Association, which called Page Three "disrespectful and embarrassing".
Green Party MP Caroline Lucas appeared in a T-shirt stating "No More Page Three" during a Westminster debate on media sexism in 2013. A petition to change the paper's policy attracted more than 217,000 signatures.
"When you open up the Sun... you see images of men doing things - running the country, achieving in sport - whereas the most prominent image of a woman is one where she is sexually objectified," says Yas Necati, from No To Page Three. "It gives the message that men make the news for what they do, and women for what they look like."
Murdoch himself is thought to have considered removing Page Three as early as 2003, when Rebekah Wade became The Sun's first female editor. He did not. Murdoch again declined to impose the change when the current editor, David Dismore, started in 2013.
The Irish Sun banned Page Three in that year with little impact on sales. The News In Briefs caption - purporting to show the models' views on issues of the day - was dropped amid complaints that it demeaned those "quoted". And Murdoch seemed to signal a change of view when he described the concept as "old-fashioned" in a tweet last year. He asked his followers on Twitter: "Aren't beautiful young women more attractive in at least some fashionable clothes?"
He has now made his decision, with Last Friday's topless pin-up - Lissy Cunningham - apparently the last. Not everyone is happy. "It's only a matter of time before everything we do will be dictated by comfy shoe-wearing, no bra-wearing, man-haters," says current model Rhian Sugden.
But politicians have welcomed the move. Education Secretary Nicky Morgan called it a "long-overdue decision", which "marks a small but significant step towards improving media portrayal of women".
Page Three has not died out entirely, however. There is no sign that rival tabloid The Daily Star will impose a ban, while The Sun's own Page Three website has not closed. The main newspaper will continue to feature women in poses, but with tops on, it seems.