The boat that landed on a roof and saved 59 people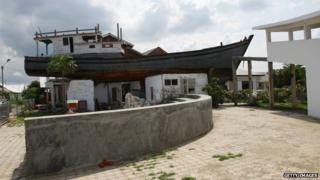 When the tsunami swept through Banda Aceh in Indonesia 10 years ago, the Basyariah family became trapped on the top floor of a house - the water was up to their necks and rising fast. But they had an amazing escape when a boat landed on the roof.
Among the red roofs of the newly-built houses in Lampulo village there is an extraordinary sight: a huge fishing boat perched on top of two houses.
The 25m-long wooden vessel has become a popular attraction on the tsunami tourism trail. Signs point to Kapal di atas rumah, which means the boat above the house - and a plaque details how the impromptu ark saved 59 people's lives.
One of them is local businesswoman Fauziah Basyariah. "If it had not been for that boat we would all have drowned because none of us could swim," she says.
Basyariah is still brought to tears when she remembers that terrifying day. "Not long after the earthquake, people started screaming that the seawater was coming. We were confused but then we saw the water gushing in," she says.
Nobody understood what was happening - the tsunami was unlike anything they had ever experienced before. "I thought it was Judgment Day," says Basyariah.
Her husband had taken the motorbike to go shopping, so she grabbed her five children and started running. They couldn't outrun the water which was rising fast, so she started to look for shelter higher up.
The earthquake had destroyed a lot of buildings on their street, but they found a house that was still standing and the six of them ran inside and up to the second floor - but they soon realised it was not high enough. "It was less than a minute before the water reached us," says Basyariah. "The first wave was very black - we didn't know if it was oil or water."
Soon a second, even larger, wave came. By then the family were trapped. "We were floating with our heads touching the ceiling - the water was up around our necks. I thought we would drown," Basyariah says.
Then, through the window, they saw a strange sight - a large fishing boat bearing down on them. "People were screaming," she says. "But then it got wedged on top of the house and stopped."
Her 14-year-old son managed to make a small hole in the ceiling and climbed out on to roof. He pulled the family out, one by one, and they all clambered on board the boat. Others joined them.
"When I got on to the boat, I just prayed and prayed," says Basyariah. "We thanked God that the boat had saved us, but even the boat wasn't that stable because it was full of water, so we were just clinging on."
They watched helplessly as all around them buildings collapsed, with people still inside. "There was nothing we could do," says Basyariah, wiping away a tear. "Although it's 10 years since the tsunami, when I talk about it, I feel as though it just happened yesterday. I feel so sad - I'll never forget it."
When the waters receded, Basyariah and her children went to live in a village further inland called Beurawe, but they kept returning to Lampulo to look for loved ones who were missing. "I didn't know where my husband was. And my parents too - they had run, but they were old, and I knew they would find it hard to escape." She never found them.
The widowed Basyariah suddenly found herself having to support five children on her own. While staying in a temporary shelter, aid agencies taught her new skills - how to cultivate fish, how to sew and how to make cakes. That's how she came up with the idea of selling dried tuna snacks.
A year after the tsunami, Basyariah launched a fish business with a loan of 500,000 rupiah ($40) - she has now moved back to Lampulo where she supports her family and employs a handful of women in the village.
Outside her house, a few doors down from the boat, women package up the dried fish which has been fried in garlic and onion. The snacks are called "Tsunami dried tuna" and have a picture of the boat on the label. "We were saved in the boat. We would like to remember this," she says.
There were reportedly about 15 fishing boats stranded on the roofs of Lampulo after the tsunami, but the others have now been moved. Zulfikar, the owner of this boat, agreed to leave it as a memorial, despite the fact he had recently repaired it and had hoped to go out fishing on the day of the tsunami.
Today, the boat is revered as a sort of Noah's ark, but it is also a daily reminder of what happened. "Everyone is trying to take advantage of the fact that the boat is here," says Basyariah. "Everyone has a different story about how the boat saved them. People even make stories up."
As well as attracting tourists, Banda Aceh's memorials have an educational role. Prior to 2004, few knew what a tsunami was, so when the seawater withdrew before the wave came, people ran to collect the fish left on the sand instead of running to higher ground.
Now school children are taken to visit tsunami memorials and taught what to look out for.
The tsunami killed a disproportionately high number of women and children because they were unable to swim. About 45,000 more women than men died - in some communities entire generations of children and old people were wiped out.
Awareness of the warning signs saved many lives on Simeulue, an island off the west coast of Aceh - just seven people died there in the tsunami compared to 167,000 on Aceh itself.
The hilly geography of the island helped, but the islanders also knew what to do thanks to a local storytelling tradition called smong. According to a Unesco report, smong stories told to children often ended with a warning: "If a strong tremor occurs, and if the sea withdraws soon after, run to the hills, for the sea will soon rush ashore."
Additional reporting by Vibeke Venema
Candida Beveridge's report from Banda Aceh is featured on Outlook on the BBC World Service at 12.05 GMT on 24 Dec 2014. Listen to Fauziah Basyariah's interview or hear more stories from Banda Aceh.
Subscribe to the BBC News Magazine's email newsletter to get articles sent to your inbox.