The world of cruisers, modders and boy racers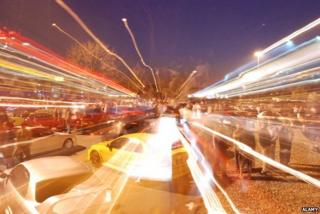 A judge has banned "car cruise" events in the West Midlands in a crackdown on "boy racers". But what can be said in their defence?
For years sleep has been disturbed by the sound of subwoofers and screeching tyres. Up to 250 cars have been blocking parts of the Black Country Route - which links Wolverhampton, Walsall, Dudley and Sandwell, preventing the sleep-deprived residents from leaving or entering their homes.
There have been 31 accidents and four deaths linked to events there over the past few years, according to Wolverhampton City Council. But a judge at Birmingham High Court has now banned car cruises. The engines have been turned off.
But beneath the speed and the aggression lies a genuine subculture - as strong in the UK as it is in North America and many other countries. There's a core of hobbyists who plough their wages into modifying their cars, who meet at organised gatherings to show off their souped-up vehicles. They are people who "park and pose". They say there are no races, no tyre-smoking doughnut manoeuvres and a number of women behind the wheels.
The one thing the hobbyists don't want to be called is "boy racers". They are adamant that they are not the people involved in illegal and dangerous street racing.
"We're just a group of people who have an interest," says Terri Young, who runs a car and bike group with an interest in Japanese manufacturers that meets on Brighton seafront every Tuesday night.
"I race on a track, because that's where it should be done. Not on a road. My car is my baby - I don't want her damaged and I don't want to behave like an idiot."
Young's car of choice for the night is a bright pink Nissan Cefiro. It has lowered suspension, a large spoiler and big blue wheel trims. Inside there are racing seats, a bespoke safety harness, a pink gear knob and a 2.5 litre turbo engine that once belonged in a much more powerful car.
She owns five cars, while her husband has four.
Becky Smith's Subaru Impreza Sport is parked alongside. It is green - the same colour as the Kermit the Frog soft toy that sits on her parcel shelf.
"I've got a big exhaust - that's important because it's a Subaru - it's got to be loud," she says. "I don't want to annoy the neighbours though - you just have to take your foot off the pedal when you turn into your cul-de-sac and do your best to keep it down."
Noise was a big part of the underground car scene of the mid-1990s and was one of the key complaints made by the Black Country residents.
Burnouts involved spinning the front wheels with the handbrake on, creating a huge cloud of smoke and noise and eventually fire.
"You'd get these guys stuck in a car park with no tyres long after everyone else had gone home," says John Sootheran, the former editor of the now defunct boy racers' bible Max Power magazine.
"There was a big competition scene for car stereos too," he adds. "They would bolt their windscreens down because the vibrations from the bass were so intense and they'd use a remote control to start the music because it was too loud to go near. Then they would measure the decibels."
The Black Country car meets, or cruises, were a much wilder affair than the one on Brighton seafront, where the engines are turned off and you have to use hazard lights when pulling up.
Groups would gather in car parks - often at supermarkets or McDonald's. They would show off, perform tricks and light up the road with the LED strips beneath their bumpers.
"In the old days they would spend £1,000 or £2,000 on a Nova or a Corsa and then £10k on doing it up," says Sootheran.
---
Terminology
Modding: To tweak the design of a vehicle for style, speed, handling - such as lowering the suspension, adding alloy wheels, souped-up engines and spoilers
Spoilers: An add-on which aims to enhance the aerodynamic features. Mostly mounted on the back of the car, it aims to creates downforce on the rear wheels, helping to maintain grip
Burnout: When the front or back wheels of the stationary car spin rapidly, creating smoke
Doughnut manoeuvre: Driving stunt which involves spinning a car continuously through 360 degrees to leave a circular skid-mark pattern of rubber on the road. Can be dangerous.
---
"It was a form of self-expression, and it's about getting the girl. We would see all these spotty young guys with really pretty girlfriends who were clearly way out of their league, and it was all because of their cars."
There are three main aspects to modifying a car, the enthusiasts say. The tuning - the mechanics and engine power. ICE - the in-car entertainment systems. And finally, the styling - the racing seats, the lowered suspension and the spoilers.
"The scene waned hugely from mid-2005 to 2010 but I think it's coming back," adds Sootheran. "It got too mainstream. There were the Fast and Furious movies, Pimp My Ride on TV, probably Max Power contributed too.
"I compare it to the rave scene of the early 90s. It lost its cool".
The Black Country is not the first area to enforce an injunction, which prohibits two or more vehicles gathering between 15:00 and 07:00.
"It's a problem everywhere," says councillor Elias Mattu, who oversaw the case. "Many of our surrounding councils have taken similar action. It's been a long time coming."
Apart from residents and the law, the drivers have had to contend with other issues.
Speed bumps have proved problematic - many of the drivers had lowered their suspension so much that they couldn't drive over them.
Supermarkets also started installing barriers to try to stop cruisers and modders gathering in the car parks for events.
"We meet at the local retail park, purely for the fact there are toilets and food," says Craig Colwell, who runs Eastbourne car club Coastal Cruiserz.
"[It] has newly installed ramps which come up at 10pm as well as the lights going off at 10pm. We chose to park here so we are not drawn into the boy racer crowd that is nearby, but everyone labels us as boy racers and these new measures were put into place regardless."
Of course, for every legitimate car fan there is a racer, out to annoy.
People living in Knightsbridge, one of London's wealthiest areas, each summer face an influx of young men who race their Ferraris and Lamborghinis in the streets around Harrods.
And the residents of the Black Country suffered every weekend for years, as cars raced, skidded and spun.
For now though, the smell of burning rubber has gone.
Subscribe to the BBC News Magazine's email newsletter to get articles sent to your inbox.