Cycling over the Pyrenees with one leg
By Callum Robertson
The Pyrenees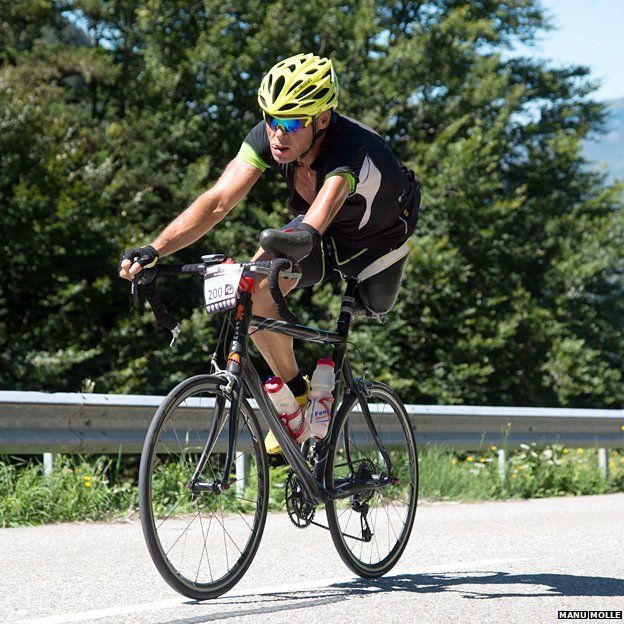 Christian Haettich has one arm and one leg. Over 22 days this summer he cycled across the Dolomites, the Alps and the Pyrenees to become one of only 10 finishers of a gruelling three-week amateur cycling event.
I first heard about Christian Haettich in 2012 when I saw a video of a seven-day race across the Swiss Alps - the Haute Route. The scenery was beautiful but the experience looked brutal. Hundreds of riders struggling to cycle up mountain passes and looking elated but totally shattered.
I enjoy riding my bike, but I live in the rolling hills of south-east England, and even these can cause me problems. So the thought of riding mountain after mountain day after day held little appeal.
An image that stuck with me from the video though was that of a man with one arm and one leg competing in the field of able-bodied riders. Here was a disabled rider, Christian Haettich, doing something I could never do.
But in the summer of 2014 I was offered the opportunity of riding the Haute Route, because a friend of a friend couldn't take up his place. My previous reservations about the demands of the event remained, but the allure of some of the most famous climbs in cycling kept nagging at me.
Cycling is one of the only pastimes where it's possible for the complete amateur to ride the same routes as the professionals. It's the equivalent of football fans being able to drop into Wembley Stadium to have a kick around with their friends.
My event would cross such peaks as the Col du Tourmalet, the Col d'Aubisque and many others which regularly feature in the Tour de France. So although it was going to be tough I decided to give it a go. Seven days, 500 miles (800km), 21 ascents totalling more than 19,000m of vertical climbing across the Pyrenees.
Then I learned that not only would Christian Haettich be taking part but he'd also be riding in the two preceding events. In 2012, its first year, the Haute Route consisted of single seven-day race. By 2014 it had become three back-to-back seven-day events crossing the Alps, Dolomites and Pyrenees. The vast majority of riders entered one event but a small group, known as the Triple Crown riders chose to ride all three.
They race over 22 days with only one day off. In that time they cover more than 1,600 miles (2,575km) and complete 60 ascents involving about 60,000m of climbing - more than six-and-a-half times the vertical height of Mount Everest. Doing one Haute Route was going to be an enormous challenge for me. I couldn't imagine what doing three would be like, let alone with only one arm and one leg.
As the start time of the first stage approached, the riders began to gather at the line. Butterflies flew around my stomach at the thought of what was to come. Then, as he calmly rolled through the crowd, I saw for the first time the unmistakable figure of Christian Haettich.
It was clear he was held in high regard. People were looking at him, talking about him, and shouting greetings.
Haettich was born and brought up in rural Alsace, in north-east France. He describes his childhood as being completely normal until a devastating accident in December 1976 when he was 15 years old. He was out riding a moped when he was hit head-on by a car that was overtaking oncoming traffic. As a result of the accident he lost his left leg from the hip and his left arm from just below the elbow.
"Many things changed for me. It's not easy ending up disabled for life at 15, especially in 1976. I had to learn how to live again and deal with being stared at. It's tough being disabled at this age, I was often rejected," he says. "I must admit that at one time I thought about ending my life."
He describes overcoming these suicidal thoughts as an exercise in self-control and determination, characteristics that have been evident throughout his life since then.
Although he had long been a fan of professional cycling, it wasn't until his mid-30s - by this time married with children - that he thought of taking up the sport himself. He had always kept himself fit, mainly through weight training but the chance sighting of a man with one leg riding up a mountain encouraged him to try cycling himself.
Learning to ride a bike is all about balance. We use our arms and legs instinctively as counterbalances and supports to keep us upright. Although Christian has a prosthetic leg for walking, it is not suitable for cycling. Having his weight on the right side of his body made the process of learning to ride extremely demanding.
"I had no balance and fell off many times. I often felt like giving up and moving on to something else. My wife helped me a lot until the day I managed to ride without falling off and from that moment, everything began. It took me almost a year to feel confident but in the end the struggle paid off," he says.
Many cyclists use clips on the soles of their shoes, or straps, to keep their feet firmly secured on the pedal, and this is crucial for cyclists with only one leg. After pushing the pedal down they have to be able to pull it back up for the next down-stroke.
In the year leading up to the 2000 Sydney Paralympics Haettich dedicated himself to qualification for the road race. After months of hard-work and sacrifice he was on the verge of selection when, he says, only 15 days before the games he learned that his category of disability was not going to be included. He was devastated.
He quit the French Disabled Sport Federation and switched his focus to riding sportives - mass-participation events for amateurs that are open to all cyclists.
Haettich particularly relishes those that involve riding in the mountains. Climbing holds an appeal for many cyclists because of the challenges involved. On a long mountain pass there is no respite. You can't just stop pedalling and coast to relax and get your breath back. If you do, you very quickly lose momentum and it requires an even greater effort to get going again.
For an able-bodied rider the work is shared more or less equally between both legs. For Haettich, his one leg has to do the work of two. It was a technique that took time and determination to master.
"My first mountain was just to the side of my house, it wasn't even a mountain, just 1.8km (1.1 mile) long with an average gradient of 8%," he says.
He remembers how painful it was in the early days. "I was extremely ill, I thought I would die it was so difficult. I did it every day for 15 days. Pedalling uphill with one leg is hard, it's just push and pull, if I forget one, I fall. I can laugh about it now but it was very tough."
I got my first real experience of a mountain ascent on the first stage of the Haute Route. Despite having prepared for the race as best as I could, it was only then that I really appreciated just how demanding it would be, both physically and mentally. On a bad day it is unrelenting pain, every turn of the pedal causes the heart to pound and the legs to burn. You just want it to finish.
It would be so comforting just to ease off the pedals, roll to a gentle stop, climb off the bike and bring an end to the suffering. No-one would blame you, and you wouldn't be the only one to be picked up by the "broom wagon", the support bus that follows the event to sweep up exhausted riders.
You have to be mentally tough not to succumb to this desire to stop. You have to be mentally strong to push yourself for hours at a time knowing that you will have to put the same effort in again several more times that day, and the next, and the next, and the next. My first day doing this was nearly my last. I found it so ridiculously difficult that when I crossed the finish line I seriously contemplated not starting the next day. I was physically and mentally drained, and that was just day one, a supposed "easy" stage.
On that opening day I happened to pass Haettich on the road. He has a very distinct profile on the bike and a unique style that makes him instantly recognisable, even from a distance. It was the first time I'd seen him in person on a climb and as I approached from behind I couldn't help but be humbled. I think the fact that I didn't give up after that first day was due in some part to Haettich's example.
On particularly steep roads you'll often see cyclists standing up and pedalling "out of the saddle". It allows you to use your upper body as well as your legs to drive the pedals. The change in posture also gives you the chance to stretch out your leg and back muscles which become sore and stiff from being in the seated position for long periods. Haettich can't do this. It puts an incredible strain on his body but he remains pragmatic about it.
"My disability has never prevented me from climbing a pass. It gives me determination and mental strength. I can't ride any other way, so I don't have a choice," he says.
Reaching the top of a mountain pass is accompanied by relief that the pain is over, albeit temporarily, as well as a huge sense of satisfaction. It also means your next challenge is about to begin, the descent.
Descending, or plummeting, as I prefer to call it, is as terrifying as it is exhilarating. The wind streams past your ears and flaps any loose clothing violently like a sail in a hurricane. The scenery flashes by but you can't be tempted to admire it. You have to concentrate on the road and corners ahead. Take a corner too fast and you can easily find yourself on the wrong side of the road in the face of oncoming traffic, or off the road entirely and over the edge.
Where I live I'm used to short descents of two or three minutes, but these mountain descents went on for mile after mile. It's great fun but also stressful. At times I found myself wishing the descent would end as much as I had wished for the end of the climb. On one descent I averaged 30mph (48km/h) for 20 minutes and on a very long, straight stretch of road I hit a top speed of just over 50mph (80km/h) - though this is well below the speed of more experienced riders.
Haettich is never going to be able to climb quickly but on the descents he is astonishingly fast. On one particular descent I was having a good ride and was passing a lot of riders when this figure shot past me. It was Haettich and he must have been travelling at least 10mph (16km/h) faster than I was. Very quickly he disappeared around the next bend and by the time I got there he was out of sight.
"It's true, I descend skilfully and quickly. It's something I've worked on a lot, and I have to admit, I love descending as much as I love climbing," he says. "On a descent I am very focused and always look ahead. I certainly descend quickly, but I remain cautious."
Haettich's top speed on a descent is an impressive 67mph (107km/h). I wonder what oncoming motorists must make of it when they encounter him. In my mind's eye I picture startled double takes as he rockets past them.
On the road he receives a lot of encouragement. The traditional cycling calls of "Allez allez! Chapeau! - Keep going! Hats off to you!" ring out from both riders and spectators. He's touched by their support.
One of the sport's heroes, three-time Tour de France winner Greg Lemond met Christian at the 2013 Haute Route, and showed his admiration by designing a bicycle for him.
None of this goes to his head. "I'm just a disabled cyclist doing races for the able-bodied. I do the same thing as the able-bodied, just cycling, albeit with two bits fewer." he says.
"You'll have to ask other cyclists if I am a source of inspiration. If this is the case, I'm extremely proud. I know a good number of cyclists look to my example, my commitment, my mental strength, but I look to them too."
The 2014 Haute Route reached its conclusion on 7 September at the summit of the Col d'Ibardin in the French Pyrenees. I actually enjoyed rather than endured this last day. It had been touch and go after the first day whether I would stick it out, but I managed to achieve my three goals for the event: finish - finish in the time limit - don't finish last. It was the most physically and mentally demanding thing I have ever done.
I was greeted at the finishing line with a pat on the back and a "well-done". Haettich's arrival 30 minutes later was accompanied by horns and sirens of official motorbikes and support vehicles. As he reached the last 100m a gauntlet of well-wishers applauded and cheered and ran to try and keep up as he put in a final effort and sprinted across the line.
For many riders, like myself, cycling is no more than a hobby. It's a way of temporarily getting away from the stresses of daily life as well as a way of reducing the rate at which my waistline expands. For Haettich it's much more.
"Cycling is above all a passion, it's freedom. When I see everything I've done on a bike, I can only be proud. Cycling brings me happiness and a true balance to my life, that is indisputable. Cycling takes away my disability, it helps me move forward, it helps me to always go further, to make the extra effort. The bike is a source of inspiration."
The Haute Route Triple Crown is a remarkable achievement for any rider. Does the fact that Haettich has a disability make his accomplishment the more worthy of respect and admiration? He would say not. The other Triple Crown riders worked just as hard and suffered just as much. They all pushed themselves to their limits.
That being said, I can't remember the winner's name, but I will never forget Christian Haettich.
Thanks to fellow cyclist and journalist Nuno Henrique Luz for help with translation.