Singing Together: The radio show that got schoolchildren singing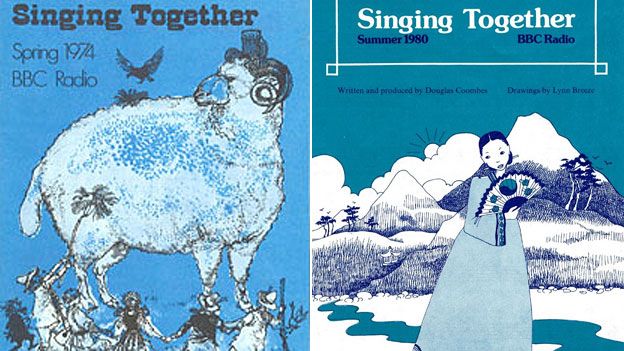 For nearly 60 years the long-running BBC Schools radio programme Singing Together got generations of children singing in classrooms across the country. What made it so special and why does it still have a place in people's hearts, asks the BBC's Ruth Evans.
Every Monday morning at 11am pupils at schools across the country would turn on the radio. For the next hour they would belt out anything from Cockles and Mussels to a bit of Van Morrison.
For decades the BBC Schools Broadcasting series Singing Together was part of school life. From the earliest days of broadcasting, children had a central place in the BBC's own definition of its role - to educate, inform and entertain.
Singing Together began in September 1939 as a practical response to the difficulties of teaching during the war. Mass evacuation led to children being scattered around the country away from their homes and schools, but wherever they were they could switch on the radio and sing.
In an archive interview, the first presenter Herbert Wiseman recalled how the idea came about.
"What about broadcasting a few songs and encouraging all, no matter where they were, to take part. A title for such a series? Oh, easy - Singing Together."
On 25 September 1939, only a few days after the war had begun, the programme was first broadcast. Songs were chosen for their simplicity and each programme contained a song with a "rousing chorus, a song with a beautiful melody and a nonsense song", according to documents from the time.
It was intended to be a temporary programme. Concentrating on folk songs from around the British Isles led some in the BBC to feel it didn't do enough formal music teaching. For them it was tolerated more than loved, but in schools it was hugely popular. At one point an estimated eight out of 10 schools were tuning in - as well as others.
As Wiseman put it: "From 1939 to 1946 I had the privilege of introducing new music, not only to thousands of school children, but to their mothers who, I'm afraid, deserted their Monday morning washtubs to join us in song."
Its popularity ensured Singing Together continued long after the war. In the late 1940s a new presenter took over - William Appleby, a schools music organiser from Doncaster. He was a hugely charismatic figure.
His Yorkshire accent marked him out at a time when Received Pronunciation ruled the airwaves. His voice and enthusiasm endeared him to many listeners.
Brian Wright, who went on to work as an education officer for the BBC, says he heard the broadcasts at his tiny primary school in Aughnacloy, Northern Ireland.
"The great thing about William Appleby is that although he had a clear voice, it was not a posh voice. That made us children living out in the regions feel he was one of us, and this was different and unusual and he was on our side."
With the arrival of rock and roll, music was transformed over the next two decades. But in schools across the country children still enjoyed singing along to their weekly fix of traditional folk.
The programme wasn't without its controversy. In 1974 it hit the headlines when a row erupted over a Welsh song called Hunting the Hare. The BBC was flooded with letters of complaint, including those from the RSPCA and the National Society for the Abolition of Cruel Sports. Letters were sent to national newspapers. There were even reports of a rebel class in Wiltshire who refused to sing the song.
Despite running for nearly 60 years, only three episodes survive in the BBC Archives. In the early days, it was expensive to record programmes and Singing Together was broadcast live.
"They were different times, different values, no one really saw the social history and, not to say, nostalgia value of something like Singing Together," says Simon Rooks, head of BBC Archive Policy.
In the 70s the programme attempted to keep pace with the growing diversity in schools. Producers sought out folk songs from around the world to include alongside traditional British and Irish songs.
During the 1980s, the producers broadened the range of songs even further, adding the occasional pop number, including songs from Van Morrison, Rod Stewart and Shakin' Stevens.
But no matter how much they tried, they couldn't keep up. The world was changing and Singing Together became seen as old-fashioned and out-of-date alongside other programmes for schools on both television and radio.
"It petered out, fizzled out," says Barry Gibson, a senior producer in the School Radio Department towards the end. "Ultimately, it was down to audience figures because at that time teachers were under a lot of pressure to make sure that everything they did tied in with the National Curriculum.
"We re-fashioned some of the music programmes to deliver what teachers were after, as well as what children would enjoy, but I think it was harder to make Singing Together fit that mould as far as teachers and heads were concerned.
"I think it's a shame really because the one thing about Singing Together, as opposed to a more sort of curriculum-led series, is it was a bit of fun."
The last programmes were made in the mid-1990s and despite an attempted relaunch in 2000, Singing Together finally stopped being broadcast in 2004.
"My feeling about the loss is there aren't many opportunities for children to get together and sing as a group, unless you have a teacher who is really committed and confident," says Gibson.
"That's one of the key things radio can do, it can switch on a light in children's own mind - 'maybe I can make music, maybe I can write my own songs'."
But in some ways it lives on, online at least. There is a thriving community of Singing Together fans, swapping pamphlets and helping each other remember the lyrics.
Jarvis Cocker presents Singing Together on Archive on 4 on BBC Radio 4 on Saturday 29 November at 20:00 GMT