The resonance of Occupy
By Lucy Townsend
BBC News Magazine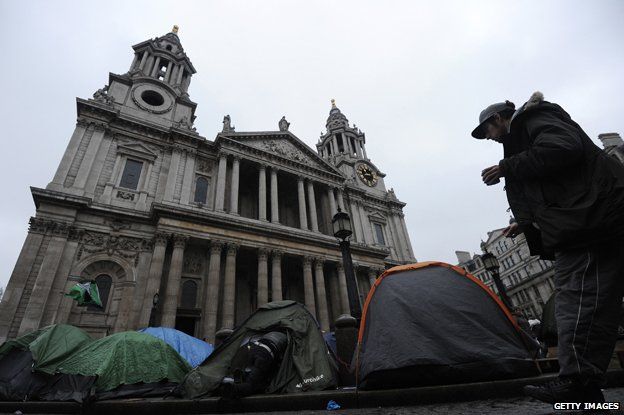 Activists from the Occupy movement held their latest campaign in London this weekend. The protest movement, now three years old, has global recognition. But how can its impact be measured?
The campaign started in New York, on 17 September 2011. They camped in Zuccotti Park, near Wall Street, protesting against corporate greed. Celebrities visited - Kanye West and Susan Sarandon among them. Press coverage followed and President Obama said he "understood their frustrations".
The Twitter handle @OccupyWallSt has 205,000 followers. The @OccupyWallStNYC and @OccupyWallStNY have 185,000 between them. The Facebook page has 660,544 likes.
The initial action spawned hundreds of similar protests around the world. In London, a month later, activists erected tents at St Paul's Cathedral. Again it was the city's financial heart. For more than four months they camped, gave speeches, tweeted and networked before being removed forcibly by bailiffs following a court battle.
The protest was widely followed by the press and discussed in parliament. Again, celebrities got involved - Radiohead's Thom Yorke and Billy Bragg were among a number of musicians to play live for the protesters. @Occupy London has 54K followers on Twitter and 103,044 Facebook likes.
Occupy organisers said at the time that there would be protests in 951 cities in 82 countries. There have been many more since then, but has it made a difference?
Google searches of the word "occupy" spiked in October 2011, but quickly dropped back. They have not spiked since.
"Academics are always trying to find a way to measure the success of protest movements," says Sam Halvorsen an academic researcher from University College London who wrote his thesis on Occupy. "First you have to work out what it means to be successful. Some people in the protest think it is measured by the amount of media coverage. Others think people like Russell Brand getting involved is really important. Other people may think those things are quite superficial."
The true success of Occupy is hard to measure. It is, by design, a patchwork affair.
Occupy groups tend to have spin-offs and splinters - some are active while others are dormant. They all have their own social media identities and their own politics. There are no leaders and numerous causes - campaigns range from anti-fracking to keeping libraries open to this weekend's protest to "save the NHS".
In the month following the first Occupy Wall Street protest, more than 100,000 different hashtags were used in connection with it, according to Twitter. Up to 330,000 total hashtags about Occupy topics were tweeted each day from the start of the Wall Street protest to 21 October 2011. This included #Occupy, #OccupyWallSt #ows, as well as a few joke tags such as #OccupyTheBathroom.
"Having lots of Twitter handles or followers on Twitter doesn't actually mean much - so many of them are dormant accounts," says Prof Charlie Beckett, director of the London School Of Economics' media thinktank Polis. "It's very easy to follow something or like something. Measuring something like Google searches can be a much better gauge of reach and actual active presence."
For a conventional party-based political movement, like UKIP in the UK, it's easier to measure success. It comes in the form of vote share, election victories and movement towards the party's main goal - the UK's departure from the EU. For a movement without any tight list of goals, like Occupy, it's harder.
Press coverage has also dropped off. A crude search of the Nexis database of UK press articles on Occupy London shows there were 396 stories in October 2011, dropping to 43 in 2012, three in 2013 and 14 in October this year.
Research from YouGov published in September shows that 55% of Americans say that the Occupy Wall Street movement has had no impact on the country, 18% say that it had a positive impact, while 27% say that its impact was negative. But the same survey also shows that 49% believe that protests are an effective way to change society.
"Social media is really important to us but it all goes up and down very quickly - it's about newsflashes," says John Sinha, an activist with Occupy Democracy - one of the offshoots of Occupy London.
"Normally it's very low, but when we have an action it spikes. We were trending second on Twitter for our last action. We have an organic reach of a million on Facebook. We also have a newsletter which we distribute to a few thousand."
"We don't measure it [success] in those terms," adds Inka Stafrace, an activist with Occupy London. "We don't follow it overall as if we are a political party. We look at engagement per action. Seeing a spike during an action is what makes us feel satisfied."
Stafrace runs Occupy London TV, which features footage from their various protests. It has accumulated 80,000 views - 50,000 of which she says have been added this year.
Of course, for some protests, it is easier to measure effectiveness. Occupy Wall Street was inspired by the demonstrations in Egypt's Tahrir Square. Protests there led directly to the resignation of President Hosni Mubarak.
The Spanish Indignados movement, which protested in 2011 and 2012 for a radical change in Spanish politics, led to the creation of left-wing political party Podemos (meaning "we can"). The anti-austerity party, led by a university lecturer, won five seats in the European Parliament in May.
Occupy have claimed victories. Activists in Buffalo, New York, successfully lobbied to have the City of Buffalo move $45m out of an account with JP Morgan Chase, and to transfer the money to a smaller regional bank. The New York Times attributed to Occupy a decision by Bank of America to scrap plans to charge additional fees for use of debit cards.
Occupy Sandy activists set up distribution sites for blankets, clothes and hot food to people affected by Hurricane Sandy. They ferried volunteers to the worst-hit areas and set up "construction teams and medical committees".
There are a number of less visible, local-level successes, supporters say.
"Protests have their big moments when they are in the media and people are talking about it," says Halvorsen. "That is success on one level. Occupy have branched out to small [and] very small campaigns and they are making a difference there. But actually changing things for good takes a very long time."
Occupy at St Paul's: A timeline
15 October 2011: Demonstrations which began with Occupy Wall Street, spread to London and other European cities. Protesters - including Wikileaks founder Julian Assange - settle outside St Paul's Cathedral
16 October: Canon Chancellor of St Paul's, the Reverend Dr Giles Fraser, talks to protesters and says he supports their right to protest
21 October: Dean of St Paul's, Rev Graeme Knowles, announces that due to health and safety considerations, the cathedral is closing its doors to the public for the first time since World War Two
26 October: Bishop of London calls for the protesters to leave, and says cathedral officials are considering legal action
27 October: Dr Fraser resigns from post because he disagrees with the authorities' course of action
28 October: Cathedral reopens to the public; City of London Corporation and cathedral announce plans for legal action to clear the camp
16 November: Corporation attaches eviction notices to some tents
18 January 2012: High Court backs eviction
22 February: Appeal bid by protesters dismissed
28 February: Police and bailiffs clear the site